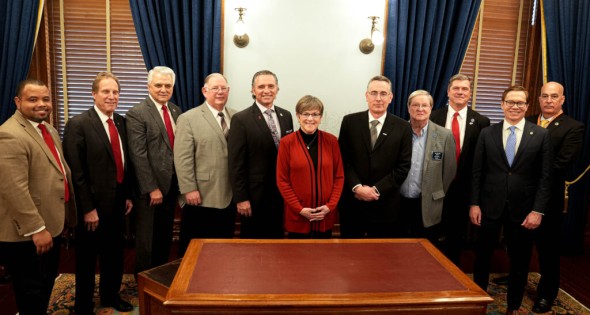 Kansas Governor Kelly Announces Integra Technologies to Invest $1.8B, Create Nearly 2,000 Jobs with Wichita Semiconductor Plant
01 Feb, 2023
TOPEKA, KANSAS –   Governor Laura Kelly announced Kansas-based Integra Technologies plans to invest $1.8 billion in a large-scale semiconductor facility in Wichita. This is the second-largest private investment in Kansas history. The facility will establish Wichita as integral to a national effort to reshore semiconductor manufacturing capacity and strengthen national security.
Employee-owned Integra is a fully integrated provider of semiconductor packaging, testing, qualification, and other services. The 1 million square-foot plant and headquarters facility will create nearly 2,000 high-paying jobs averaging $51,000 in wages. A Wichita State University economic impact study estimates an additional 3,161 jobs will be generated by suppliers, construction labor, and other service positions.
"As the second-largest private investment in Kansas history, this project will be transformative for our state's economy, providing over 5,000 high-paying jobs that will help more Kansans create better lives for themselves and their children," Governor Laura Kelly said. "Integra's investment is further proof that we have put Kansas on the map, establishing our state on the forefront of innovation and national security."
Integra has been approved as the 2023 recipient of Attracting Powerful Economic Expansion (APEX) incentives, paving the way for the company to apply to the U.S. Department of Commerce for CHIPS and Science Act funding. Integra's expansion plans are designed to address recent risks identified in the U.S. semiconductor supply chain, support domestic semiconductor production, and strengthen advanced manufacturing in the State of Kansas.
"The semiconductors we work on are in multiple space applications, such as the Mars Rover and Hubble Telescope; more than 100 Department of Defense programs of record; as well as commercial applications that power everyday life," Integra Technologies President and CEO Brett Robinson said. "On behalf of our employee-owners, we are especially grateful for Governor Kelly, Lt. Governor Toland, and Kansas legislative leadership on the State Finance Council for supporting Integra with its premier economic development program, positioning us to transform domestic Outsourced Semiconductor Assembly and Test services while expanding in our home state."
"Kansas is doubling down on its commitment to be at the forefront of this emerging and innovative industry," Lieutenant Governor and Secretary of Commerce David Toland said.  "Integra's plans matched perfectly with the state's push to diversify our economy and we couldn't be happier they chose to make this investment right in their backyard."
The federal bipartisan CHIPS Act was passed in 2022 to boost U.S. competitiveness, innovation, and national security in the semiconductor industry. As part of the $52.7 billion legislation, $39 billion will be awarded to U.S. companies through competitive grants to finance construction, expansion and modernization of facilities and equipment.
In February 2022, Governor Kelly joined a bipartisan group of governors urging Congressional leadership to take action to get the CHIPS Act signed into law.
"The CHIPS Act invests in businesses around the country to produce key technologies, such as semiconductors, here at home," U.S. Senator Jerry Moran said. "Integra has shown Kansas will be an integral part of the solution to keep our national supply chains safe."
A state and local incentive package is needed to apply for CHIPS funding. The bipartisan State Finance Council approved Integra's Attracting Powerful Economic Expansion (APEX) incentive agreement this afternoon. According to the Wichita State University economic impact study, each $1 of APEX incentives for Integra will generate $218 of private investment.
"APEX exists to promote unique large-scale opportunities at economic and job growth, and there is no better way to do that than having a Kansas company step up and fulfill our commitment to boost the Kansas economy and grow the Kansas workforce," Senate President Senator Ty Masterson said. "Wichita is increasingly the epicenter of critical global industries and this exciting megaproject continues that proud tradition."
"As a long-time resident of Wichita, I couldn't be more excited about this opportunity with Integra. Our region hasn't seen something this transformative in years. By bringing the new sector of chip testing to our area and adding 2,000 new, high-paying jobs, the possibilities are endless. I'm thrilled to be a part of helping make this happen for our residents," Speaker of the House Dan Hawkins said.
The Integra megaproject is the latest economic development win recently announced by the state:
In December 2022, Governor Kelly announced the state has surpassed $15 billion in private sector investment since the start of her administration.
In July 2022, Governor Kelly announced Panasonic Energy's plans to build a $4 billion electric vehicle battery manufacturing plant in De Soto, the largest economic development project in Kansas history.
In June 2022, Kansas was awarded Area Development Magazine's prestigious Gold Shovel Award for the second year in a row. The back-to-back wins are unprecedented in state history.
In March 2022, Kansas won the Governor's Cup from Site Selection Magazine for having the country's most economic development investment per capita.