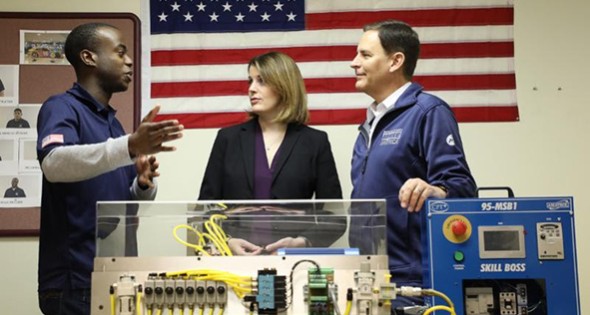 Heroes MAKE America Launch
12 Feb, 2018
In January, The Manufacturing Institute launched a new veterans training program, called Heroes MAKE America, at Fort Riley, Kansas.
Heroes MAKE America is a full-time, 10-week career skills program, that launched in partnership with the U.S. Army Soldier for Life – Transition Assistance Program at Fort Riley and the USO Pathfinder Program at Fort Riley.
The program arms transitioning service members with National Association of Manufacturers (NAM) endorsed Manufacturing Skills Standards Council (MSSC) and ACT industry-specific certifications that manufacturers need for their workforce.
The Manufacturing Institute held an official launch event at Fort Riley on January 22, featuring U.S. Army leaders, supporting manufacturers, NAM President and CEO Jay Timmons, and The Manufacturing Institute's Executive Director, Carolyn Lee.
Heroes MAKE America gives manufacturers direct access to qualified veteran candidates with workplace skills, reduces on the job training expenses, enhances job productivity, and supports our nation's heroes during their transition to civilian employment.
The Manufacturing Institute will be expanding the Heroes MAKE America program across the country! To learn more about the program, contact Heroes@nam.org.