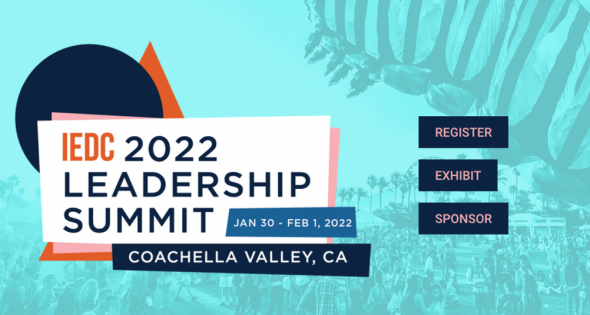 Join IEDC in Sunny Coachella Valley!
14 Oct, 2021
The 2022 IEDC Leadership Summit is taking place from January 30 – February 1 in Coachella Valley, CA. The Summit features something for everyone as it will focus on strengthening our communities, attracting new industries and advancing equitable economic growth. The tracks at this year's summit include:
Diversification of Existing Regional Economic Drivers – Strengthening What We have
Diversification of Regional Economy – Attracting New Industries
Diversification for Inclusive Growth – Advancing Equitable Economic Growth for Disadvantaged and Underserved Populations
These tracks are designed to address that COVID-19 has again put the spotlight on the need to better diversify local economies. This year's summit will serve as an opportunity to learn how to develop existing industries as well as attract others. This is essential to successfully building a truly diverse local economy that will be better suited to survive the next natural disaster, as well as the decline of agriculture.
Through a robust program and speaker roster, the 2022 Leadership Summit will leave participants informed and energized. This will be a unique opportunity to convene in Coachella Valley with senior economic development professionals and CEcD's to generate conversations and create big ideas for the upcoming year and beyond.
IEDC is excited and proud to announce Coachella Valley as the location of the 2022 IEDC Leadership Summit. The Coachella Valley stretches from the windmills at the west entrance all the way south to the Salton Sea, and includes the cities of Coachella, La Quinta, Palm Springs, and Indio among others. The Coachella Valley offers a diverse potential for industries and companies that desire a location between the major markets of the Los Angeles and Phoenix metropolitan areas. The Coachella Valley is also the epicenter of renewable energy development as it is one of the three most productive wind energy areas in the state and is the largest federal solar energy zone in the country.
The 2022 IEDC Leadership Summit is not to be missed!
---
Conference Hotel Information:
La Quinta Resort and Club/A Waldorf Astoria Resort
49-499 Eisenhower Drive
La Quinta, CA 92253
Phone: 800-598-3828
$249 single/double plus $10.00 resort fee daily
Cut Off Date: January 7, 2022
Learn more or register for the conference here.