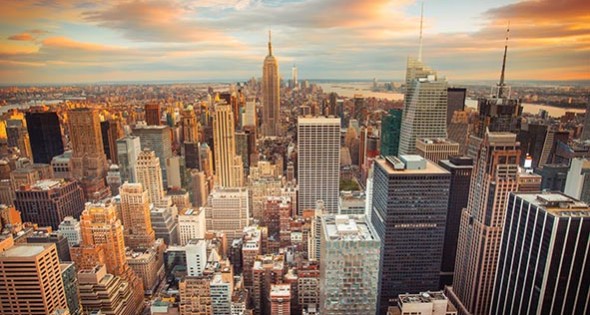 New York: Diverse and Growing Economy
26 Apr, 2017
By Lori Culpepper
In 2015, New York had a gross state product of $1.44 trillion, making it the third largest behind California and Texas. Major industries of the state include fashion, financial services, food manufacturing and retail, healthcare, industrial, life sciences, media and emerging technology, social enterprises, and urban and sustainability.
New York City and the surrounding New York metropolitan area dominate the economy of the state. Manhattan is a leading center for banking, finance and communication, and many of the world's largest corporations locate their home offices in the area. The state also has a large manufacturing sector, which includes printing and publishing and the production of garments, furs, railroad rolling stock and bus line vehicles.
New York City is also the center of the fashion industry with world-class talent, retail space in popular locations, and many fashion and design schools. New York City is home to more headquarters of fashion designers and fashion retailers than any other city in the country.
The healthcare sector is also a cornerstone of New York City's economy, representing more than half a million jobs. The metropolitan area has the largest bioscience workforce in the country. The city has the world's largest concentration of academic institutions with nine major academic medical centers including Columbia University, Weill Cornell Medical College, NYU, Albert Einstein College of Medicine and The Rockefeller University.
New York City is the fastest-growing tech hub in the nation, accounting for more than 291,000 jobs and over $124.7 billion in economic output. With an 18 percent growth rate in tech sector jobs over the past ten years, technology is becoming an increasingly important sector in the city.
New York Regional Sidebars
By Rachel Hamilton
Allegany County
Allegany County is located in southwestern New York on the Pennsylvania border, about equidistant from Rochester and Buffalo. It is a rural county with a population of about 48,000, but it is focused on higher education and advanced manufacturing, according to Craig Clark, executive director of the Allegany County Industrial Development Agency (ACIDA).
Alfred State College of Technology, Alfred University and Houghton College together enroll about 7,000 students per year in a wide range of majors, Clark says. Alfred State provides majors such as machining and welding to support advanced manufacturing, energy production and other advanced industries.
Houghton College is a private Christian liberal arts school, and Alfred University offers many majors and is home to the Center for Advanced Ceramic Technology (CACT), which provides a ceramics engineering major, says Clark.
"We have a very developed advanced manufacturing workforce," Clark says. Advanced manufacturers in the county are seeing success. A division of Arvos Group in Wellsville, he says, manufactures large-scale air preheaters for power plants, while Dresser-Rand, "acquired by Siemens last year" manufactures steam turbines for military use and for the oil and gas industry.
Interstate 86 bisects the county east to west, providing trucking access to New York City. The county also has access to rail running east to west, and the Wellsville Municipal Airport "can handle smaller jets," Clark says.
"With quality of life, the biggest thing is that this is a safe place and a great place to bring up your kids," says Clark. The area is home to small museums and the three colleges provide cultural activities as well as education. "It's a great place to live."

Orange County
Orange County is located just northwest of New York City between the Pennsylvania border and the Hudson River. Merlin Entertainment PLC has announced intentions to invest $500 million in a 523-acre Orange County site to include a LEGOLAND theme park, according to Maureen Halahan, president and CEO of the Orange County Partnership.
The project, pending approval, will be built in the town of Goshen off Route 17. "It's a very big park. Because of that, they're going to […] be investing a tremendous amount of money in infrastructure to support the park, and that will turn that whole corridor into a growth corridor," says Halahan.
The county's current industries are seeing growth in food and beverage as well as distribution, particularly medical distribution.
Amy's Kitchen is investing $95 million in a new facility to manufacture their organic meals, says Halahan. Angry Orchard has an "R&D and tasting plant in the county." The county also produces and distributes shrimp, soy sauce and many other food products.
The McKesson Corp. has invested $80 million in a new facility in Hamptonburgh northeast of Goshen. "They distribute just about anything you can find in a hospital," Halahan says. "Their direct competitor, AmerisourceBergen, has invested $75 million in a new facility," also in Orange County.
"We have a pretty well-trained workforce," Halahan says. Currently, much of that workforce is commuting far south into the New York City metro. "So when companies come in and they offer good-paying jobs here, we can get the workers they need."
The Industrial Development Agency in the county has a business accelerator, so "when companies —especially manufacturing companies – are looking for opportunities to train people or use a certain type of equipment, […] the accelerator can purchase that equipment and let their people train there for free."