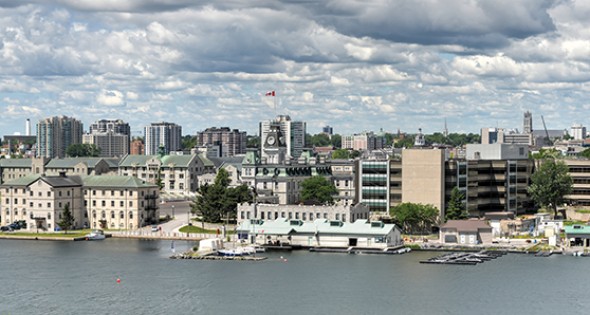 Ontario: Business Growth Initiative Reshaping Economy
28 Feb, 2018
Rapid changes in technology and globalization are reshaping Ontario's economy. The $650-million Business Growth Initiative is the government's new economic strategy to fast-track Ontario's knowledge-based economy by tapping into creativity, education and skills.
The strategy will commit $650 million over the next five years and leverage Ontario's workforce to compete through innovation. The initiative focuses on growing business, creating an innovation-driven economy and modernizing Ontario's regulatory system.
Building on its strong economic performance, Ontario is taking historic action to create more opportunity and security for workers with a plan for Fair Workplaces and Better Jobs. This includes raising the minimum wage, ensuring part-time workers are paid the same hourly wage as full-time workers, introducing paid sick days for every worker and stepping up enforcement of employment laws.
Employment in 2017 is forecast to increase by 1.4 per cent or 99,000 net new jobs. In 2016, Ontario employment increased by 1.1 per cent or 76,400 net new jobs.
Ontario is partnering with 21 small and medium-sized auto parts companies to help them invest in technology and grow their business by supporting projects that will help companies adopt industry-leading software, hardware and/or provide training to improve processes and boost competitiveness in Ontario through the Automotive Supplier Competitiveness Improvement Program (ASCIP).
The future of intelligent transportation is being built in Ontario. Between Detroit and Ottawa lies a 500-mile corridor with expertise in connected and autonomous vehicle technology, artificial intelligence, connectivity, cybersecurity and quantum computing.
Regional Sidebars
Town of Ajax
By Rachel Hamilton
The Town of Ajax is in the Durham Region, and encompasses five miles of shoreline on Lake Ontario. It is part of the Greater Toronto Area, with a population of 125,000 people — a number that has grown from roughly 90,000 in the late 1990s, says Ajax's Manager of Economic Development & Tourism, Lisa Hausz.
"Ajax is within the Ontario Green Belt. Our waterfront is over four miles long and is publicly owned space," Hausz says. Ajax has over 62 miles of trails connecting neighborhoods to greenspace and the water — all within 20 miles of Downtown Toronto. "Businesses select Ajax for location and lifestyle because they know they can attract employees."
"We've seen over $100 million in targeted investment since 2012 when PriorityPath program opened," says Hausz, explaining that the Ajax Economic Development Team can help businesses, especially those less familiar with site selection and permitting processes, plan a critical path for expansion and relocation.
Due to the program, Ajax is preparing for an additional 700,000 square feet of expansions in office, commercial and industrial space, says Hausz. Malpack Corp, a manufacturer of industrial cast stretch film, is responsible for 55,000 of those square feet.
Ajax is located along Ontario's "Corridor of Commerce," Highway 401, which connects Ajax to Toronto-Pearson International Airport and runs northeast into Montreal; Ajax's targeted industries include distribution. Logistics in Motion Inc is one of the town's largest employers with over 1,200 people in the one million-square-foot facility.
Automotive manufacturing is thriving in Ajax including companies like Volkswagen Canada and Autodyne Machining Inc, which manufactures automotive welding systems and robotics for automotive manufacturers worldwide.
Axalta Coating Systems develops and produces automotive paints and coatings in Ajax and is "developing eco-friendly products and processes," says Hausz.
Ajax was founded in the 1950s as a suburban community "without a true downtown," Hausz says. With the population and industrial growth, the New Downtown Ajax projects will construct a walkable, mixed-use area, creating a "heart" of the town. The current and recent Downtown Ajax projects equate to over $500 million of mixed-use development investment, the largest in Durham Region.

City of Waterloo

By Rachel Hamilton
Waterloo is on the western end of the Toronto-Waterloo Innovation Corridor along Canada's Highway 401, and it offers companies access to over 200,000 skilled information and communication technology (ICT) professionals.
Waterloo has Canada's highest concentration of patents at 15 patents granted per 10,000 people. Its population is over 575,000 and projected to reach 742,000 by 2031, so Waterloo is growing rapidly.
The 401 offers access to Canadian and American markets. Advanced manufacturing in Waterloo includes automation, robotics, automotive, aerospace, food processing, plastics and fabricated metals. Manufacturers are supported by a number of business and technology initiatives, as well as educational institutions dedicated to innovation.
The University of Waterloo (UW) has been conducting research in artificial intelligence since the 1960s and is now home to a huge concentration of math and science talent. Waterloo has programs in place to promote industry-academic collaboration as well as ICT business accelerators to assist companies with ICT-driven business such as advanced manufacturing, data and financial technology, ecommerce and cybersecurity.
The Waterloo Center for Automotive Research (WatCAR) is one industry-academic collaboration that supports innovation in the automotive sector, particularly for improving vehicle performance and automated driving. The Waterloo Autonomous Vehicles Laboratory (WAVELab) focuses on development of drones and self-driving cars.
Waterloo's internet and electricity infrastructure and its academic environment support innovation in big data. Its Data District has a concentration of incubators, work spaces and institutions such as the Communitech Innovation Hub and the Communitech Data Hub, Catalyst 137, and the David Johnson Research and Technology Park.
Waterloo is also a hub for innovation in cybersecurity and financial technology. As more business is done online, security for financial and data software becomes more important. Leaders in cybersecurity such as Huawei, ESCRYPT (a subsidiary of Etas) and Symantec have chosen Waterloo as a place to innovate.
The Communitech Data Hub, TD Innovation, Manulife RED Labs and CIBC Data Studio support financial technology companies like Shopify, Square and Kik in Waterloo.
Food and beverage production and processing also thrive in Waterloo and are supported by the Institute of Food Processing Technology at Conestoga College, the Water Institute at UW, and Ontario Agriculture College at the University of Guelph.
Town of Milton

By Rachel Hamilton
Milton "is the western gateway to the Greater Toronto Area" along Ontario's Toronto-Waterloo innovation corridor, says Andrew Siltala, Milton's Director of Strategic Initiatives and Economic Development. As one of the fastest growing communities in Canada, Milton has experienced steady growth since 2000 with a population that sits at around 113,000 people.
"We're proud of our balanced approach to growth and commitment to building complete communities. In Milton, a complete community is a place where people want to raise their families, where innovation thrives, businesses can grow, and the entire community has easy access to amenities that enhance their quality of life," Siltala says.
"Milton is a dynamic place with a young, diverse and highly-educated population. Our median age is 35. What we have is a steadily growing community that is progressing at a consistent pace, and we're projected to continue this pace of growth for the next 20 years," says Siltala.
Milton also has experienced strong non-residential growth over the last 20 years that includes one million square feet of industrial, commercial and institutional development, per year.
The community is transitioning towards a much higher proportion of job growth in knowledge-based industries that require higher education. "The growing tech, innovation and advanced manufacturing sectors are well supported by Milton's placement along the innovation corridor, says Siltala. "As we focus on the future, projections support consistent growth in these areas for the next 30 years."
"Milton already has a highly-skilled workforce. Since 2000, our community has attracted residents that are extremely well-educated," explains Siltala. These citizens tend to have "strong technical, science and knowledge-based training and education. It is this young, motivated and highly-educated workforce that is the greatest asset we can offer to investors and employers."
Milton places a strong emphasis on strengthening its local economy and educating its future workforce with projects like the Milton Education Village, "which is a comprehensively planned community located on 400 acres next to the Niagara Escarpment," says Siltala. This site has been planned for an urbanized neighborhood with residential, commercial and office space, as well a campus for Wilfrid Laurier University and Conestoga College.
"The Milton Education Village will be a differentiating factor," Siltala says. "We are perfectly-situated along the innovation corridor, ideal for this type of development, and a neighborhood like this one will be relatively unique in the province of Ontario."
As it grows, Milton continues to invest in new community infrastructure such as libraries, sports facilities and schools. "Enjoying the natural surroundings and easy access to a number of green spaces is part of the Milton experience," says Siltala. "The community features an expansive greenspace that is one of the largest of its kind in North America."
In addition to activities associated with the Niagara Escarpment, there are a number of cultural activities, sporting venues and high-profile sporting events taking place in this community.
With access to four international airports, including Toronto Pearson International Airport, and highways serving as arteries into American markets, Milton is in a prime location. "Investors see Milton as a place of possibility," says Siltala. "Our healthy and steadily growing local economy, low tax rates and placement within the second largest technology cluster in North America make this community a smart choice for global investment."