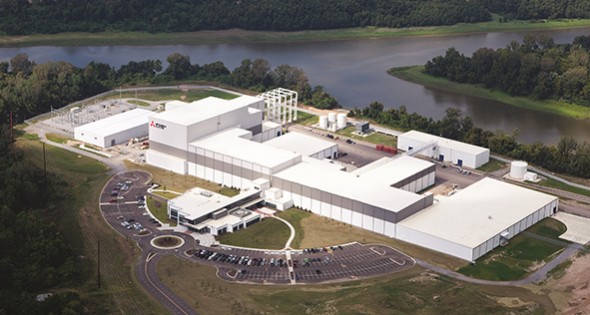 Ten Considerations when Choosing a Site for a Manufacturing Facility
25 Jul, 2017
This list provides site-selection considerations that are most likely to cause problems when not addressed early in project planning.
New manufacturing facilities represent a significant capital investment for any owner. By taking an approach that addresses a facility's production and performance requirements in conjunction with the site requirements, owners can make more informed decisions that lead to project success.
Once general building and operational requirements are identified, site selection is the first of many steps in the manufacturing facility development process. As such, it may be tempting to rush that phase of the project just to get things moving. But the site a company chooses has an impact on the lifetime of the facility in ways that may not be immediately apparent. Beyond construction costs, long-term profitability and even the quality of the facility's output can be impacted.
Owners that address facility and site considerations together have the most successful projects. The following 10 factors should be evaluated before committing to the purchase of a site or structure, to determine the project's long-term success. Many of these considerations go hand-in-hand, yet all too often, one or more go under-investigated during the pre-purchase planning process.
1. Existing buildings vs. greenfield sites
Existing buildings can provide suitable solutions for manufacturing operations. This approach can be faster and less expensive than building a new facility in many scenarios. However, the cost of adapting a building's existing and often outdated utilities and features may, in fact, far outweigh the cost of investing in new construction on a greenfield site. Owners should seek an independent consultant, in the form of an engineering/procurement/construction contractor (EPC) or architect, to conduct a thorough due diligence process and analysis. These third parties can weigh the costs of any necessary site remediation and/or building modifications against greenfield construction.
2. Financial incentives
Incentive packages are often offered by communities wishing to unload vacant properties or attract companies and jobs. Sometimes, abandoned mills, factories and speculative buildings have become such a burden to public agencies and economic development organizations that they give them away for free—or at very low cost. In addition, loans, grants, expedited permitting, tax abatements, tax credits and other incentives are used to attract companies. While these offers are appealing, they may not be the best option for the long-term. It is critical to understand the strings that may be attached (job-creation quotas, investment obligations), called "clawback" provisions, and the penalties faced if these requirements ultimately cannot be met. Most important, the deciding factor should be whether the site will meet the plant's current and future needs. It is critical to work with experienced site selection, legal, tax and accounting consultants to understand the impact for your project and how your business objectives will be met.
3. Scalability
How fast a facility can be operational and producing product often determines its overall success—and can seem like the end game. But the key to a project's long-term success is that it fulfills its function for many years to come. To do that, the facility and site must be able to physically accommodate future expansion and growth. A related consideration is support systems and spaces. In addition to warehouse and storage space, it is crucial to understand the staffing and spatial needs of other departments to be housed at the facility including distribution, maintenance, security, research and development, laboratory and administrative (payroll, billing, collections and marketing).
4. Project cost expectations
Perceptions of initial project costs are frequently based on faulty information. Too often, construction cost estimates are based on old information or a "square foot cost" that an economic developer got from a local general contractor. That number becomes the basis for expected project cost in terms of the facility performance requirements and interaction on the specific site. Experienced EPC firms can provide greater cost specificity very early in the process; this can help define project scope, cost and budget to help owners make an informed decision.
5. Infrastructure
Owners and their representatives also need to determine access to utilities and transportation (i.e., highway, rail, air, waterways) as well as their costs.
Transportation: Identify the modes of transportation needed for raw material deliveries, outgoing finished product distribution and internal material movement, and assess the site's proximity to these options. Traffic flow also needs to be evaluated. Traffic congestion can limit the throughput of production equipment and make access to the facility troublesome for workers, suppliers and distributors. Are there alternative options if a route is shut down or blocked?
Utilities: Review the plant's communications, energy, water and wastewater needs and what supply sources are readily available to the site. Developing cost estimates for these services will help with qualifying prospective sites. Engaging power companies and other utilities early in the process to assess availability and costs can be very beneficial. Costs can be projected based on existing data from similar facilities. If the data is unavailable, consider hiring an experienced consultant.
Other items to address include electrical, sprinkler and mechanical systems.
6. Access to supply chain, customers
Logistics is another important factor in selecting a site as it relates to suppliers and end users. An experienced consultant can help analyze locations for sources of raw materials, suppliers, distribution centers, and customers. A location that minimizes the facility's mileage between both customers and materials also will minimize transportation costs. High-priority customers should be considered first.
7. Local labor availability, wages
"If you build it, they will come," is a great quote for a nostalgic baseball movie, but not for a manufacturing company opening a facility in a new location. A labor market analysis is necessary to ascertain there is an available current (and future) workforce—with the right skill sets. Review the area's unemployment rate, industry mix and number of workers in comparable occupations along with their wage ranges and benefits packages. Have these occupations recently seen significant growth or a decline? A decline indicates a readily available labor pool. Contact local economic development groups, universities, community/technical colleges and vocational/high schools to find out if they offer relevant education, training and apprenticeship programs and determine their willingness to partner with local employers through development of specific workforce training programs.
8. Environmental conditions
Is the site located on a floodplain, in a seismic zone or in a region with high humidity? These are just a few factors that can impact both construction and operational requirements. Engaging an EPC firm experienced with different types of facility requirements can provide unique insight and perspectives. A site visit doesn't help you see the challenges hiding in the site.  At a minimum, the topography, environmental history and geotechnical conditions must be examined. Be sure to consider nearby industrial facilities. Do they emit pollution, odors, or dust that impact your facility? These issues are typically covered in an environmental assessment, usually conducted by a consultant. Engage with local economic development, governments and community-based organizations to determine if the company is a fit with surrounding communities.
9. Codes and regulations
From building and fire codes to permitting and zoning, the regulatory environment must be carefully examined. This is very important for existing facilities, as the building was initially designed and constructed for a different use. Regulatory requirements are highly specific to the output of the project and need to be reviewed with environmental and/or legal support. Additionally, new codes or pending regulation could impact plant processes and equipment used.
10. Informed stakeholder involvement
Don't leave the decision-making in the hands of a few individuals. Involve the team that will eventually own, staff, run and maintain the facility to ensure they agree on site search parameters. Provide computer simulations, such as those generated by building information modeling (BIM) software, to help teams quickly run scenarios that test the above variables. When the project team has the ability to visualize and analyze the project, they are better able to make informed decisions.
Get the right expert advice
The best way to ensure site-selection criteria are thoroughly evaluated is to use an experienced consultant, such as an EPC firm, with no conflicts of interest. EPC firms can work with site selection, legal and accounting consultants to provide the insight needed to make the right decision. Site-selection advisors can use their experience and tools to ensure key factors do not go under-investigated.