The Health Economy
27 Nov, 2019
The health care business is massive, and has been on the move over the last ten years, affecting the economic situations in nearly every area where a healthcare business, clinical lab or medical-related university institution is located.
McKinsey Quarterly reported about SAP, a global software company based in According to a global report on health care spending by the World Health Organization (WHO), in 2016, the world spent $7.5 trillion on healthcare, representing close to 10 percent of global GDP. The average annual per capita healthcare expenditure was $1,000, Healthcare businesses are taking advantage of new technologies to help with predictive and pro-active health management; reducing costs by creating smaller healthcare businesses, some that specialize as stand-alone mini-emergency rooms while others are incorporated into pharmacies and other businesses; and by growing and expanding centers of study in conjunction with large institutions to both collaborate on and get to market new discoveries in drugs and medical treatment.
"What we are seeing is healthcare having impacts along two primary dimensions," Simon Tripp, senior director and principal at TEConomy Partners, says. TEConomy transitioned from the Battelle Memorial Institute's Technology Partnership Practice in late 2015. "One is the large scale business enterprises themselves, having a large footprint. The other dimension is the impact that high quality healthcare has on a community, and its economic attractiveness," he says. "If you have a good quality institution, that is leveraged by companies as an attraction for skilled talent. Then there is the role of charitable care that these institutions provide that do a lot of good work in their community, which is a significant social good."
According to Joe Simkins, senior economist at TEConomy Partners and a former senior economist for Battelle, these large medical center developments help build up logistical enterprises that enable higher level research functions – something that would be seen at the federal level such as the National Institutes of Health, or at other larger pharmaceutical or medical device companies. "They leverage that infrastructure to get access to patient populations and actually do their clinical trials," Simkins says. "You have to be at a certain size before you have aggregated enough critical mass to do all of the regulatory things and meet all the logistical burdens that it takes to run that kind of research. When a large healthcare system like that comes in, they often bring in that element of broader access to the national and international world of healthcare research with them, because they aggregate enough patients in one place to provide that level of access."
From bigger, better health care centers…
The massive growth in healthcare is clearly evident around the country as bigger and bigger health care centers are creating huge economic advantages where they are built.
For example, a report by the Mayo Clinic shows that it contributed $28 billion to the U.S. economy and created 167,000 jobs nationwide through its business expenditures and the employer multiplier effect, and detailed how Mayo Clinic also provides many additional benefits to households, businesses, government and other organizations across the U.S.
BuildCentral's Medical Construction Database shows that the U.S. has billions of dollars of active medical construction projects. Current projects account for $12.3 billion in total investment.
Sutter Health, New York Presbyterian, and Scripps Health lead the systems that have active projects, with each company's active projects totaling more than $2 billion in value. The University of Maryland Medical System, Virtua Health, and Kaiser Permanente each have planned projects that range in total value from $1.4 to $1.6 billion.
Three of the five largest current medical construction projects in the U.S. are in California, with a combined value of $6.1 billion.
"There has been a significant amount of hospital development this year," Hilda Flower Martin, a principal and one of the founders of Revista, says. Revista is the first dedicated data resource for the medical real estate industry and provides focused property data, industry information and networking opportunities.
"The move is to outpatient and away from the hospital campus," Flower Martin says. "Yet there is quite a bit of focus on the hospital hub, not only renovating and adding to an existing campus but adding new ones."
In terms of real estate, medical centers are more recession-proof, she says. "There was a lot more vacancy in office buildings in the last economic downturn. That same vacancy did not occur in medical offices. So you have a lot of investors both domestically and internationally that are really interested in medical real estate."
There is also a growing trend in other, less traditional healthcare real estate development called the "innovation district", which is a mixed-use live-work-play environment, the vast majority of which are anchored by medical centers.
One example is the 200-acre Cortex Innovation Community, located between St. Louis' Central West End and Forest Park Southeast neighborhoods, and surrounded by nationally ranked universities and medical centers.
Founded by Washington University in St. Louis, Saint Louis University, University of Missouri – St. Louis, BJC Healthcare, and the Missouri Botanical Garden, Cortex is one of the region's largest innovation campuses, physically designed and actively curated to accelerate high-growth startups and advance established innovative corporates.
Cortex is a nationally and internationally recognized innovation hub that supports all technology sectors. There are similar innovation districts in Oklahoma City, Pittsburgh, Philadelphia, Detroit and Houston. "These centers do think about their communities and how to progress the economy beyond simply health care," Tripp says. "We did some analysis at Cortex about growth value of property and it went from the lowest value zip codes to the highest value zip codes in St. Louis after the innovation district developed."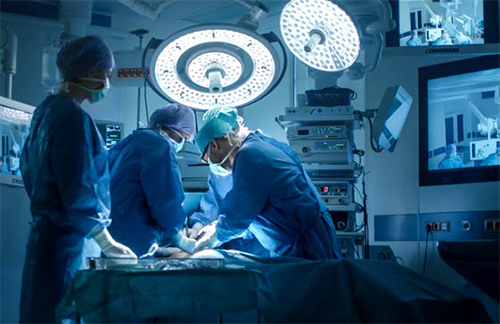 TO AROUND-THE-CORNER NEIGHBORHOOD TREATMENT CENTERS
The move to make healthcare more accessible includes your corner drug store as a player in new ideas.
"There are a lot of different property types in health care now, such as micro hospitals which are small hospitals with between four and twenty beds," Flower Martin says. "Some are specialized with surgical centers and some have medical offices as well, to get more care into right places to serve more folks in the community," she says.
Retail health, which includes stand-alone urgent care centers and other businesses within retail stores, is now gaining in popularity for a number of reasons, primarily ease of access for patients and reducing costs of emergency room and in-patient visits.
A recent market study by Kalorama Information, a healthcare market research company, reported that the number of urgent care centers in the U.S. is expected to increase from approximately 10,600 now to more than 12,000 by 2023. This growth is expected to continue as new partnerships and players emerge in the urgent care space.
Walgreens drug stores have joined with UnitedHealth Group MedExpress to open more urgent care centers which would be near or adjacent to Walgreens drugstores. Companies as diverse as 7-Eleven, Amazon, WalMart, Levi Strauss and others are exploring ways to get involved.
According to a McKinsey report, "Distributed Sites of Care: At the Tipping Point?", if a retail pharmacy chain such as Walgreens were to open a health clinic in each of its stores, more than half of the U.S. population would have convenient access to its clinics.
If Walmart were to take a similar course, more than threequarters of the population would be covered.
Many diagnostic tests could be moved into retail care settings, and researchers have estimated that 14 percent to 27 percent of emergency department visits could be handled at urgent care centers.
TO REMOTE TECHNOLOGY STEPPING UP ACCESS DIRECTLY FROM PATIENTS TO CAREGIVERS
The real influence of new technology from the patient convenience point of view comes in the way of remote monitoring. Remote monitoring technologies could save as much as $197 billion in healthcare costs over the next 25 years in the United States, according to a Brookings Institution report.
Brookings economist Robert Litan found that cost savings using remote technology were especially prevalent in the chronic disease areas of congestive heart failure, pulmonary disease, diabetes, and skin ulcers. With around-the-clock monitoring and electronic data transition to caregivers, remote devices speed up the treatment of patients requiring medical intervention.
Rather than having to wait for a patient to discover there is a problem, monitors identify deteriorating conditions in real time, and alert physicians.
Top remote patient monitoring manufacturers include San Diego-based Dexcom, with a wearable glucose monitoring system to manage diabetes in real time every five minutes that connects to a smart phone app; and Philips Healthcare, with a two-way video app to coordinate patient self-management, where patient-reported responses and connected measurements are automatically transmitted to the care team.
THE FUTURE OF HEALTHCARE
It is a brave new world for healthcare, responding in part to the broader population of Baby Boomers while making healthcare more convenient and cost-effective than ever.
A report from the Deloitte Center for Health Solutions, "Forces of Change: The Future of Health Today," found that the U.S. health care system today is a collection of disconnected components (health plans, hospital systems, pharmaceutical companies, medical device manufacturers). "By 2040, we expect the consumer will be at the center of the health model. Interoperable, always-on data will promote closer collaboration among industry stakeholders, and new combinations of services will be offered by incumbents and new entrants (disruptors). Interventions and treatments are likely to be more precise, less complex, less invasive, and cheaper."