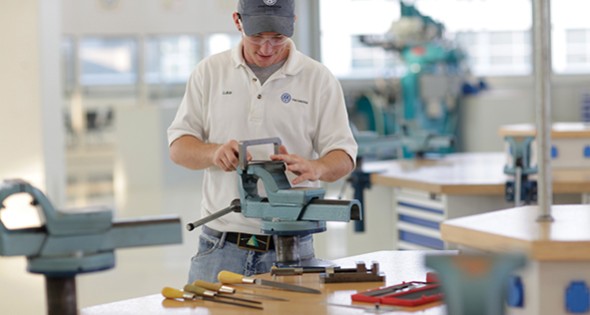 The OEM Story
14 Feb, 2018
Robust growth amid retooling challenges, the U.S. auto industry struggles to maintain growth.
The global industry of automotive manufacturing continues to impress economists with its growth and robust nature. Yet beneath the surface lurk other factors that are causing business owners to scramble a bit to keep production matching demand, while scratching their heads and looking to data analytics help to come up with more of what the consumer demands.
According to a report from PricewaterhouseCoopers (PwC), "2017 Automotive Industry Trends," worldwide sales reached a record 88 million autos in 2016, up 4.8 percent from a year earlier, and profit margins for suppliers and auto original equipment manufacturers (OEM) were at a 10-year high.
Nonetheless, the report continues, viewed through the lens of two critical performance indicators, the industry faces serious challenges.
Overcoming Troubled Times
One of those factors is the return on invested capital. In 2016, the top 10 OEMs returned just four percent. The leading 100 suppliers have done a little better, just beating their costs of capital to enjoy a small positive return, after many years of negative net returns.
"These numbers almost outweigh the positive sales and earnings results," the report found. "They paint a picture of a sector that is a less attractive or less lucrative place to invest than other industries. This assessment suggests that there will be relatively few winners in the auto industry during the next five years and beyond."
This issue of rate of return is not new to OEMS but many have struggled recently to stay in business. In fact, according to a study done by law firm Burbage and Weddell tracking creditor issues on the automotive supplier industry, 2009 was a particularly tough year for OEMS. Of the 27 automotive supplier bankruptcies, 14 ended or were in the process of either liquidation, conversions to Chapter 7 or dismissals.
New Technologies To The Rescue
As with virtually all of industry yet even more so here, rising technologies are the key to healthy growth in the auto industry. Companies must retool the manufacturing process quickly and effectively, leading perhaps ultimately to the development of autonomous cars.
The PwC report noted that what is particularly important about the current wave of innovation in automobiles is not so much the speed with which it has emerged as the breadth of the innovation — how much it is altering the basic contours and features of the traditional automobile and amplifying the difficulty and cost of manufacturing cars.
Ubiquitous electronics, a variety of digital services, and novel powertrains and connectivity systems are hastening the need for expensive new parts, components, and functions.
For OEMs, the price tag of these new cars is high — as much as 20 percent greater than the cost of the previous generation of automobiles.
The Inside Story
Inside the car, there has been a major focus to provide extra value to the consumer and greater demand for what today's consumer expects. Interior surfaces are potential real estate for ambitious enhancements of safety and entertainment, the PwC report notes. New technologies such as 3D laminated glass, haptic sensors and augmented reality heads-up displays — which have driver's alerts, safety aids and warnings on invisible screens embedded in the windshield — have entered the vocabulary of traditional suppliers.
The autonomous car will further up the ante, and soon, the report found. It will change the "living space" dimension of automotive interiors. The front seat may be reoriented to face the back seat, so passengers can converse as they would in their living rooms while the car cruises to a destination. Or seats could face a windshield that's become a large movie screen.
Vehicle electronics could account for up to 20 percent of a car's value in the next two years, up from only about 13 percent in 2015.
"Considering these disparate pressures on costs, there is no easy formula that OEMs or suppliers can use to improve their return on capital," the report found. The solution will likely come from a combination of actions. Part of the answer lies in consolidation, which reduces industry capital requirements by eliminating competition and combining two manufacturing and design footprints into one.
Record Deals To Continue
These goals explain 2016's down-but-still-robust supplier mergers and acquisitions volume, continuing the trend of the previous year's record deal value, according to PwC's report.
That report showed that there were ten megadeals with a total aggregated disclosed value of $19.4 billion in 2016, representing a 58 percent decrease in megadeals from 2015.
The largest megadeal for 2016 was LP Group BV's acquisition of LeasePlan Corp NV, an automotive leasing and fleet management company, for $4.1 billion.
But the PwC's report also found that, for the first time since 2012, component supplier deal value decreased.
The Best & Why
So who are the best OEMs in the country, the world? ReportLinker, a business industry data portal, ranked the top ten automotive OEMs as of 2015:
Established in Berlin in 1937, Volkswagen can be freely called the German miracle, with annual sold units at about 9.7 million. Its European market share is 24.8 percent.
In 2013, the German automaker BMW had a global share of 2.92 percent based on the numbers of car produced.
Created in 1937, Toyota is a top brand for all kinds of automotive products. It sold 9.71 million units last year, and its worldwide market share has reached up to 11.8 percent.
Established in 1947 in South Korea, Hyundai might be young, but it's one of the leading automotive brands in the world. Its 970,000 units per year bring an annual worldwide share of 4.7 percent.
Still a top supplier for motor vehicles and car parts, Daimler has had many obstacles throughout its history. The company declared March 2015 to be the best month in sales of Mercedes cars in the company's history.
The Suzuki Motor Corporation, established in 1909, is the automotive leader in the Asian market. It specializes in automobiles, four-wheel drive vehicles and motorcycles. Suzuki has sold 2,878,000 automobiles and 2,269,000 motorcycles and ATVs. It holds a 19.9 percent share of the global industry.
Founded in 1948, Honda is the third leading automotive force in Japan. Today it can boast annual sales of 1,525,312 units. Even though massive recall fees have weakened Honda's results in 2015, the company's international share is about 9.8 percent.
Created in 1933, Nissan is a multifunctional automotive leader in both Asia and on a global basis. The European market share of Nissan is about 2.4 percent. The worldwide sales for the company are calculated at about 5 million units.
Ford, the top selling car brand in the U.S., has been recently described as the most convenient car brand in the world. Established in 1903, the company boasts annual sales of 2.5 million units. The worldwide market share of Ford is 15.7 percent. Close to bankruptcy during the sub-primes crisis, Ford still struggles due to a slowdown of the European market. However, the company just finished 2014 with results beyond expectations.
Established in 1908, General Motors has a long history with great successes. The company owns the Cadillac brand, which recently released the CT6 to re-capture the luxury market. The annual sales are about 10.32 million units, while their U.S. market share is a stable 17.9 percent.
ReportLinker also showed U.S. leaders in vehicle suppliers, which include Magna International, Denso and Delphi.
Experts believe that Continental Automotive will become one of the top 10 automotive suppliers for the U.S. as well. U.S. companies are some of the leading companies in supplier niche markets (such as Harmon International, the in-car multimedia systems manufacturer). New cross industry actors such as Google and Apple are now offering their services to manufacturers.
Biggest U.S. Success Stories
Some of the biggest success stories in the U.S. come from the southeast, where access to rivers, highways and ports make it a prime area for locating OEMs that need just-in-time delivery to succeed.
For example, one of the largest Nissan production operations in the country is the 5.9 million square foot Smyrna, Tennessee, plant, opened since 1983 and makers of the Altima, Maxima, LEAF, Pathfinder and Nissan Rogue, among others. The $6.4 billion OEM operation employs more than 8,000 and produces around 640,000 vehicles each year.
There is also a Volkswagen plant with plans to build a new $900 million sport utility plant in Chattanooga. "We are fortunate to have about 900 automotive related companies," Commissioner of the Tennessee's Department of Economic and Community Development Bob Rolfe says. "And in today's world, it's all about tier 1 and tier 2 suppliers and how close they can be to these OEMs for a successful hand-off for just-in-time delivery."
Rolfe says that one of Tennessee's former governors put the state on the map when it comes to OEMs. "Today, we are also spending a fair amount of energy recruiting across the globe for not just OEMs and automotive but also advanced manufacturing."
Rolfe also says that they have opened offices overseas – in Japan, China, Germany and South Korea – to continue recruiting. "We will continue that effort because of the large footprint in automotive here," he says. "What will be interesting over the next three to five years is the new generation of automobile, whether electrified or autonomous. So as the combustion engine gets changed, we will have to change the manufacturing process and the suppliers."
For more information about OEMs and the company represented in this article, contact: www.tn.gov/ecd/