VentureCrossings First Gulf Power Certified Industrial Site
09 Dec, 2014
VentureCrossings, located in Bay County and owned by The St. Joe Co., is the first industrial site to complete Gulf Power's Florida First Sites program in Northwest Florida.
VentureCrossings Enterprise Centre is adjacent to the Northwest Florida Beaches International Airport in Panama City. The site has proper zoning, service to utilities and met numerous other qualifications that make it ready for development. St. Joe, Gulf Power and local, regional and state economic development agencies will now work to market the site to prospective companies to bring new jobs to northwest Florida.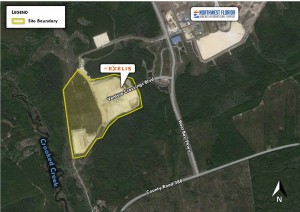 "This is the first program of this type in the state of Florida and it has been extremely successful so far," says Stan Connally, president and CEO, Gulf Power. "Northwest Florida has quickly gone from having zero certified sites to having potentially 10 project-ready sites. Having these sites complete McCallum Sweeney Consulting's rigorous due diligence process gives our region a vital competitive edge when working to attract new businesses to the area and encouraging local businesses to grow."
Under the Florida First Sites program, 14 sites were initially submitted from public and private landowners in 2013 as part of Gulf Power's program aimed at helping communities prepare locations to attract new industries and new jobs to the region. Of those 14 sites, nine are still working toward their certification.
Landowners had one year to complete the identified improvements — everything from obtaining permits, improving topography and producing engineering reports to making sure adequate utilities are available to the site. Gulf Power is paying half the consultant charges for publicly owned sites with private landowners paying the full amount.
Illustration by 9comeback at Free Digital Photos.net