25x'25 Alliance: Adapting to Climate Change
12 Apr, 2013
A report recently issued by the 25x'25 Alliance offers recommendations that will enable the U.S. agriculture and forestry sectors to meet the challenges posed by increasingly variable and unpredictable weather.
The report,"Agriculture and Forestry in a Changing Climate: Adaptation Recommendations," notes the impacts of changing weather patterns vary by region, but include:
higher temperatures

changing precipitation patterns

news threats from weeds, pests and diseases

increased humidity

stronger storms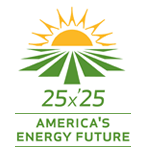 "These are recommendations that mitigate risks posed by changes in our climate while strengthening production, cutting input costs and improving the quality of the land -— even in the context of weather-related disasters like those experienced in 2011 and 2012," says Fred Yoder, chairman of the alliance's Adaption Work Group, which compiled the report. "This document offers producers, foresters and policy makers various pathways in the areas of research, production systems, risk management, decision tools and outreach for building a more resilient ag and forestry system."
"Adaptation is really nothing new to those of us who produce food, feed, fiber and fuel," says Ray Gaesser, an Iowa grain farmer and first vice president of the American Soybean Association. "Wet and dry seasons come and go. Producers have been making adjustments to meet the many challenges of an unpredictable Mother Nature. Yet recent years have demonstrated just how vulnerable our production system remains to changing weather."
New tools, such as smartphone applications, must be developed to take advantage of how producers will use and access information in the future, the work group says. And producer-to-producer dialogues must be conducted to connect producers in areas experiencing changing conditions with those already accustomed to addressing similar challenges. The report says there must be ongoing dialogue between scientists, policymakers, and agricultural organizations, and that producers and trade associations must be involved in research decisions and implementation.
Chuck Rice, a professor of soil microbiology at Kansas State University, says: "Adaptation strategies come in many different forms, but typically fall into three major categories: actions to increase resistance to changes in climate in order to maintain existing practices; actions to improve resilience by investing in steps that preempt disasters and restore systems in the wake of them; and actions to transform operations." To access the report and learn more about taking part in the adaption dialogue visit www.25×25.org/adaption.
Illustration by dan at Free Digital Photos.net
Compiled from 25x'25 Alliance press release.