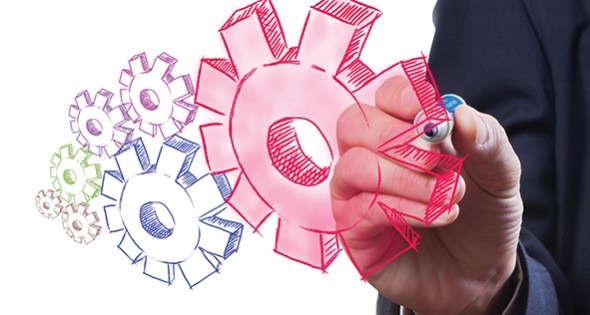 Advanced Manufacturing Now in Every Industry Sector
06 Mar, 2017
High tech manufacturing is broadening its reach and evolving faster than the out of step workforce.
Advanced manufacturing touches on nearly every industry today, from the usual suspects like automotive and aerospace to the more mundane like coal products and agriculture.
But there is so much more going on just below the surface of advanced manufacturing with the drive of economic developers to get more involved in attracting advanced manufacturing companies even in smaller communities. It is an unstoppable, ever-evolving growth industry that has transformed manufacturing.
In fact, according to a report by General Electric (GE) and Oxford Economics, "Here's How Advanced Manufacturing is Transforming the Factory," manufacturing is evolving to the point where technological advancements and improvements will come from machines and systems themselves, through predictive analytics, advanced controls and smarter systems.
Progressive automation technologies with advanced software platforms, robotics and sophisticated new fabrication techniques, like 3D printing, are re-defining manufacturing for the future.
The trend over the past couple of decades has been a decline in manufacturing jobs. But there is a market for manufacturing talent, the GE/Oxford report states.
To fill new types of work in advanced manufacturing industries, and to provide a future for younger generations of workers, universities should increase the number of required science, technology engineering and math (STEM) courses that must be taken in the first or second year in order to qualify for graduation.
According to a 2014 STEM report by the Brookings Institute, as of 2011, 26 million U.S. jobs (which is 20 percent of all jobs) required a high level of knowledge in at least one STEM field. The U.S. Department of Labor reports that jobs related to STEM are projected to grow by more than 9 million between 2012 and 2022.
In addition, by 2018, 63 percent of all jobs will require some kind of post-secondary education and training, according to the GE/Oxford report.
This is especially true in advanced manufacturing industries. Architecture and engineering, computer and mathematical sciences, and business and financial operations account for more than 15 percent of all advanced manufacturing jobs. These are all typically held by professionals with advanced degrees.

Filling the workforce pipeline
Academia is stepping up its efforts to fill the advanced manufacturing pipeline. One example is the Lightweight Innovations for Tomorrow Manufacturing Innovation Institute, an industry-led, government-funded consortium that launched an advanced manufacturing apprenticeship learning pathways model with Jefferson Community and Technical College in Louisville, Kentucky.
This new initiative will develop a pipeline of trained entry-level workers and implement an accelerated, modularized and skills-based program for those in the current workforce who are in need of continuing education and training.
Another academia-related development comes from the Departments of Labor and Education. Administrators there have deployed nearly $1 billion through the Trade Adjustment Assistance Community College and Career Training (TAACCCT) grant program to strengthen manufacturing curricula at community colleges across the country and train America's workforce.
Funded programs range from short-term certificate programs to associates degrees. Many of the TAACCCT programs offer stackable credentials that provide skills for rapid entry into the workforce and upgrading skills on the job.
Manufacturing subsectors addressed by TAACCCT include medical devices, additive manufacturing and 3D printing, advanced manufacturing, advanced materials, robotics and mechatronics, and more traditional occupational areas, such as computer numerical control machining and welding.
Five of the top seven global automobile manufacturers and other major manufacturers are currently collaborating in the TAACCCT program.

Help from the top
The growth of advanced manufacturing has been noted and is being addressed at the highest levels of government as well.
During the recent Manufacturing Day event held at the White House, the administration cited announcements by five federal agencies related to advanced manufacturing, including grants to strengthen manufacturing supply chains by the National Institute of Standards and Technology; challenges to catalyze next-generation technologies by the National Aeronautics and Space Administration; and initiatives to support more American veterans pursuing technical training in advanced manufacturing by the Department of Veterans Affairs.
There were also commitments to help train workers for advanced manufacturing by more than 110 organizations, including the first manufacturing-oriented massive open online course of its kind by MIT, and 30 new manufacturing apprenticeships by the Manufacturing Association of Central New York.
Smart manufacturing — the convergence of information and communications technologies with manufacturing processes to drive unprecedented real-time control of energy, productivity and costs across factories and companies — was identified by the President's Council of Advisors on Science and Technology as one of the highest-priority manufacturing technology areas in need of federal investment.
Smart manufacturing, consisting of harnessing advanced sensors, controls, information technology processes and platforms, and advanced energy management systems has the potential to drive energy efficiency and U.S.. manufacturing competitiveness in a range of sectors.
Another government program, the Jobs and Innovation Accelerator Challenge in Advanced Manufacturing, which is a joint program of the Departments of Labor, Commerce, and Energy and the Small Business Administration, supports local efforts to spur job creation. The program connects innovative small suppliers with large companies, linking research with start-ups that can commercialize new ideas, and providing trained workers with the skills they need to help their companies capitalize on business opportunities.

Chasing the opportunities
Opportunities in high tech manufacturing are high on the list of priorities in McKinney, Texas, according to Darrell Auterson, president of McKinney Economic Development Corporation (MEDC).
One of the driving forces for getting more high tech development in the city can be traced to the success of Raytheon, employing more than 12,000 in their space and airborne division headquartered in the city. Here they work on defense contracts for radars, sensors, precision guidance products, space and missile defense technology, and surveillance products. In fact, there are more than 130 aerospace and aviation companies in the north Texas region, including big aviation companies like Boeing and Gulfstream in Dallas. McKinney is a north side suburb of Dallas.
The MEDC is working on a five year plan that includes pursuing more high tech companies in aviation, health care and medical devices.
"Medical devices is an exploding subsector in health care right now," Auterson says. "If we continue to produce the workforce needed for that in our secondary and post-secondary institutions that is capable of meeting the demands of that subsector, I think medical devices manufacturing is a strong growth opportunity for us. That field and aviation particularly, will be the heart and soul of most of where our emphasis is placed. And advanced technology will have its footprint in all of those different sectors and subsectors."
Because of the growing population in the area and access to large markets in the south, McKinney is going to continue to become an attractive option for highly specialized manufacturing operations, Auterson says.
Across the country in the northwest, advanced manufacturer Rec Silicon in Butte, Montana, is one of the largest customers for Northwestern Energy, according to Rick Edwards, Northwestern's director of key accounts and customer education. Rec Silicon is a producer of advanced silicon materials, supplying high-purity polysilicon and silicon gases to the solar and electronics industries worldwide.
Another advanced manufacturing company hitting their stride in the region is Montana Precision Products, manufacturing casting and parts for the aerospace industry under a joint contract with General Electric. "They have been growing, and I expect some significant expansions in 2017," Edwards says.
More advanced manufacturing is coming to the area, he adds, because of the success stories of other advanced manufacturing companies. For example, Boeing Helena produces for the 737,747, 767 and 787 airplanes. They expanded operations there by 50 percent in 2013, investing $35 million.
"Montana is actually becoming a bigger player in aerospace development," Edwards says. "There is a lot of research going on at both Montana State University and the University of Montana. So I think all of that together will show some good things going on."
He expects the aerospace sector to continue to grow, with potentially some cluster development to come. "To me, the biggest thing right now is to make sure that we have the talent to support that growth," he says, adding that they have worked with one of their two-year community colleges to develop a stream of talent through the job corps system to build a talent pipeline.
Other advanced manufacturing for the region, such as robotics, is a few years off, he says. "I think we will see that come as equipment development matures."
But Northwestern is seeing more interest in data centers, following the opening of a new data center in Missoula that is looking at expanding during 2017. "We have had some interest in a couple of entities that were looking at multiple high power using facilities," he says. "And we are continuing to chase some of that."