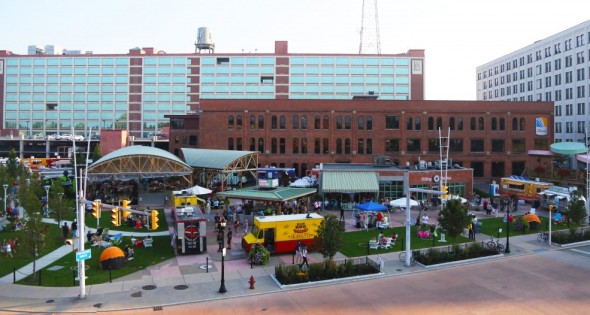 Corporations Activate Community Spaces
05 Aug, 2014
Companies invest in their communities to retain talent and spur economic developments.
Cover image: Food Truck Tuesdays at Larkin Square in Buffalo, N.Y.
By Rachel Duran
The value of vibrant public spaces and walkable communities isn't lost on corporate America. Companies throughout the country are making decisions and investments to positively impact the communities and neighborhoods where they reside. By revitalizing real estate, establishing amenities, creating public parks and gathering spaces, and initiating programming and events, companies and their partners are creating valuable assets that support attraction and retention, and foster goodwill in the community.
These efforts are unfolding in cities large and small, with public and private partners, and private developers, creating lively gathering spots. The initiatives are important to economic development because not only do they support businesses, offer amenities, and increase property values, but also because they create attractive places for people to work, live, play and visit. Vibrant public spaces allow citizens to spontaneously interact and engage with each other, and according to research, walkable communities contribute to a healthy citizenry.
Additionally, millennials want to live in walkable communities, according to a report released in June by George Washington University, which found 558 walkable urban places or WalkUPS, in the country's 30 largest metro areas. The study found the desires of millennials will drive the development of tens of millions of square feet of walkable space, and hundreds of new WalkUPS. The report ranked 15 of today's top walkable cities and the future top 15 walkable cities. Today's top five are Washington, D.C., New York City, Boston, San Francisco and Chicago.
"Companies that are engaged in their downtowns as DTE is in Detroit and many others can really influence the way our employees, our customers and business partners view us and how they interact with the city," says Randi Berris, spokeswoman, DTE Energy Co., which provides more than half of Michigan's residents with either natural gas or electricity.
The company's initiative, known as Energize Detroit, is focused on the western end of downtown, where the company's headquarters is located, and which is a 10 to 15 minute walk from the heart of downtown Detroit and the Campus Martius development. Campus Martius is area which was been transformed into a vibrant public space, home to headquarter operations for CompuwareCorp. and Quicken Loans Inc.
"We are next to the MGM Grand Casino and there is not much else around us; it is not a very walkable community," Berris says. "There is no retail to walk to, no public park space."
DTE Energy's officials want to encourage their employees to stay in the area after work. "Once senior leadership made the decision to make an impact on the neighborhood in which we reside, we started buying properties as they became available," Berris says. One of the first purchases was a triangular lot, where two industrial buildings have been razed. In the near term, DTE Energy will create a green space, which is located catty-corner to its headquarters. Initial discussions for the future of the space include a public space for entertainment, food trucks and/or art installations.
Berris says DTE Energy is working with an outside company to survey its employees and surrounding companies and residents to determine the best use of the public space in the long term. "There is another previously vacant property across the street — the Grand Army of the Republic Building — which has been purchased by Mindfield, a media production company," Berris says. "We want to ensure the property between our two homes is green and user friendly and connects us to each other."
DTE Energy is also involved with an initiative in Detroit called Live Downtown, which provides incentives for people to rent or buy in the city. "These are great ways for businesses to help repopulate the city with professionals who help increase the tax base and provide critical mass," Berris says.
"Vibrant public spaces are valuable assets for companies because employees see it as an amenity, a place to hold business meetings, and a place to hang out with friends after work," says Meg Walker, director of design and vice president, Project for Public Spaces (PPS), a nonprofit that helps communities and organizations create people-friendly public spaces that build strong communities.
Walker says the components of public places depend on who the audience is and what the community's needs are. PPS meets with business, retail, restaurant and building owners, as well as people who live in the community. Rather than designing the space first, they develop a program of uses and activities. "If we work in a downtown, where there are not as many residents, you focus on the people who work there," Walker says. "We are looking to attract visitors to the area as well."
PPS has discovered through the years the more different events and programs are in place, the more popular a public space is. One of the organization's projects was Bryant Park in New York City, which was mostly occupied by drug users and homeless citizens in the late 1970s and early 1980s. Implementing a master plan to create a destination for everybody, today Bryant Park is one of the most popular public spaces in the country.
Public Spaces Bring Us Together
Farther north in Upstate New York, a private developer had a vision to create a public space in Buffalo that would be an amenity for workers, as well as a destination spot for visitors. In 2002, Howard Zemsky, managing partner, Larkin Development Group, purchased the 600,000-square-foot Larkin Terminal Warehouse at the former Larkin Soap Co. site, which still had a few existing facilities in place.
The development, Larkin Square, is located a mile east of downtown Buffalo. Today, Larkin Square employs more people than when it was the Larkin Soap Co. The square is home to the headquarters for First Niagara Bank, a back office for a large health care system, the Western New York headquarters for Homeland Security, and law offices.
"First Niagara helped pay for the Larkin Square build out because they understood with their headquarters here, they had a great retention tool," says Leslie Zemsky, director of fun at Larkin Square. The development is a family affair, where Howard and Leslie Zemsky and their son, Harry, are involved with Larkin Square.
"What no one expected was the amazing organic growth as we started events and programs," Leslie Zemsky says. Last year, the square ran a 13-week series in the summer on Wednesday nights to cater to people who work at the site, with events running from 5 p.m. to 8 p.m. "The actual result is that 90 percent of the people who come to our events come from around the community; some drive an hour," Zemsky says.
Amenities at the square include food truck nights, which regularly attract 30 trucks, some coming from Rochester. Live music events are also offered. In July, an urban market was set to open at Larkin Square. The 50 vendors will offer fresh and prepared foods, crafts and other activities. The square hosts an author series throughout the year. "These things are great recruiting tools," Zemsky says. She says neighboring buildings are being developed around the square as a result of the activity. "They like being down here — you can't compare it to any other place you can work in Buffalo."
Zemsky notes that as the Buffalo economy continues to improve, and with more people being recruited into Buffalo, people want to move into a community with fun things to do. "We have an art museum, a theater, but now the city is much more vibrant with these public gathering spaces," she says. "Buffalo is on a positive as different neighborhoods are beginning to connect. We have a governor who has given us $1 billion in economic development aid, known as the Buffalo Billion. We have never had a governor who has been so passionate about western New York. I feel like we live and breathe this new Buffalo, and it is very exciting."
What's next for Larkin Square? "Everything we do is geared toward someone who works here," Zemsky says. "We have started private events, which are appealing to companies. They can host a corporate gathering and then everyone can go out and hit the food trucks. It is different than going to a club and doing something more traditional."
The redevelopment of the Larkin site has spurred additional developments in the area. A brewery is set to open two blocks from the square, complete with tours and tastings. What's more, a distillery will open down the street from the square.
In Detroit, Campus Martius continues to add features and amenities. Quicken Loans brought 7,000 employees to its headquarters campus located in the downtown. The company's owner, Dan Gilbert, has formed a real estate arm and development arm to fill the buildings they have purchased in the downtown, working to attract high-tech startups into their buildings, for example. "Quicken Loans realized the area lacked amenities," Walker says. "Gilbert realized this opportunity to enhance property values and keep his employees happy and create a lively downtown."
Walker says in 2013, Campus Martius began implementing lighter, quicker and cheaper ideas to attract even more people downtown. A beach was created at the campus, complete with a deck, lounge chairs, and a bar and grill. "We received $75,000 in assistance from Southwest Airlines; they are working with us to do placemaking in the cities where they have major hubs," Walker says. Other efforts have included an increased amount of programming such as concerts and family events, opening beach volleyball and basketball courts; and opening a prepared food market, and a flea market in Cadillac Square, located next to the campus. "All of these things don't cost too much to set up, they go in fast, attract a different audience, and get people to stay longer," Walker notes.
In the Energize Detroit initiative area of downtown, DTE Energy is underway with renovations to its headquarters facility, updating the workspaces floor by floor. The company has created an inviting entryway, complete with a water feature. DTE Energy has also purchased a building located across the street from its front entrance. The facility temporarily serves as the location for the company's IT department until the workplace transformations are completed at the headquarters operation, scheduled for 2018. The building, formerly home to the Salvation Army, has been renamed the Navitas House, which means "energy house." In regard to the long-term uses of the building, early ideas include turning over the building to a developer to possibly include commercial developments on the first floor, and possibly office spaces, and incubation space for entrepreneurs.
Meet Me Downtown
When downtown areas undergo revitalization, and when programs are activated in these spaces, these public places become hubs of activity. These efforts materialize when corporations and public sector partners, and/or private developers hold visions to create amenities to serve the people located in the spaces. These developments not only attract companies and talent, but also tourists and visitors as well.
Vibrant public places are catalysts for economic development, producing walkable communities, which can lead to healthier workers — people who rarely ventured out of their workplaces due to lack of services, events, programming and gathering spaces to meet for lunch, for example.
"The more people you have the more development happens," Berris says. "Companies engaged with their cities can help make that happen."
For complete details about the organizations featured in this article, visit: