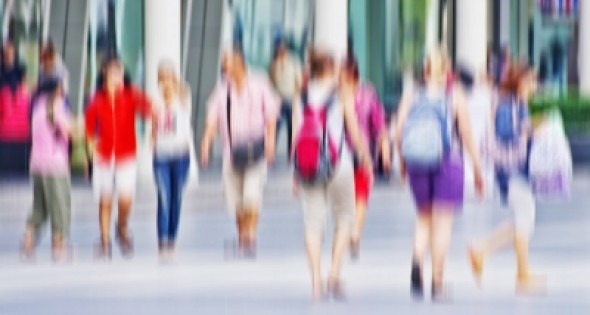 Creating Family-Friendly Spaces
30 May, 2013
By Rachel Duran
Designing vibrant public spaces is a community affair.
The desire to socialize is with us from childhood. We want to connect with those around us. We like to congregate in public places and interact with each other, whether through play, attending cultural events or enjoying picnics in parks.
In downtown Santa Cruz, Calif., the developments underway at Abbott Square will not only result in the formation of a vibrant and family-friendly public plaza space, but also attract economic development activity. "People are not thinking about life and work in the same discrete buckets as they used to," says Nina Simon, executive director of the Santa Cruz Museum of Art and History. The museum fronts Abbott Square, which is a development managed by the museum. "The space is a county property but managed by us, so it feels like a public space, but we have more control and flexibility in what we can do there compared to public property," Simon says.
She says as someone who has managed commercial property, creating spaces where people want to congregate changes property values. Abbott Square is an underutilized plaza located in the middle of an active commercial district. The museum staff manages commercial property that fronts the square. "We want downtown to be a place where people want to work and stay after work for a concert or bring their kids to events held in the space," Simon says.
The business community in Santa Cruz understands that enforcement and regulations can only achieve so much in creating conditions for success in public spaces. "By embracing and supporting creative activity you can introduce spontaneity, energy, and dynamism into a landscape that can be simpatico with business interests," Simon notes. Abbott Square also offers a unique opportunity to absorb some of the creative and cultural energy that might run into issues in other public spaces, such as street closures for festivals. With the proper design, Abbott Square can become the place to host these festivals because the streets remain open, allowing access to retail stores.
Public Spaces are Organic
The decision to enhance Abbott Square employs a design strategy with the community acting as co-developers of the site with the museum, as opposed to going through a typical design process where a design is inserted into a space.
"By embracing and supporting creative activity you can introduce spontaneity, energy, and dynamism into a landscape that can be simpatico with business interests."-  Nina Simon, executive director of the Santa Cruz Museum of Art and History
"Oftentimes the thinking and design of public spaces has been dominated by designers, those who think of physical design," says Elena Madison, vice president, Project for Public Places. The nonprofit works with communities on a conceptual level in regard to creating vibrant public spaces. "The main thing about public places is they are places for people and because of that they are organic and they need to change."
In Salt Lake City, Utah, the increasing popularity of shopping and gathering at downtown destinations was behind the development of City Creek Center. "City Creek is an urban center, right in the heart of downtown," says Dee Brewer, director of marketing and sponsorship, City Creek Center. "There are 109 stores, and 30 of them are unique to market."
City Creek Center, which features a retractable glass skylight, is easily accessible by car or public transportation as a Trax light rail line runs through the development. The transportation connections provide access to the nearby Discovery Gateway, a children's museum; the Clark Planetarium; and the Leonardo, a science, technology and arts museum; and parks and recreational activities in the immediate area, Brewer says.
City Creek Center just completed its first year of operation and attracted 16.2 million visitors, playing an important role in a reinvigorated downtown Salt Lake City. The center is part of a business environment featuring a performing arts center, and new retail and restaurant establishments. There is also an urban park, which plays host to concerts, for instance.
Additionally, City Creek Center is also located adjacent to Temple Square, a gathering place run by the Church of Jesus Christ of Latter-day Saints. The square plays hosts 5 million visitors annually.
Let's Be Spontaneous
One of the keys to public spaces is the ability to maintain its status as a gathering spot. Simon says that by building consensus in Santa Cruz through a participatory process in what a public space should look like, the community members have been invested from day one and become stewards and ambassadors for the space.
Simon's team held visioning sessions with adults and one session with children that outlined how to evaluate a space and make recommendations and ideas that were viable. There were also collaborations with engineers, artists and construction companies. "What came out of it for us was reconnecting with the idea that first of all we need to think family friendly the whole way through," Simon says. "It is more than saying 'over here is a play structure' or 'over here is an interactive sculpture,' but thinking about how we can add elements that add magic, surprise and delight."
Madison says a trend in the development of public spaces finds cities and developers undertaking incremental changes to public spaces before changes are made permanent. "I believe it is much healthier and ultimately cheaper than making major investments," Madison says. "This gives everyone the opportunity to test ideas and also to encourage businesses to incubate, especially small businesses."
Abbott Square's officials are also in favor of a lighter, quicker and cheaper approach. The enhancement concepts were expected to be complete in May, with the first phase of work scheduled during the following 12 months. Discussions will be held with local artists and fabricators to get things moving. The first phase will be a $50,000 investment; the long-term concept is in the $500,000 range.
In regard to the development of the space, Simon notes: "For us this is not about closing the space by putting up construction fences and two years later revealing a space. It is about how can we incrementally improve it? How do we start attracting people through small things, such as a maze or colorful tables and chairs, so that you are building the constituency as you build the space?"
"These businesses understand the value of doing for free for the public. They are adding clients and growing their businesses." – Elena Madison, vice president, Project for Public Spaces

In Richmond, Va., the neighbors of the Virginia Museum of Fine Arts have been an active constituency in voicing ideas for a neighborhood corner on the campus of the museum. The museum added a new addition, which resulted in an undefined public space — other than it was formerly a parking lot.
Madison says the neighbors had a tradition of using the parking space as an extension of their backyards, where kids would ride bikes and dogs would play off leash. Two years later the parking lot is a garden, complete with sculptures, and is open to the public. "The people in the neighborhood still feel that it is their space," Madison says. "It was an interesting and exciting process to work with the museum and neighbors and surrounding institutions to develop a plan for the future of the grounds of the museum."
The neighborhood corner is ideal for bringing the family and dogs, enjoying picnics and viewing art work. Madison says when determining the best use of a public space, the community is the expert and project directors need to ask community members the right questions in order to create the right program. The best efforts have brought together volunteers, friends of parks, officials from the municipality, and developers who understand their communities and their needs.
These public spaces lend themselves to spontaneous uses from those invested in the space. In the Jackson Heights neighborhood of Queens, N.Y., the 78th Street Play Street initiative, which will soon become permanently closed to traffic, has become the center of activity for this neighborhood. Volunteers and local business make donations and offer free classes in yoga, ballet, dance and art, among others. Each year, the library hosts a reading on the carpet event. And every year the senior class from the private school located across from the play street conducts a community service program, engaging in activities with children.
"These businesses understand the value of doing for free for the public," Madison says. "They are adding clients and growing their businesses." Madison lives near the play street and has been a volunteer the last several years, working alongside community members to create more public space and expand the pocket park in the community. "I believe in doing what you preach," she says.
In Santa Cruz, Simon is looking forward to the spontaneity that Abbott Square will draw to the downtown. "We are excited about the new things that will come into our field and our sphere based on the participation in that space, and based on the sense that it is open for opportunities that may not be open in the museum itself," she says.
For more details on the organizations featured in this article, visit:
Abbott Square and the Santa Cruz Museum of Art and History (Calif.)
City Creek Center (Salt Lake City)
Illustration by feelart a tFree Digital Photos.net