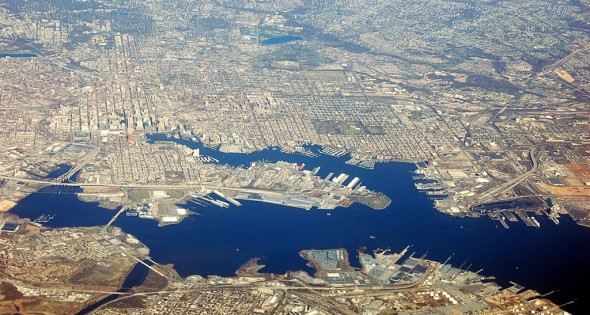 Crowded Seaports Adjusting to Increased Import Volumes
01 Jul, 2022
But more and improved infrastructure is still needed to keep imports and exports rolling along in a post-pandemic business climate
It's been a tough year or two for seaports around the world, with the pandemic becoming the main impediment to generating steady revenue, but also because of the important role of seaports in the whole distribution chain of products within the U.S., from distant markets of origin to the destination of the sale.
Latest seaport stats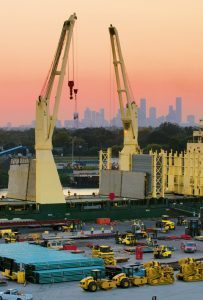 According to data from the American Association of Port Authorities (AAPA), in 2020, fifty ports were ranked among the top 25 maritime ports, with 46 in the 48 contiguous U.S. states, plus 2 (Anchorage and Valdez) in Alaska, 1 (Honolulu) in Hawaii, and 1 (San Juan) in Puerto Rico.
The ports in Baltimore, Houston, Mobile, New Orleans, and Virginia are in the top 25 for
all three-cargo categories—overall cargo tonnage, dry bulk cargo tonnage, and twenty-foot equivalent unit (TEU) of containerized cargo.
According to the U.S. Department of Transportation Bureau of Transportation Statistics, the top 100 ports account for 95.5 percent of total tonnage handled by U.S. ports. The highest tonnage figures come from ports that handle large quantities of both liquid bulk cargo (such as petroleum or chemicals) and dry bulk cargo (such as coal or grain). These include the ports of Houston, South Louisiana, and Corpus Christi and other ports along the Texas/Louisiana/Alabama coast.
The 2020 top tonnage port was the port of Houston, handling twice as much export tonnage as import tonnage. The port of South Louisiana handled the greatest volume of dry bulk cargo.
The container ports with the highest TEU volumes were coastal container ports, such as the ports of Los Angeles, Long Beach, and New York and New Jersey. The 2020 top container port was the port of Los Angeles, California.
Adjusting, recovering from the pandemic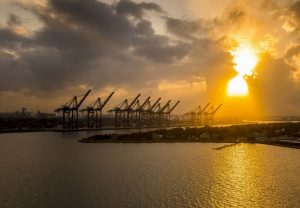 As the pandemic drove a shift in demand from services to goods, major swings in imported goods placed significant stress on U.S. ports in 2020.
The 2nd quarter of 2020 was marked by a recession as gross domestic product (GDP) decreased by 31.2 percent. GDP quickly rebounded in the 3rd quarter of 2020 with growth of 33.8 percent.
The recovery from the pandemic continues to affect related port workforce. After a serious dip in the number of truck and warehouse employees in April, 2020, numbers improved significantly by September, 2021.
The country's top 10 container ports handled relatively low numbers of monthly TEU in the first half of 2020, shifting to higher numbers of monthly TEU in the latter half of 2020, which continued to grow in 2021.
For example, these ports handled about half a million (12.7 percent) more TEUs in October, 2021 than in October, 2020. Container ports have continued to handle a record-breaking number of TEU through the 3rd quarter of 2021.
Port congestion and the changing nature of freight
Ian Gansler, the government relations associate for the AAPA, told BXJ that, since the pandemic, there has been an increase in consumer spending on imported goods. "That increase has caused record amounts of cargo to be imported through our ports. And that is the chief cause of the congestion we've seen at some ports around the country. They're moving record amounts of cargo that they've never seen before."
Some of that congestion has eased a little bit since the peak, he said, sometime last year. "But we're still seeing some backups at some ports. And I'd emphasize that ports are not the only point in the supply chain that are seeing congestion. There's congestion at rail depots, at truck depots in the United States, and congestion at foreign ports, which is even worse than it is at American ports."
He said that there may be some dozens of ships stacked up waiting to dock at Shanghai. "I've seen articles saying there's over 200 ships waiting to dock at Shanghai," Gansler said. "What I think is important for people to know is that these ports are moving record amounts of cargo there every month, compared to the same month in the previous year. These largest gateway ports are moving more cargo than they ever have before, with essentially the same amount of infrastructure that they had prior to the pandemic."
Many of the AAPA members are telling him that their operations are going just fine. They say that they're exporting agriculture, exporting petroleum, or importing non-containerized products. "They don't have the same congestion. So I think it's important to recognize that the problem is not one size fits all problem and the solutions won't be one size fits all, either."
The two independent ports of Los Angeles and Long Beach are the busiest container ports in the U.S. and are served by many shipping companies, most of them internationally owned.
James Fawcett, adjunct professor of environmental studies at the University of Southern California, said in an interview published on the USC website that it is important to remember that the backup is a system problem. "That is most obvious at the ports. Our two ports aren't necessarily the cause of the problem; the congestion is just more visible there. And, once the system gets out of whack as it has this past year, it takes time for it to recover back to normal across the world."
Seaport support
Federal funding for ports has grown significantly, from $3.9 billion in 2021 to a projected $6.3 billion in 2022. U.S. ports are ready to build over $49.7 billion in green infrastructure projects over the next decade, including electric cargo-handling equipment and charging stations; green energy shore-power projects; electrical grid infrastructure improvement; hydrogen power projects; and offshore wind projects.
Other signs of recovery from the pandemic is that imports set another record high this spring as the nation's major container ports worked to reduce congestion and retailers stocked up before dockworkers' West Coast labor contract expired, according to the monthly Global Port Tracker report released by the National Retail Federation and Hackett Associates in July.
According to the report, ports saw a surge in activity this spring as a slowdown in cargo from Chinese factories closed by the pandemic gave them a chance to clear built-up congestion. Retailers have been bringing in seasonal merchandise and importing other goods early to avoid any problems related to the contract negotiations, a move that may have also contributed to volume.
The AAPA is stepping up to help modernize seaports and add crucial features to address shortcomings revealed by the pandemic. Working with some key member ports, the AAPA developed the Port Opportunities with Energy, Resilience, and Sustainability (POWERS) program, launched July 19, to provide environmental protection, energy security, and resilience from extreme weather. AAPA and stakeholders want to ensure that ports are at the center of policy and economic discussions to modernize the U.S. transportation and energy infrastructure.
Lessons learned
"I think the major lesson we've learned is that we need more infrastructure to deal with these cargo volumes," Gansler said. Volumes will continue to rise, and, as the economy continues to grow in years and decades to come, there are likely to see even further cargo volume increases. "So I think the lesson is, our ports have been under-invested for decades," he said. "They've kind of been out of sight, out of mind to the average consumer, the average small business. You order something, you order a package, you order a pallet of something for your manufacturing process, and it arrives on time, you don't have to think about it. And now all of a sudden that it doesn't arrive on time, people are asking, oh, where's my package? Why isn't it here? And the answer is we haven't put the investment into our ports that we needed."
The U.S. Department of Transportation's Maritime Administration (MARAD) announced in May that up to $684.3 million is now available for Port Infrastructure Development Program (PIDP) grants, to be awarded on a competitive basis to projects that improve the safety, efficiency, and reliability of the movement of goods into, out of, around, or within a port.
This amount marks the most annual funding for PIDP in history, according to the press release announcing the funding.
Projects that improve the movement of goods to, through, and around ports at coastal seaports, inland river ports, and Great Lakes ports are eligible to receive funding.
Climate change and the future of seaports
A research article about port infrastructure reported that recent trade scenarios suggest that global freight demand could increase between three- and seven-fold by 2050, with a 73 percent global increase in the number of containers moved to at least 2.2 billion per year over the same period.
It has been estimated that port capacity will not be adequate to meet demand as early as 2030, and that increases in capacity and infrastructure are already inevitable to ensure efficient movement of goods.
The article also reported that climate-related extremes and trends have important implications for ports in terms of their functionality, navigable water, and shelter from wind and waves.
In any event, the costs of providing new ports dominates over adaptation of existing ports. The largest area and highest costs are likely to remain with today's largest economies, such as the U.S. and China) although other countries, particularly in Asia and Africa, will see significant increases as trade magnitude and pathways change. "While port area estimates are reliant on the understanding of future trade directions, most scenarios foresee the movement of bulk commodities whether coal, grain or biomass remaining the main constituent of maritime trade," the article reported. "The space requirements for handling, transport and storage of these goods are therefore likely to remain a key consideration for future port development and adaptation."