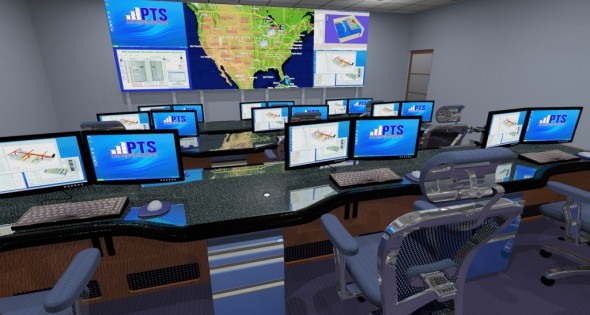 Evolving Cloud Infrastructures Reduce Complexities
05 Apr, 2015
Caption: A network operations center built by PTS Data Center Solutions. Photo: PTS Data Center Solutions Inc.
By Rachel Duran
Ultraconvergence of the cloud is as revolutionary as colocation was to the data center.
Several significant data center projects have been announced this year, highlighting the architectural advances in the build out of both the public cloud and private cloud. The cloud simply means a very fast way to provision a server and/or services. Corporations find an effective utilization of the cloud features a hybrid infrastructure, featuring elements of both private and public cloud systems.
Among the major projects announced thus far this year are developments in Nevada and Arizona, which will result in billions of dollars being deployed for data center facilities.
In January, Switch, based in Las Vegas, Nevada, announced a $1 billion, 3 million-square-foot SuperNAP data center campus planned for 1,000 acres near Reno, Nevada. The first phase will consist of an 800,000-square-foot data center facility.
EBay Inc. is the announced anchor tenant for the Reno development. The SuperNAP project will connect to the main Switch SuperNAP campus in Las Vegas via a fiber loop. Switch plans to create a super loop, which will span from Reno down to Las Vegas, and then across and down to Los Angeles and up to the San Francisco Bay area in California, back to Reno, according to a Switch press release.
The SuperNAP project slated for Reno will be another hyperscale data center for Reno, which is home to a cloud computing center for Apple Inc. Switch has established a large cloud computing hub in Las Vegas, which includes two SuperNAP data centers. The SuperNAP 8 is a 350,000-square-foot facility, and is located adjacent to the SuperNAP 7, a 400,000-square-foot facility.
Cloud Computing Terminology
Exploring cloud services and overwhelmed by the technical jargon and endless acronyms? Below is a sampling of commonly-used terms.
Big Data: Essentially this is simply a huge collection of data. As a result of storage limitations, many companies are choosing to store their data in the cloud, archiving as much information as possible in order to analyze the data to identify future trends.
Cloud Computing: Using groups of servers and software networks maintained by a third party to store and access data remotely rather than housing and maintaining the data yourself.
Hybrid Cloud: A networking environment that combines aspects of both public and private clouds.
Infrastructure as a Service (IAAS): Cloud infrastructure services that deliver computer infrastructure. Rather than purchasing servers, software or network equipment, clients instead buy those resources as a fully outsourced service.
Software as a Service (SAAS): Software applications delivered over the Internet by the provider, so that the applications don't have to be purchased, installed or run on the customer's computers. The service provider hosts the software so you don't need to install it, manage it or buy hardware for it.
Virtualization: The act of creating a virtual version of something, including but not limited to a virtual computer hardware platform, operating system, storage device or computer network resources.

Source: Compiled by European Automation, www.euautomation.com, based in the United Kingdom, and shared by Dave Greenfield at www.automationworld.com.
Among Switch's 1,000 clients are more than 40 cloud computing companies such as Google, Cisco, VMware and Microsoft's Xbox One.
In a company-specific data center announcement, in February, Apple announced it would establish a global data relevant products/services data center in Mesa, Arizona. The estimated $2 billion project will take shape at what was to become the factory for GT Advanced Technologies, which was to manufacture scratch-resistant sapphire glass for Apple's devices. The company filed for Chapter 11 bankruptcy. Apple bought the 1.3 million-square-foot building in 2013. At this facility, Apple plans to implement a 100 percent solar powered central command center to monitor its other global data centers, according to published reports.
Apple's investment is a testament to the advantages of Mesa and the Phoenix metro area for mission critical operations, say economic development officials. This includes a low risk for natural disasters, affordable real estate, a robust fiber network and a pro-business environment. "The city of Mesa has made significant investments in infrastructure to accommodate economic development in our community," writes William J. Jabjiniak, economic development director, city of Mesa, in an email correspondence. In November 2014, voters approved another $700 million in bond authorization for more infrastructure investments across the city. This move represents several hundred acres of land with flexible land entitlements and necessary infrastructure improvements.
Apple's investment is a testament to the advantages of Mesa and the Phoenix metro area for mission critical operations, say economic development officials. This includes a low risk for natural disasters, affordable real estate, a robust fiber network and a pro-business environment.
Cloud Simple
The announcements by Switch and Apple highlight how far and fast cloud infrastructure for data storage how has come. For Peter Sacco, the cloud is a story of the evolution of convergence to ultraconvergence, which is creating cloud storage infrastructures that are less complex. Sacco, president of PTS Data Center Solutions Inc., based in Oakland, N.J., believes this ultraconvergence will be as revolutionary to the IT industry as "Windows was to compute, as colocation was to the data center, and as virtualization was to servers."
Among its services, PTS Data Center Solutions operates its own physical data center and has its own cloud offering. "When we build a client premise tenant space computer room, if they need an alternate for disaster recovery for back up and replication, we can be the target for that," Sacco notes.
To provide context for cloud-related terminology, "convergence" refers to software-defined storage systems. For example, "hyperconvergence" scales compute, storage, networking and virtualization together, deploying storage controller and array components on the same node. "Hyperscaled" systems scale compute and storage independently, decoupling the storage controller and array components, creating a storage cluster of whitebox (original design manufacturers) servers.
All this to say that instead of thousands of boxes required to manage and store data, with today's technologies, a few boxes will suffice. Cloud architectures of today are built different than two years ago, and will be completely different next year, Sacco says.
Businesses of all sizes should be thinking about building everything on virtual data platforms because data is made to be mobile. For example, a virtual computer hardware platform or a virtual operating system "A physical server is made to fit in a spot and if the spot goes away, then it needs to be sitting in another physical spot and that is not easy to do," Sacco says. "Most companies want to be resilient and use a combination of private cloud, with some outside public cloud access for excess storage and DNS."
What cost $1 million two years ago to build the cloud infrastructure for PTS Data Center Solutions, would cost $200,000 today to build the same cloud. Sacco says providers such as SimpliVity assist in making a huge difference to a company's bottom line in regard to data storage. "Companies need to understand what that impact is and they can't be afraid to make sweeping changes to their networks in order to operate faster, smarter and cheaper because the innovations that happen in IT happen fast," Sacco says.
La Junta, Colorado's Cooler Weather Advantages

By Rachel Duran
The business and infrastructure elements that have contributed to the success of La Junta's contact center cluster are ideal for data center facilities, says Ryan Stevens, executive director, La Junta Economic Development. Situated in southeastern Colorado, the La Junta region offers companies a cool to moderate climate, a low risk for natural disasters, and 300 plus days of sunshine a year.
La Junta's building inventory includes two former contact centers, one a more than 10,000-square-foot facility that can handle up to 180 seats; and a 33,750-square-foot facility that can handle more than 400 seats. Stevens notes one of the incentives for these facilities includes not paying rent for five years.
Companies will find La Junta's moniker, the "Smile Hi City" is backed by a pro-business city council and city management, which wants to help businesses succeed. Stevens says the minimal bureaucracy and fair regulatory environment mean greater profits for organizations.
To learn about the opportunities, visit www.lajuntaeconomicdevelopment.com.
Local Partners are Prepared
As companies consider the possibilities in data management and storage, they will find officials in their states and local communities are willing to provide support systems. This can be through grants, incentive awards, reliable utility services with favorable costs, build-ready sites and/or available facilities, and a talented labor pool.
Businesses of all sizes should be thinking about building everything on virtual data platforms because data is made to be mobile.
In Mesa, city officials follow the mantra: "facilitate and not regulate." The city has streamlined its permitting processes and offers Planned Area Development Overlay zones, and dedicated inspectors for large projects.
Flexible entitlements and available sites are found in the Elliot Road Technology Corridor, which is the area Apple's data center will anchor, and which is an area primed for additional investment. As a bonus to executives, the corridor is within a five-minute drive to Phoenix-Mesa Gateway Airport, which provides commercial services to more than 35 destinations. The corridor is also within 40 minutes of Phoenix Sky Harbor International Airport.
The City Center in Mesa is another area ideal to support data center investments. Mesa owns and operates an electric utility, in which the service territory covers roughly six square miles of City Center. "Within this area the city can leverage its electric, natural gas, water and wastewater, and chilled water utilities to drive significant operating cost efficiencies for a data center project," Jabjiniak writes. "It's worth noting the city's electric utility sources 20 percent of its portfolio from renewable sources and is exploring co-generation opportunities."
What's more, Apple's global data center facility "will be a zero emission facility by using a variety of renewable energy methods, while working with Salt River Project, our electric utility provider," Jabjiniak adds.
Apple's Mesa operation is expected to employ 150 full-time Apple employees, with 300 to 500 facility maintenance and trade jobs. Apple will find a talented labor pool in the Mesa region. At Arizona State University (ASU), there are 1,400 undergraduates majoring in computer science, with more than 580 pursuing master's degrees in the field, according to a press release from the university. Additionally, almost 250 students are pursuing doctoral degrees in computing-related programs at the ASU School of Computing, Informatics, and Decision Systems Engineering.
Also in the region, the Maricopa County Community College District system features more than 265,000 students. The district offers more than 40 technical certifications and associate's degrees such as computer programming, electronics engineering and networking systems administration.
A well prepared talent base is fundamental to the expansion of the cloud. Architectural advances in these networks must be able to support companies' requirements, including the virtualization of more applications, which sends more data to the cloud for storage. Companies are well served utilizing a combination of both public and private cloud services in a hybrid approach to the cloud.
For complete details, visit:
Apple Inc.
City of Mesa's Elliot Road Corridor
PTS Data Center Solutions Inc.