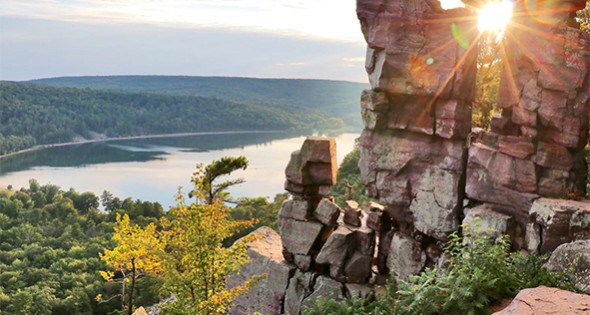 WISCONSIN: Thinking Bigger
15 Aug, 2019
With a convenient location and business friendly atmosphere, Wisconsin continues to attract new business. Centro Sperimentale del Latte USA Inc., a probiotic company, is establishing its first U.S. operations with a manufacturing facility in Wisconsin. Faith Technologies Inc., an electrical planning, engineering, design, and installation company, is expanding with a new $20 million manufacturing facility in Wisconsin that will create more than 250 jobs over the next few years.
Wisconsin is a growing leader in aviation and aerospace manufacturing, drawing more than 500,000 aviation enthusiasts from 60 countries each year for EAA AirVenture. Wisconsin has also made a name for itself in biohealth as its home to some of the nation's top research institute, including the University of Wisconsin-Madison, and companies such as HealthMyne, BluDiagnostics, and Remedy Analytics.
The food and beverage industry has a decades-long history in Wisconsin, as does the lumber and paper industry, which has begun to focus heavily on conservation and sustainable practices with the state's 17.1 million acres of forest land. Helping power the country and even the world, Wisconsin has more than 900 energy, power and control companies, as well as numerous water technology programs and companies like Cadens LLC.
With so many innovative businesses across the state, Wisconsin's employment concentration exceeds the national average and has created the second largest manufacturing concentration in the country. Cost of living is lower than the national average at 6.5%, and housing and childcare costs are also low. Wisconsin is an educational hub with major public research universities, STEM programs, and top-rated K-12 educational systems.
Another strong advantage to Wisconsin is its ease of transportation to and from the area. The state's extensive transportation network includes nine major highways covering 11,800-plus miles, railroad lines that move $122 billion in freight each year and eight commercial airports. Wisconsin is also economically blessed with waterways forming three of its borders along the Great Lakes and Mississippi River. The Wisconsin Commercial Ports Association (WCPA) promotes waterborne transportation in Wisconsin's 14 port cities.
BIG OPPORTUNITIES IN A SMALL TOWN DEFINE WHITEWATER
Studies sponsored by Bizjournals have found that a large number of Americans prefer to live in small towns and cities on the fringe of large cities. With a population of 15,000, and being conveniently located just 50 miles from Madison and Milwaukee and 80 miles from Chicago, Whitewater fits that description to a T. US Highway 12 and State Highways 59 and 89 connect Whitewater to Interstates 43, 90, and 94, making it an ideal location for commuters.
This small college town comes with several other business incentives that you simply can't find in a large city, such as below average costs of labor and utilities, one of the lowest tax rates of Wisconsin cities, and a Community Development Authority that is eager to help incoming businesses to thrive.
And, being the home to the University of Wisconsin-Whitewater, there is a ready supply of an educated workforce. "Our campus is entrepreneurial and collaborative by nature, and we leverage the talents of the university to support economic development," said Whitewater Community Development Authority Director Dave Carlson, who also noted Whitewater has two Economic Opportunity Zones that are expected to be an economic development catalyst in the next couple of years.
One zone includes Whitewater University Technology Park, a 130-acre park that includes 35 acres of certified shovel-ready land. There are 12 building sites ready for construction with all utilities included and state-of-the-art technology infrastructure in place. The mission statement of the Whitewater University Technology Park is "to create and foster durable businesses and jobs through a close alignment of UW-Whitewater's research and educational competencies and the resources of the City of Whitewater," according to Executive Director Mark Johnson.
For a small business just starting out, the Technology Park also boasts the Whitewater University Innovation Center, a business incubator that serves the University and the community. The Innovation Center is a mixed-use business incubator that offers office and laboratory space, business consultation, business education and workshops, and holds a biannual showcase of its client and student businesses. The facility provides high-speed fiber optic internet, VOIP phone service, and 24/7 electronic access.
Adjacent to the Technology Park is the Whitewater Business Park. There are over 20 businesses in the park, employing more than 2,300 people. The park is operated by Whitewater's Community Development Authority, which provides assistance such as site selecting, securing necessary public infrastructure, planning, and getting access to loans for new and incoming businesses.