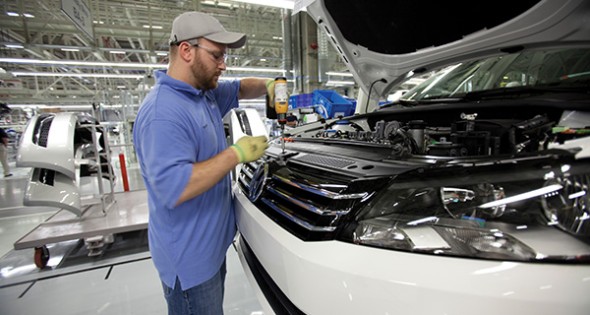 Auto Industry Riding High
26 Jan, 2016
The automotive industry will do well as long as companies continue to reinvent themselves.
By Mark Kleszczewski
Photo Courtesy of Volkswagen of America, Inc.
Although growth in new vehicle sales is expected to taper off in one to two years, the current boom in the American auto industry is expected to continue well into 2016.
Declining unemployment, strengthened consumer confidence and low-cost financing have sustained a very strong pace of sales, further boosted by low gasoline prices and strong year-end promotions in 2015.
Indeed, U.S. auto sales enjoyed an all-time high last year and are poised to set a new record in 2016, bouncing back from a low of only 10.4 million units in 2009, according to Steven Szakaly, chief economist at the National Automobile Dealers Association. The Automotive News Data Center further reports that the seasonally adjusted annual sales rate during late 2015 came in at 18.16 million, topping the U.S. sales peak of 17.4 million reached in 2000.
"Everyone is riding high right now with record sales levels, record transaction values, and a record period of prosperity putting us into year seven of continuous, year-over-year sales improvements," observes Bernard Swiecki, director of the Automotive Communities Partnership, Center for Automotive Research (CAR).
"However, in a cyclical industry, the question that's slowly beginning to appear is when the next dip coming," he says. "Some forecasts expect milder growth for the next two years and a small dip either in the 2018 or early 2019, but it will be the softest of landings — not anything like the crash we saw in 2009. We also do not have the overcapacity problem in the industry that we did in the last recession."
That's welcome news in the United States, one of the largest automotive markets in the world and currently home to 13 auto manufacturers and an extensive network of auto parts suppliers. According to the U.S. Department of Commerce, the automotive industry accounts for approximately 3.5 percent of U.S. gross domestic product and nearly 4 percent of total U.S. manufacturing. The Motor & Equipment Manufacturers Association estimates the total employment impact of the auto parts industry alone to be over 3.62 million jobs directly and indirectly nationwide, more jobs than any other manufacturing sector.
As sales continue to climb, industry clusters are bolstering local resources and workforce capacity to remain competitive with expanding markets and foreign production centers, notes Betty McIntosh, senior managing director, business incentives practice and global business consulting, Cushman & Wakefield.
"Consumer confidence is strong and pent-up demand is behind a lot of movement and growth in sales and supplier activity," McIntosh says. "Foreign producers such as Hyundai are thriving and American car manufacturers have turned themselves around and are expanding now, especially in engineering research and development."
Geographically, she adds, Michigan and Ohio have made some huge strides in improving their industry presence since the recession, while there is a lot of activity happening in the Southeast, especially from Tennessee on downward. She says that other states and regions are fast developing industry clusters worth watching.
For example, in a move similar to the 2014 deal that brought Tesla's Gigafactory to Storey County, just outside Reno, the state of Nevada is proposing a $335 million tax and infrastructure incentive package to attract California-based startup Faraday Future. The company recently announced plans to bring create 4,500 direct jobs at a future $1 billion, 3 million-square-foot electric car factory to North Las Vegas.
McIntosh also points to bigger, traditional OEMs such as Volvo investing in North America as a further sign of confidence in the market and sector.
Last May, Volvo Cars of North America president and CEO Lex Kerssemakers, South Carolina Gov. Nikki Haley and other public officials officially broke ground in Berkeley County. Construction has now begun on the factory site, which will be capable of producing up to 100,000 cars per year.
"Volvo is moving quickly to expand its presence in the United States with new cars, new engines and now, a new factory," said Kerssemakers, in a prepared statement. "We're excited to build our first American factory in South Carolina and we look forward to helping grow the local community and economy. We were impressed with the friendliness, work ethic and passion of the people in the Charleston area."
"We are thankful Volvo has chosen Berkeley County for its first North American assembly operation, bringing with it 2,000 jobs and a $500 million investment," says David Ginn, president & CEO, Charleston Regional Development Alliance. "The Charleston region's deepwater port, logistics and labor force were major factors in Volvo's decision, especially as the region's workforce is 360,000 civilians strong and growing five times faster than the nation. Volvo's decision to locate here is the result of exceptional leadership by several key partners."
Among them are ready SC, a division of the S.C. Technical College System, which will provide the new plant will recruitment and training assistance.
Upon opening, the facility will be the global production home of the all-new S60 Sedan, which is currently under development at Volvo headquarters in Sweden. American-built S60s will be exported around the world through the Port of Charleston, along with another model yet to be determined. The first South Carolina-built Volvos are expected to roll off the assembly line in late 2018.
Looking at the broader picture, Volvo Cars' selection underlines the success of South Carolina's automobile industry. The state is home to more than 250 automotive-related companies and suppliers, and leads the nation in the export of both tires and automobiles.
In nearby Tennessee, the U.S. home of German automaker Volkswagen since 2011, the auto industry is invigorating overall manufacturing and triggering new capabilities in the region.
"In terms of the supply chain throughout the Southeast and the I-65/I-75 corridors, many Tier I and Tier II suppliers appear to be at their limits, so there's going to be continued opportunity for growth," says Charles Wood, vice president of economic development, Chattanooga (Tenn.) Chamber of Commerce. "Strong logistics and the ability to support multiple OEMs will play a critical role and help communities from a diversification perspective."
Another growing plus, Wood continues, is the ability to support OEMs and their supply chain from outside the automotive industry. "One example in Chattanooga is our thriving scene of early-stage 3-D printing companies that are learning a lot from Volkswagen and its suppliers, Wood says "In return, OEMs can gain access to very entrepreneurial mindsets with the potential to add value as they grow. Collaboration and strong workforce partnerships with institutions such as the University of Tennessee and Chattanooga State Community College are another major resource companies can take advantage of."
As for Volkswagen itself, although it's still working to emerge from a diesel emissions scandal that grabbed headlines last year, VW is looking to the future and has announced plans to build a midsized SUV at Chattanooga, planning to gradually add as many as 2,000 plant workers for production initially slated to begin in late 2016.
"Lots of automotive companies have gone through different challenges with their products or brand, including Volkswagen last year," Wood says. "But they are a major global player and will continue to do well."

Technology Integration Accelerates

Heightened consumer demand, regulatory requirements and the convergence of several technological advances are also attracting newcomers to the sector while spurring automakers to expand and invest in facilities, Swiecki explains.
He says the regulatory environment is a particularly important factor, since the government is simultaneously mandating stricter safety regulations while tightening fuel economy standards. That's pushing companies into adopting more sophisticated materials and techniques, especially in the areas of powertrain efficiency, electrification, and light-weighting.
Swiecki says that the spread of autonomous technology is another noteworthy trend poised to accelerate further. "We now have economy vehicles being introduced for 2016 with high-tech features that were not available on luxury cars just a few years ago."
"Whether its connectivity or autopilot capability, technology is becoming more and more important to auto OEMs," Wood confirms. "Talent, particularly around software development and IT, is becoming an issue.
"For Chattanooga, we're seeing that discussion really take place around Volkswagen's planned research and design center," Wood continues. "From a labor and talent perspective, a community or region's ability to make sure that not only can they get folks on the production line, but also help an OEM harvest IT and software development talent, is very important."
Maintaining Momentum

With more accommodating labor contacts and lower retiree healthcare costs, post-recession auto manufacturers are in a much stronger position today than in the past, notes Charles Chesbrough, senior economist, IHS Automotive, in a recent industry overview. However, the U.S. auto market may be nearing its peak and will experience a "pull back" after 2017 as a result of rising interest rates and other factors, he cautions.
Despite the coming uncertainty, the opportunities for OEMs, their suppliers and surrounding communities are there for the taking if they embrace change, suggests McIntosh suggests.
"Though subject to economic ups and downs, I think the automotive industry is pretty safe as long as companies will continue to reinvent themselves," she says. "We'll probably see repositioning among the various tiers of suppliers, especially as OEMs continue to concentrate in the Southeast, but right now, I don't see much in the way of negativity. I think things are going well and hope they will continue for some time."
For complete details on the organizations featured in this article, visit:
Center for Automotive Research, www.cargroup.org
Charleston Regional Development Alliance, www.crda.org
Chattanooga (Tenn.) Chamber of Commerce, www.chattanoogachamber.com
Cushman & Wakefield, www.cushwakeincentives.com