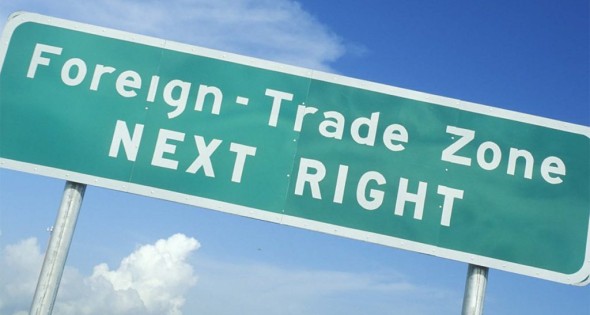 Foreign Trade Zones (FTZ) Boosting Local, State Economic Activity
21 Mar, 2019
Foreign trade zones (FTZs) were first established in 1934 through The Foreign Trade Zones Act of 1934, which said that certain small plots of land on U.S. soil didn't count as being on U.S. soil for customs purposes.
According to a report by the National Association of Foreign Trade Zones (NAFTZ), in a 1950 amendment to the Act, Congress permitted manufacturing in zones. Later in the 1950s, the FTZ board allowed FTZ sites to be designated at a company's facility (referred to as a "subzone"). In the early 1980s, the U.S. Treasury Department clarified that value-added or domestic inputs were not added to dutiable value for entries of merchandise from zones into U.S. commerce.
FTZs offer economic advantages to U.S. companies because they reduce costs of importing and exporting goods by offering duty deferral, duty reduction or inverted tariff, merchandise processing fee reduction, streamlined logistics and savings on state and local taxes.
The 2018 annual report to Congress by the Foreign Trade Zones Board showed that there were 191 FTZs active during the year.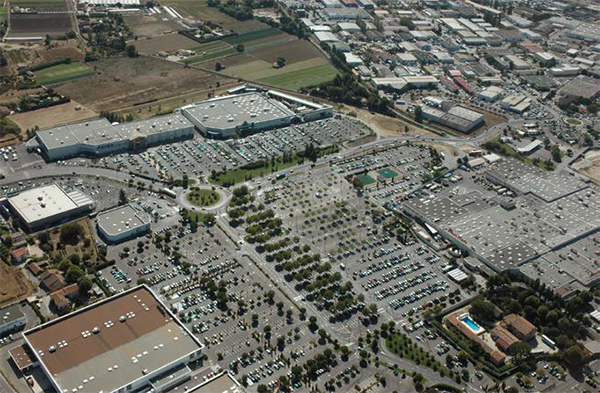 The most foreign trade zones are in Texas (32), followed by Florida (21) and New York (15). Over 450,000 persons were employed at some 3,200firms that used FTZs during 2018.
The value of shipments into zones totaled over $669 billion, compared with over $610 billion in 2017. About 63 percent of the shipments received at zones involved domestic status merchandise.
Exports (shipments to foreign countries) from facilities operating under FTZ procedures amounted to $87 billion in 2018.
Company access to FTZ benefits creates a substantial ripple effect through the companies' supply chains, which are typically located nearby. For example, the study cites BMW Manufacturing in South Carolina, ExxonMobil Corporation in Louisiana, and Yamaha Motor Manufacturing Corporation in Georgia as companies that have experienced this sort of effect.
According to the NAFTZ report, BMW analyzed its economic impact on the South Carolina and national economies and found that its FTZ operations directly and indirectly add $6.3 billion annually to South Carolina's economy and lead to the employment of 36,285 people in the state.
ExxonMobil assessed the economic impacts of its Louisiana operations (all within an FTZ) on the Louisiana economy and found that one out of every eight jobs in Baton Rouge area can be traced back to ExxonMobil.
The FTZ operations in Georgia of Yamaha Motor Manufacturing Corporation of America resulted in expenditures of more than $170 million annually with more than 100 U.S. parts suppliers. About 30 percent of the parts and components used to make its products in the FTZ come from Georgia-based suppliers; another 20 percent comes from other U.S.-based suppliers.
The NAFTZ report also cited FTZ benefits that have brought production jobs to the United States. Prodeco Technologies, an eBike manufacturer in Florida, uses its FTZ duty savings to keep its finished bike prices competitive with foreign-assembled eBikes that can be imported into the United States duty-free. Prodeco can compete with imports using American workers doing the assembly and with a closer eye on quality control.
Side Note 1
Phoenix-Mesa Gateway Airport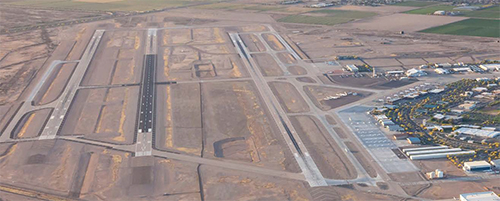 The Greater Phoenix area is one of the fastest growing metro areas in the country, and there isn't a place more evident of that trend than the Phoenix-Mesa Gateway Airport (Gateway Airport). Nearly a dozen projects have started construction or are currently in the design phase, with even more projects recently announced.
Notable projects include an expansion by Able Aerospace Services, a Textron Inc. company, two new aeronautical side hangar development, and the continued progress of SkyBridge Arizona. The two new developments will result in the first new privately-funded hangar developments in nearly a decade.
Able Aerospace Services celebrated the groundbreaking of a 50,000-square-foot expansion at its headquarters within Gateway Airport that will allow Able to enhance the technology used in its repair and overhaul process, and to diversify into new product and service offerings. It is also expected to generate as many as 100 new skilled aerospace jobs over the next two years at the Mesa facility, where it operates as an industry-leading aircraft Component Repair and Overhaul (CRO) provider. Able relocated to its new headquarters at Gateway Airport in 2013. Since that time, it has added more than 200 employees and expanded its footprint, adding new mezzanine space, a new paint facility and the build-out of hangar space that is now home to the Able Maintenance Center.
"Phoenix-Mesa Gateway Airport has been an excellent home for Able, allowing us to grow significantly in our size, capabilities and revenue," said Able Aerospace Services General Manager Gabriel Massey. "We are grateful for the support we've received from the City of Mesa and the Airport Authority, and we look forward to all that Able will continue to contribute to the Valley's growing aerospace market."
Aviation Performance Solutions, LLC ("APS") and Wetta Ventures, LLC each have plans to develop aircraft hangar facilities on Gateway Airport owned property. Wetta Ventures, LLC has leased land currently occupied by an open-air hangar constructed in 1943, when Gateway Airport was Williams Air Force Base. Plans call for the removal of the 75-year-old facility and construction of new office and hangar space totaling approximately 50,000 square feet. Belgium-based aircraft recycling/up-cycling service Aerocircular announced it's expanding its operations in North America and will occupy the new facility. The company is expected to create more than 130 jobs over five years in this fully autonomous maintenance, repair and overhaul facility that will serve the continental market.
"Arizona is a leader in the maintenance, repair and overhaul sector and provides the top talent, history of expertise and excellent infrastructure that Aerocircular was seeking," said Sandra Watson, President & CEO of the Arizona Commerce Authority.
In January 2018, Arizona Governor Doug Ducey announced that SkyBridge Arizona, set to operate out of Gateway Airport, will be the nation's first international air cargo hub to house Mexican and United States customs. SkyBridge Arizona was created to limit the extensive freight time it takes to deliver goods to the growing consumer market in Mexico and beyond from weeks to days.
SkyBridge is finalizing their master plan for the 360-acre site and have already received environmental clearance from the Federal Aviation Administration to begin construction on two parcels with direct runway access. At full build out, SkyBridge will be home to over 3 million square feet of warehouse hangar space in addition to providing logistical and other services.
These projects are just the beginning of what's to come at Phoenix-Mesa Gateway Airport. For more information, visit choosegatewayairport.com.
Side Note 2
Prince George
Prince George, British Columbia, with a population of nearly 80,000, has a thriving economic base in the forestry sector and has diversified over the decades from primarily manufacturing lumber, pulp and paper to metal fabrication, chemical production, plastic goods, pellets and biomass production.
Situated in the centre of British Columbia and at the intersection of provincial Highways 16 and 97, which offer direct access to the Port of Vancouver and the Port of Prince Rupert, Prince George has naturally become a service and supply hub for the surrounding region of 320,000 people. The city has an international airport and intermodal rail facility which accommodate the export of goods and services throughout Northern BC, within Canada and internationally.
Recognizing Prince George's distribution and trade advantages, the Canadian government, in 2018, designated Prince George as the first Foreign Trade Zone (FTZ) in British Columbia.
An FTZ is an officially designated location that is eligible for tariff and tax exemptions on raw materials, components, or finished goods imports.
There are currently 5 FTZ benefits investors can take advantage of at the Prince George zone.
| | | |
| --- | --- | --- |
| Program | Benefit | Qualifications |
| Duties Relief Program | Upfront relief of duties. | Goods must be exported within four years. |
| Drawback Program | Refunds duties for exported goods. | Goods must have been exported within four years. |
| Customs Bonded Warehouse | Defers/relieves duties and taxes. | Goods must not be substantially altered. |
| Export Distribution Centre Program | Upfront relief of GST/HST on certain imports and domestic purchases. | Must be an export-oriented commercial entity that adds only limited value to goods. |
| The Exporters of Processing Services Program | Upfront relief of GST/HST on certain imports. | Goods must belong to non-residents and be re-exported after being processed. |
To accommodate and assist the export businesses that will set up in Prince George, the following land opportunities exist:
| | |
| --- | --- |
| Airport Land | Prince George Global Logistics Park Land |
| 700 acres of leasable land. | Over 3,000 acres of shovel-ready light industrial land. |
| Airside general aviation | Privately owned. |
| Airside Cargo | Option to have direct airside access with security fence. |
| Multipurpose | |
| 10,000 square feet of cargo warehouse leasable area. | |
| Security fenced. | |
Export businesses at the FTZ also have access to Prince George's single-window service, which allows investors direct access to:
| | |
| --- | --- |
| Canada Border Services Agency | Foreign Affairs and Trade Development |
| Canada Revenue Agency | Industry Canada |
| Transport Canada | Export Development Canada |
Economic Development staff envisions businesses setting up at the Prince George FTZ that are interested in the distribution of goods to international and domestic markets.
The FTZ in Prince George is one of the city's newest economic opportunities but many others exist. Other key industries the City is focusing on growing include Engineered Wood Products, Forestry Innovation, and Data Centres.
---
If you are looking to invest in Canada, contact the Economic Development Division in Prince George at ecdev@princegeorge.ca or visit http://www.investprincegeorge.ca.