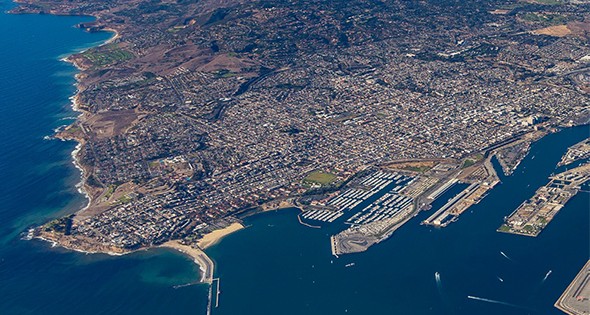 Global and U.S. Seaports Struggling in a State of Economic Flux
15 Sep, 2020
Shipping and other logistics involved in the infrastructure of transportation, distribution and delivery are holding steady for now, but struggling as the economy looks to regain its footing amid a raging COVID-19 pandemic.
Seaports have always been one of the nation's vital economic engines and employment generators, which means far-reaching economic fallout from any operations glitch—especially a global one such as the pandemic.
All indications before March, 2020, pointed to a sort of business as usual industry, with a few bright spots to highlight.
FACTS AND FIGURES
Facts and figures from 2020 are not available yet, for the most part.
But in 2018, seaport cargo activity employed 31 million people in the United States, representing an increase of 7.5 million jobs since 2014, according to the American Association of Port Authorities (AAPA).
Cargo activities at U.S. seaports accounted for 26 percent of the U.S. economy, generating nearly $5.4 trillion in total economic activity and more than $378 billion in federal, state and local taxes in 2018.
Economic growth from 2014 to 2019 in federal, state and local tax revenues generated by port-sector and importer/exporter revenues rose nearly 18 percent, from $321.1 billion to $378.1 billion, as reported by Martin Associates, a transportation consulting firm doing economic studies for the AAPA.
During this same period, the total economic value that U.S. coastal ports provided in terms of revenue to businesses ,personal income and economic output by exporters and importers rose 17 percent from $4.6 trillion to $5.4 trillion, accounting for nearly 26 percent of the nation's $20.5 trillion economy in 2018.
Most of the five busiest ports in the country in 2018—the Port of Los Angeles, handling 9.46 million container units (TEU) a year; the Port of Long Beach, with 8.09 million TEUs; the Port of New York and New Jersey, with 7.2 million TEUs; the Port of Savannah, with 4.35 million TEUs; and the Seaport Alliance (the ports of both Seattle and Tacoma), with 3.47 million TEUs—are seeking or planning updates related to either larger vessels making port or better port management tools.
For example, as part of its 2050 master plan, the Port of New York and New Jersey, which includes cargo container facilities, automobile terminals, dry and liquid bulk cargo operations, cruise terminals and ferry landings, is mapping out the next generation of land-use and infrastructure development projects.
As spelled out in a press release, the primary objectives of the master plan are to provide opportunities for growth through stakeholder engagement; improve the port's commercial value by investigating opportunities to maximize lease revenue; continue to serve as an economic engine for the region; and to promote safe, resilient and environmentally sustainable operations in partnership with its tenants.
Another example is the Port of Savannah, in Savannah, Georgia, which is now the country's biggest agricultural product exporter.
The port has two, class-one railroads (the CSX and Norfolk Southern) and is working on a $128 million project that will link two rail yards, and add rail lift capacity to about one million containers each year.
Port of Savannah management is also working on a $3 billion plan to double containerized cargo capacity by 8 million TEUs by the end of this year.
Port Tampa Bay, which handled 105,663 TEUs in 2019, a 21 percent increase from 2018, has a 2030 master plan, and recently received almost $19.8 million in an infrastructure innovations federal grant to build a new 1,300-foot berth and a 30-acre container yard, increasing both the container capacity by 60 percent and the number of deep draft container vessels the port can receive.
THE CHINA FACTOR
On July 6, 2019, the U.S. added levies on $34 billion of imports from China, followed by $16 billion more on August 23. China retaliated with tariffs on $50 billion of U.S. goods, including American cars, as well as agricultural and food products. The dispute is ongoing.
Walter Kemmsies is the managing director, economist and chief strategist for the commercial real estate services company Jones, Lang and LaSalle (JLL). He works in the JLL Ports, Airports and Global Infrastructure Group.
Kemmsies says that shippers and ports will have to quickly reorganize and manage activities in response to tariff issues with China. "To reduce exposure to risks of tariffs, shipping companies will move their operations to western parts of Asia, Central America, Columbia and a little bit to the Middle East," he says.  "Those importers who moved to the western parts of Asia are increasingly putting their products on ships that go to the U.S. through the Suez Canal, as opposed to trans-Pacific to west coast, or trans pacific through the Panama Canal to the east coast. That is happening as we speak."
West coast ports are very congested now, he says, not necessarily because of just the activity at the ports but because more people are moving into the urban areas like Los Angeles and Oakland.
Other changes include exporting of paper scraps, which were typically a payload picked up by Chinese ships after unloading in Los Angeles that then headed to the Oakland port before returning to their port of origin. Those payloads are not accepted by Chinese ships anymore, he says, creating revenue issues for the Oakland port.
Oakland quickly identified new markets west of China that would be interested in these paper scrap exports, such as Vietnam.
Three weeks ago, the ocean carrier Ocean Network Express (ONE)—which is the merger of the three Japanese shipping companies Nippon Yusen Kaisha (NYK), Mitsui O.S.K. Lines, and K Line—restructured their services so that now, Oakland is connected as far west as Saudi Arabia for the first time ever. "So Oakland is showing the rest of the west coast ports what you have to do," Kimmsies says.
He says that what he suspects is that shipments that go to the west coast will probably be coming from India or Vietnam.
But shipments going to the east coast, including those with goods bound for the Midwest, coming from Vietnam and India will go through the Suez Canal to the east coast.
THE 2020 COVID QUOTIENT
The British International Trade Association reported that maritime intelligence company eeSea showed a total of 302 of 2,693 global shipping containers sailings, or 11 percent, were cancelled in May, 2020, on all the main line trades because of the COVID-19 pandemic.
Far East to Europe westbound experienced a 14 percent drop in sailings, or 18 of 127 sailings, cancelled in April.
The U.S. Coast Guard has released a series of Marine Safety Information Bulletins (MSIB) related to COVID-19, including information about port readiness to receive any medical waste from any vessel calling at their port, that has any contaminated waste as a result of COVID-19 treatments.
Other "unique operating conditions" the MSIB noted included challenges regarding cruise ships mooring at facilities not approved for passenger operations, and facility and vessel crew interactions.
E-COMMERCE IDEAS
E-commerce is making the boxes dwell at ports longer, Kimmsies says. "Most ports give you 7 days, including the time needed to clear customs," he says. "Beyond 7 days, you incur charges."
With e-commerce, a merchant can predict how much is going to be sold. "But predicting where you are going to sell is a whole different matter," Kimmsies says. "So the question becomes where can you store the cargo? What you try to do is keep the product as close to point of origin as possible until the last second, until you know where it's going to be sold."
In the Port of Savannah, he says, they wanted to help the e-commerce businesses. So port officials bought 160 acres on the inland side of the port for the ecommerce businesses that require longer dwell times. "This enables them to store their shipments off the operating part of the container terminal, and the ports do not have to charge those businesses larger dwell fees," he says. "That is the kind of thinking we are looking for here—expand the footprint and help the changing nature of retail."
NEW PORT TECH
Kimmsies says that there is a push towards automation and using non-fossil fuel burning equipment, such as electrified cranes for example.
The systems for operating terminals are also becoming increasingly more complex, which is helping operations management. "What I like about automation is that instead of having to decide before the ship arrives where to put the cargo and what stack to put it in, with today's systems, right up until the time that the crane touches the box in the ship, you can decide whether or not you want to change it from either truck to train, or train to truck."
One example of new technology used in ports comes from the Port of Los Angeles, which introduced in October, 2019, two pre-commercial battery-electric top handlers that will be tested at the Everport Container Terminal.
The top handlers are off-road vehicles with an overhead boom for loading containers weighing up to 75,000 pounds onto trucks and trains, unloading them, and stacking them on terminals between pickups and deliveries.
These zero-emission top handlers run on a one-megawatt battery designed to operate for up to 18 hours between charges. Each top handler has a data logger for tracking hours of operation, charging frequency, energy usage and other performance indicators. The top handlers are a key component of the port's $7.7 million Everport Advanced Cargo Handling Demonstration Project, according to a press release.
WHAT'S NEXT?
There are even bigger, more intriguing port ideas being implemented and discussed, such as the creation of offshore artificial islands to handle the largest container ships.
APM Terminals, which builds and manages port and terminal facilities, and also offers cargo, storage, warehousing, container conversion, track and trace, weighing, and handling services for cargo transportation, built a billion dollar, 800,000 square meter container terminal on an artificial island made from sand from the seabed in Moin, Costa Rica.
The Moín Container Terminal (MCT), operated by APM Terminals, just completed its first year of operations on February 28, and serviced more than 1,100 ships, and around 1.2 million TEUs.
Other artificial island seaports include the Port of Singapore and the Port of Tanjung Perak in Surabaya, Indonesia.
To create one of these artificial island ports, important considerations need to be given to tidal range where the island is intended that could cause it to be inundated; studies about wave heights; and determinations of the strength of the island's foundation.
Side Note
Quonset Business Park: Small State, Big Impact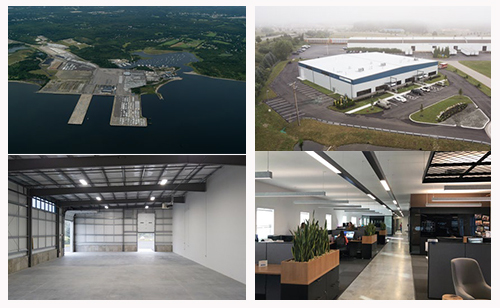 Since its creation in 2005, Quonset Development Corporation has created an environment for businesses to succeed. Once home to a naval base, the park has been transformed into the leading engine of economic development in Rhode Island that supports over 200 companies and 12,000 jobs. The Park has been a leader in job creation and economic growth in the state, attracting over $2 billion in private investment. The Park is also home to 17% of the manufacturing jobs in Rhode Island. So what is it about Quonset that creates a climate for success?
Growth Mindset: The remaining available land at Quonset can accommodate up to 3.6 million square feet of new construction, and we make it easy to make you our newest company. Our site readiness program makes pre-permitted and pre-engineered parcels available that allow businesses to get shovels in the ground within 90 days of site control.
World Class Infrastructure: Quonset' greatest strength has always been in the variety of facilities and world-class infrastructure available to companies. Our industrial spaces have the capacity to support large, high-tech, operations like Electric Boat and Toray Plastics while the Commerce Park section accommodates some of the state's most successful corporations like Ocean State Job Lot. Our state-of-the-art Flex Industrial Campus gives new and expanding companies room to grow in a move-in ready and affordable space, adaptable to the needs of their business. This includes flexible manufacturing, or warehouse space between 10,000 and 40,000 s/f. These are equipped with office spaces, restroom facilities, and high bay space for manufacturing, assembly or warehouse use, with ceilings up to 24 feet.
Quonset also offers modern, customizable, state-of-the-art office space for start-ups, small businesses and professional service companies in the Gateway Office Complex. With the four existing office buildings fully leased, construction of the fifth building is now underway and scheduled to be completed by year's end. The Gateway Offices provide companies with affordable rates and the option of flexible shorter-term leases. Each facility includes wireless high-speed Internet, a shared kitchen and break areas (including an outdoor courtyard), a conference room, and an abundance of natural light, and multiple restrooms.
Location: Our location in North Kingstown, Rhode Island places businesses in the heart of the Northeast, giving them broad access to the East Coast's largest customer markets. Situated halfway between Boston and New York, companies can have a stake in both of the region's densest population centers. We are also minutes from major highways such as I-95; manage the Port of Davisville, Rhode Island's only public port, at the Park; and are adjacent to Amtrak's New England Connector.
Transportation: Quonset's location places our companies at the heart of major shipping and travel routes in the region. The onsite Port of Davisville provides public access to a world-class port facility. The park also affords access to 14 miles of freight rail lines through the Park and both RI Rte. 4 and I-95 highways. With additional proximity to three airports – T.F. Green (RI), Logan International (MA), and Bradley International (CT) and train routes like the MBTA and Amtrak, businesses and employees alike have the options they need to access new markets.
Superb Public Amenities: To attract the best talent, it's essential to be a place where people want to work. The Park is home to an 18-hole golf course, four public beaches, a bike path, a daycare facility and a free express bus shuttle service that connects us to Providence in partnership with the Rhode Island Public Transit Authority. Our Gateway Plaza also includes shopping options like Dave's Marketplace grocery store and Kohls. These amenities create an environment for success for our employees and are a benefit to our neighbors, as well.
Cleaner and Greener: Access to the Port of Davisville has made our park a magnet for clean energy development. The park has hosted the construction of some of the nation's most ambitious wind energy projects, including the nation's first offshore wind farm off the coast of Block Island. We look forward to serving as a hub for the growing industry. Quonset was also recently recognized by the Rhode Island Office of Energy Resources for our commitment to investments in energy efficiency, and we're proud that the Quonset Development Corporation's offices are run 100% on clean energy generated by solar power.
Quonset Business Park is the premium location for businesses of all sizes and stages of development. Our top-notch facilities, centralized location, and institutional support not only gives businesses at Quonset an edge in the competitive Northeastern markets but also the resources they need to grow. For more information about starting your next venture at Quonset, visit us at http://www.quonset.com.