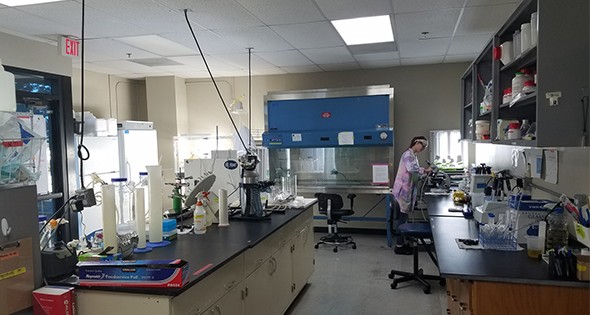 Innovation Hub: Life-Changing Healthcare Technologies Developed in Vista, California
06 Feb, 2019
Innovation Hub is a new series celebrating the extraordinary companies that call Vista home. From healthcare tech to precision medicine, electronics, AI, cybersecurity, manufacturing and more, this series will take a deeper dive into the innovative industries that make up the collaborative culture in this diverse city.
Vista may be known for its award-winning microbreweries, but there are plenty of other exciting things brewing in high tech labs around this innovative north San Diego County city.
For example, inside a highly specialized laboratory at Exagen Inc. off Liberty Way, scientists are working on groundbreaking tools to help physicians better diagnose and monitor autoimmune diseases such as lupus and rheumatoid arthritis, giving hope to patients with major, unmet medical needs.
Only a mile away off Park Center Dr., Leica Biosystems is developing technology that allows clinicians to efficiently provide patients a highly confident diagnosis within 24-hours after a biopsy. The global cancer diagnostics company (formerly Aperio Technologies), was even recently awarded a US patent for its breakthrough Real-Time Focusing extreme speed scanning technology.
These companies are just two of several healthcare tech-focused companies that make up Vista's burgeoning life sciences industry. Others include RXSafe, Access Biologicals, IntuBrite, and Sommetrics, to name a few.
Bet you didn't know there was so much "sciencey" stuff going on in Vista, did you?
For Exagen, which relocated its laboratory operations from Albuquerque, New Mexico in 2012, Vista is the ideal SoCal locale.
"It was a strategic move for our operations to be headquartered in Vista. We found it to be a welcoming environment, especially given the existing management and talent pool here," President & CEO Ron Rocca said. "We recognized that people can easily commute from Escondido or Temecula or even Orange County, and also anyone relocating would be able to enjoy the Southern California lifestyle."
Exagen, which has about 75 employees in Vista and another 40 across the country, is growing rapidly, including forging partnerships with large pharmaceutical companies such as GSK.
With that growth comes more need for talent.
"We have a CLIA certified and CAP accredited laboratory so it's critical we have access to trained technicians," Rocca said.  "There are many people trained in biomedical life sciences in Carlsbad, La Jolla, Mira Mesa, and San Diego – that whole biotech quadrant is a hotbed of people we need from a growth perspective."
To help Exagen find and retain the very best talent, the City of Vista, along with the San Diego Regional Economic Development Corp., facilitated a connection between the company and UC San Diego Extension to enhance a regional training program for in-demand clinical laboratory scientists. The connection came via Innovate78, a consortium made up of Vista, Carlsbad, San Marcos, Oceanside, and Escondido whose mission is to create an environment to help innovative industries flourish along the Highway 78 corridor.
"The 78 corridor is a microcosm of the rest of the region. There is a prominent life sciences and tech cluster, largely anchored by Vista, Carlsbad, and Oceanside," said Matt Sanford, Economic Development Director for the EDC. "When you look at the unique attributes of all five cities you get a tapestry of resources that together present a strong region. The amount of collaboration those cities have had over the last five-to-10 years has created an ecosystem where innovative companies can really thrive."
To further fuel Vista's innovative industries, the city continually works with companies on leasing, site location, and expansion, as well as talent attraction and development.
"We have a vibrant innovation cluster that provides an economic boon and quality of life to our city," said Kevin Ham, the City's Economic Development Director. "We work hard to help these companies boost their competitiveness, whether it's via expanding their offices or finding highly qualified workers. We look forward to more life-changing healthcare tech companies in town."
For more information, Kevin Ham  Economic Development Director kham@cityofvista.com