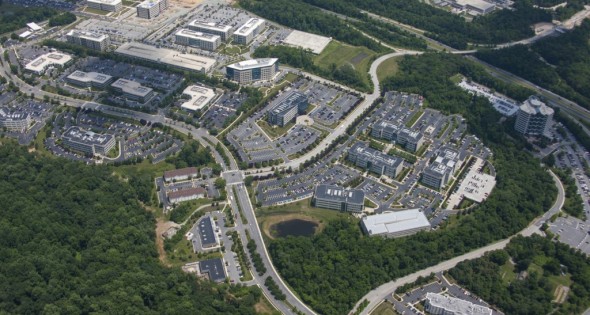 It's all About the Cyber
03 Aug, 2015
Caption: National Business Park in Anne Arundel County, Md., is home to a who's who in national defense contractors, benefiting from proximity to Fort Meade and the U.S. Cyber Command, and the NSA. Photo: NBP
By Rachel Duran
Successfully protecting commercial apps and military missions depends heavily on advances in cybersecurity.
Cybersecurity and defense is the technology du jour. Both our nation's defense system and private industry data are constantly under attack by hackers and cyber criminals. There are risks and dangers that haven't even been dreamed up at this time.
While larger corporations are major targets for hackers, small and medium-sized businesses are increasingly attractive due to the fact that many of these companies don't have IT staffs, let alone a security person. Experts say these companies are compromised over and over again.
Jeff Moulton wants to make Louisiana one of the most digitally secure places to conduct business in the country by strengthening an emerging cluster known as the Silicon Bayou. Initiatives to bring this cluster to the front of mind of cyber-related businesses range from the formation of a university cyber research center; ensuring basic intellectual property makes its way to applied research; and exploring the creation of a business security operations center to support small to medium-sized businesses.
The idea would be to build a security operations center in Baton Rouge and add operations throughout the state, says Moulton, who is the director of Louisiana State University's (LSU) Transformational Technology and Cyber Research Center (TTCRC), which is located in the business education complex at LSU in Baton Rouge. "Hopefully, we can get other states to follow and network them together to provide a centralized security service for businesses to look for vulnerabilities," Moulton says.
The TTCRC is also comprised of cyber range located on south campus next to the business emergency operations center. The university has entered a Cooperative Research and Development Agreement with the Louisiana National Guard to prepare for digital battles. "We are training on how to respond if Louisiana gets hit with a cyber incident," Moulton says. "That separates us from the pack, and I would say we are leading the country in that area.
"Cybersecurity has gotten so complex we need to follow a specific course of instruction and training," Moulton continues. Moulton says one size does not fit all when it comes to mitigating threats. The cyber defense required for a banking institution would vary greatly from a nuclear power plant. "The skill sets in critical infrastructure sectors may not apply to other sectors," he says.
A variety of infrastructure assets are important to cybersecurity firms, as well as a deep talent pool.
The cybersecurity cluster in San Antonio, Texas, features a facility for the National Security Agency (NSA), where 2,000 civilians are employed. The Air Force established its Cyber Command in the community, the largest contingent of Air Force cybersecurity professionals outside of Washington, D.C. San Antonio is home to 80 companies involved in the cybersecurity space, many established by former Air Force members.
"It is hard to find such a unique cluster, and then you add the IT that exists in area companies, such as data centers for example," says Mario Hernandez, president, San Antonio Economic Development Foundation (SAEDF). "We have two big Microsoft facilities. The USAA has 16,000 people working in San Antonio; a workforce comprised of a large IT workforce, and a data center. They [companies] add up to a critical mass in managing information."
San Antonio is home to a presence for large national companies such as L3 Communications, AT&T, General Dynamics, Computer Sciences Corp. (CSC), and a cybersecurity function for The Boeing Co. Smaller companies include SecureLogix, which specializes in security and optimization of voice and other communications networks. Others in the cyber space include GlobalSCAPE Inc. (secure information exchange software); Digital Defense Inc. (managed security risk assessment solutions); and the Denim Group Ltd. (corporate software to asses and mitigate risks).
Hernandez also points to the cloud computing industry cluster in the area, which includes Rackspace US Inc., the No. 1 managed cloud company. "You have the gamut of the industry covered in San Antonio," he says. "There is a sophisticated security side to it, the big data side where you have so many of the operations such as banks and insurance companies that are here. It is all about data management."
Moving east from Texas to Anne Arundel County, cyber-related companies find a long established government-related cyber cluster, driven by the presence of the NSA, the U.S. Cyber Command, and the Army's Fort Meade. "Anne Arundel County is home to five of the seven major military cyber defense units, and the growth we are enjoying is on the commercial side," says Peirce Macgill, business development associate for cyber/defense, Anne Arundel Economic Development Corp.
Two homegrown and thriving cyber companies in the county include KEYW Corp., a cybersecurity company that has spun off a commercial division called Hexis Cyber Solutions. KEYW is building a 90,000-square-foot research and training center. Another company, TeleCommunication Systems, provides mobile security for government and commercial science. This company has partnered with an information systems association to create the first training based on both skills and performance exams.
Dark Web ID LLC, a startup company located in the Chesapeake Innovation Center, monitors the dark web for both the government and commercial sector. The innovation center is located across the street from Fort Meade, and is a hybrid incubator and accelerator that assists early-stage companies.
Funding assets to support entrepreneurs include the county's VOLT tech financing program, as well as various state programs such as TEDCO. The Maryland economic development division has even created a cyber division to promote economic development in this industry cluster. The state also offers a tax credit program for young cybersecurity companies. Also, Anne Arundel County offers a tax credit that covers the first year of lease costs for small companies.
The thriving entrepreneurial climate in Anne Arundel County has led to the creation of cyber companies by talent whose experiences and skills developed while in the military or major defense contractors located in the area.
In San Antonio, one of the goals for economic developers is to increase the attraction and development of entrepreneurs, providing not only venture capital but also spaces tom build out the ideas. Dozens of cyber industry startup companies are located at the Geekdom co-working space. Café Commerce, powered by LiftFund, and based in the city's main library, assists entrepreneurs with business plan development, financing, and so forth.
Feeding the Talent Pipeline
Hernandez says the cyber industry is driven by talent and area officials are cognizant of an industry-wide shortage in talent. The city's training assets include the University of Texas San Antonio's Institute for Cybersecurity. It is one of only 44 institutions in the country designated as a National Center of Academic Excellence in Information Assurance/Cyber Defense by the NSA and the Department of Homeland Security. The university was ranked as the No. 1 cyber security program in the nation by the Poneman Institute in 2014. The university also has an industry-related Infrastructure and Assurance and Security Center.
Additionally, San Antonio's Our Lady of the Lake University has a Center for Information Assurance Management and Leadership. The St. Mary's School of Law offers instruction on terrorism law, which overlaps with cyberattacks, Hernandez says. "There are unique things in San Antonio you will not find in other communities." For example, the city features an information and technology security academy for junior and senior school students. They earn credits for college and can find paid internship opportunities. The students earn certificates designating them as professionals in the cybersecurity industry.
Moving back to Louisiana, cyber workforce training efforts are led by one of the country's cutting edge forensic programs at the University of New Orleans. "Forensics, in the cyber vein, is an emerging technology base," Moulton points out. "There are not a whole lot of people that do it well. It is extremely important, especially now from a liability perspective. Insurance companies have begun selling cyber insurance and you have to prove due diligence in order for them to pay out."
Louisiana's higher education system also features undergraduate degrees in information security from Louisiana Tech. LSU is developing a master's level certificate, soon to be a master's degree, in energy grid resilience and security. Due to the state's proximity to energy assets, "We have an emphasis on the petro and energy sectors in the state," Moulton says.
For Anne Arundel County based businesses, the proximity to Washington, D.C., means it is surrounded by educational assets and federal institutional assets that contribute to the overall cybersecurity ecosystem on the defense and commercial sides, says Bob Hannon, CEO, Anne Arundel Economic Develop Corp. Adds Macgill, "The education strata we enjoy in the county starts with four-year universities, including the University of Maryland-College Park, which has the country's only honors undergraduate program in cybersecurity."
The county is also located next door to the University of Maryland-Baltimore County, which is home to one of the nation's premier computer science programs. "UMBC has 1,000 graduates currently working at NSA," Macgill adds. "And for the working professional there is the University of Maryland University College, which has one of the country's largest online cybersecurity programs. Our community college was one of the first in the country to receive certification approval from NSA and Homeland Security."
Real Estate Capacities
Cybersecurity companies will find many options to house their operations in these featured clusters. Anne Arundel County has three major business parks that support the cybersecurity efforts in the region. "There is an ongoing development of a separate campus with facilities, data centers, and military commands in the world of cybersecurity that are under construction, even as the operational center of cybersecurity is concentrated at Fort Meade," Hannon says.
In Louisiana, industry will find room to grow at the 3,000-acre National Cyber Research Park in Bossier City, a state-supported initiative that aims to expand computer science and cyber engineering programs at LSU. The research park is being developed by the Cyber Innovation Center, a not-for-profit research corporation. Anchor tenant, CSC, is building a next-generation IT center at the park. Its proximity to Bossier Parish Community College, adjacent to the park on U.S. Highway 80, and Barksdale Air Force Base and its Global Strike Command, offer additional opportunities for industries.
San Antonio's Hernandez says companies want to locate in communities that are prepared from an infrastructure perspective and have a sizable presence of industry-related experts. "The environment for technology companies here is very advanced and sophisticated," he says. "Companies will find the talent they need and the networks entrepreneurs are looking for."
Says LSU's Moulton: "We are all about moving Louisiana to realize the IP the state has, moving basic research into applied research at the federal sector," he says. "At the TTCRC we want to be thought leaders in this space. We want to be relevant, not repetitive."
For further details on the organizations featured in this article, visit:
Anne Arundel (County, Md.) Economic Development Corp.
LSU Transformational Technology and Cyber Research Center