MONTANA: So Much More
10 Aug, 2019
You probably know Montana as a scenic wonderland drawing nature-lovers and recreation enthusiasts to its majestic peaks and wide-open spaces throughout the year. What you may not know is the Big Sky State is also the most entrepreneurial place per capita in the country, according to the Kauffman Index of Entrepreneurship, with 540 residents for every 100,000 starting a business each month, nearly twice the national average. Also, there's no traffic.
Montana is the 4th largest state by area, but the 43rd in population. Only Alaska and Wyoming have fewer people per square mile. (Thus, no traffic.) But what there is so much more.
Home to 9 National Park Service Areas, including Glacier National Park, Yellowstone National Park, and Little Bighorn Battlefield National Monument, plus another 55 state parks, Montana boasts more than 147,000 square miles of spectacular unspoiled nature, 57,000 square miles of public land, and nearly 11,000 square miles dedicated to gaming. There are also over 400 miles of rivers and streams designated as blue-ribbon trout waters. And lots of skiing, even in the summer.
So, yeah, the outdoors are big.
Other important business sectors include agriculture, timber, mining, healthcare, and high-tech, which is coming on particularly strong of late. According to the Montana High Tech Business Alliance, the state's technology sector is growing at seven times the rate of the state's overall economy, which itself has consistently out-performed the national economy over the past ten years. The tech sector in Montana grew by more than 70 percent just from 2015 to 2016, and now generates more than $1 billion in annual revenue.
Montana's evolving workforce benefits from a stellar education system, which boasts one of the highest graduation rates in the country and a strong culture of cooperation between educators and employers to meet the needs of the state's 21st Century economy.
MONTANA: NORTHWESTERN ENERGY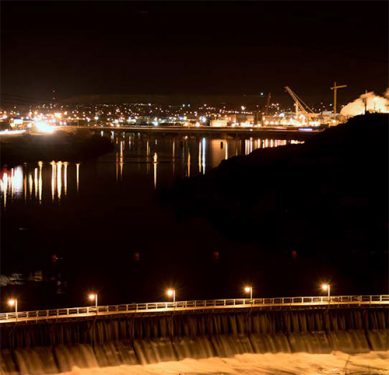 Economic vitality is crucial to Montana's future, and for many years, NorthWestern Energy has held a strong commitment to the communities it serves. Community Works encompasses NorthWestern Energy's tradition of funding community activities, charitable efforts and economic development within its service territory. In 2018, NorthWestern Energy's Community Works programs provided nearly $2 million in funds for community sponsorships, charitable contributions and economic development organizations in its service territory. NorthWestern Energy is committed to serving as a meaningful and dedicated contributor to the economic development process, and they see their role as "energizing Montana's economy."
With an emphasis is on "Building Montana's Future," and the mission of the Economic Development team is to help retain existing jobs in Montana, promote business expansion and recruit new businesses to the state. The economic development employees assist site selection consultants, economic development agencies, government agencies, existing businesses and potential new businesses. They are actively involved in economic development initiatives at the local, state, regional and national levels. They can answer questions about utility rates, availability of utility distribution and transmission services, utility operations, power reliability, energy supply, and energy efficiency programs.
For more information on NorthWestern Energy, please call (888) 467-2669 or visit their website at www.northwesternenergy.com.