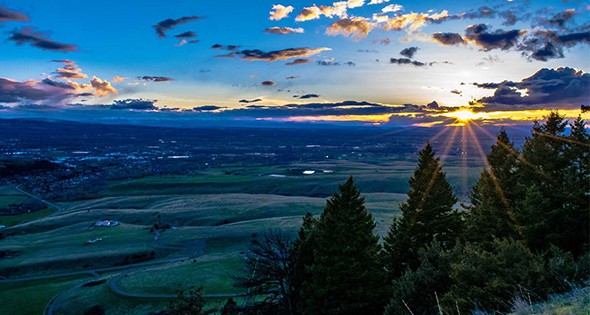 Montana: Big Sky Big Opportunity
04 Sep, 2018
It's fairly easy to recognize why companies end up in Montana. Spectacular scenery, the freshest of air, endless hiking, biking, skiing, hunting and fishing amidst a relatively low cost of living.
One senior official was quoted as saying, "At first company executives worry about the available pool of workers for various jobs but what they don't realize is that the best and brightest come out here after college to be a ski bums for a year and many never leave! A healthy lifestyle is infectious and healthy people are happier people. Happier people are productive people. While tourism is near the top of the chain for economic development, the state is also heavily involved in Agriculture, Energy, Bioscience, Manufacturing and Optics. Using Bioscience as an example, "Montana companies are conducting research on a broad spectrum of health issues ranging from strengthening bone grafts to finding a more effective hand sanitizer. They're creating the vaccines that will help prevent illness, and the drug treatment therapies that can restore our health." * Agriculture is the state's leading industry. "Montana and its producers work over 60 million acres of farmland, larger than the size of Minnesota, and generated $4.7 billion last year alone. Montana is a leading producer of certified organic wheat, dry peas, lentils and flax, and is home to a multi-million dollar honey and pollinating industry."* Businesses don't have to pay or collect sales tax, and the state has a relatively light regulatory burden. Business expansion is also relatively cheap compared to other markets because of inexpensive property available for purchase. *montana.gov
"I don't have any problems in life, just situations." -Evel Knievel
NorthWestern Energy
Economic vitality is crucial to Montana's future, and for many years, NorthWestern Energy has held a strong commitment to the communities it serves. Community Works encompasses NorthWestern Energy's tradition of funding community activities, charitable efforts and economic development within its service territory. In 2017, NorthWestern Energy's Community Works programs provided more than $2 million in funds for community sponsorships, charitable contributions and economic development organizations in its service territory. NorthWestern Energy is committed to serving as a meaningful and dedicated contributor to the economic development process, and we see our role as "energizing Montana's economy." Our emphasis is on "Building Montana's Future," and the mission of our Economic Development team is to help retain existing jobs in Montana, promote business expansion and recruit new businesses to the state. Our economic development employees assist site selection consultants, economic development agencies, government agencies, existing businesses and potential new businesses. They are actively involved in economic development initiatives at the local, state, regional and national levels. They can answer questions about utility rates, availability of utility distribution and transmission services, utility operations, power reliability, energy supply, and energy efficiency programs.