New Hampshire: Best Kept Economic Secret
05 Dec, 2019
Listed as the Second-¬Best State in America by U.S. News & World Report's 2019 Best States ranking, New Hampshire might be the nation's best-kept economic secret. With a population of 1.3 million and a Gross Domestic Product (GDP) of $81 billion, New Hampshire's reputation as a land of opportunity is well-founded.
New Hampshire is one of the most business-friendly states in New England. The US Tax Foundation, for instance, ranks The Granite State's business climate seventh nationally and first in New England due in large measure to the state's low tax burden on businesses and individuals. Currently, New Hampshire has no use tax, sales tax, estate tax, capital gains tax, or professional services taxes, and has one of the lowest corporate income tax rates in the nation at 7.7 percent.
New Hampshire's political leadership is also focused on developing the state's technology sector through innovative programs like Live Free and Start. A partnership between the Governor's Office, Business Finance Authority, and Department of Business and Economic Affairs the Live Free And Start initiative with a mandate to set up new tech startups for long-term success. Budding tech entrepreneurs can take advantage of the initiative's Business Incubator & Makerspaces program or the Center For Women & Enterprise, a partnership with the U.S. Small Business Administration helping prospective women entrepreneurs start and grow companies.
New Hampshire's workforce is also ready for the high-earning jobs of the future. Forty-seven percent of the state's populace is college-educated and earns a median household income of more than $73,000, the seventh highest in the nation. With no income tax, a ranking of 4th in the nation in terms of health care, and an average commute of only 27 minutes, and you begin to understand why New Hampshire is one of the best states in America to live, work, and excel.
New Hampshire: Town of Derry
They say age is just a number. But when you turn 300 like the Town of Derry, New Hampshire did this year, some may wonder if you've still "got it." Well, save all that 300 is the new 290 talk. This is one tricentenarian that's got it better than ever.
"Derry is the perfect blend of urban and rural life," says Beverly Donovan, the town's Economic Development Director. "Downtown residents enjoy walkable neighborhoods that are bustling with activity, while others prefer the quiet of large-lot rural zones." With a population of 33,667, the Granite State's 4th most populous community is just 15 short minutes from Manchester, the most populous city in Northern New England, and an hour from Boston, the 10th largest metropolitan area in the U.S.
Despite Derry's small-town charm, this place knows high-tech, with several advanced manufacturers calling it home, including PICA Manufacturing Solutions, which makes Flex PCB and flexible printed circuits; Tri-K Industries, specialty cosmetics ingredients; Biosan Laboratories, natural vitamins and supplements; and Fireye Inc., flame safeguard controls and burner management systems. And robotic warehousing solutions provider AutoStore recently opened their brand new, 20,000 square-foot U.S. headquarters in Derry.
Heath care is also a big part of the Derry economy, with high-quality suburban medical facilities including Parkland Medical Center, a full-service inpatient hospital, and New Hampshire's largest and longest-established independent primary care practice. The decidedly pro-business local government is making it easy for new businesses to choose Derry with recent zoning changes that encourage mixed-use development, incentive programs like the Downtown Derry Revitalization Tax Relief Program, an expedited permitting process, and a designated Opportunity Zone with several available land options. The town also provides customized site availability analysis, workforce demographics, and key market data. And of course the Granite State has no general sales tax or personal income tax.
"Derry is looking to attract lighter manufacturing, office and technology businesses," explains Donovan, "and we have the trained, available workforce to supply those industries with quality employees." Derry's workforce numbers approximately 20,000 with unemployment rate of 2.8%, below the US average of 3.9%. Approximately 95% of the population have a high school diploma or higher, while 29.2% possess at least a bachelor's degree.
Derry's education system is headlined by Pinkerton Academy. By far the largest high school in the state, Pinkerton is a private school that serves as a regional public high school and CTE center, enjoying partnerships with post-secondary institutions, such as University of New Hampshire and Manchester Community College.
The outdoors are truly great in Derry, and a big part of the town's appeal, with beautifully-manicured parks, lakes and ponds that are perfect for swimming, boating, fishing, and winter activities, as well as numerous hiking trails and the Granite State Rail Trail that runs through the center of town. Arts and culture thrive here as well. "We have a strong creative economy," explains Donovan, "which includes Tupelo Music Hall, Studio Lab full-production movie and media center, as well as several breweries, wineries and distilleries."
They grow up so fast, don't they? Happy Birthday, Derry!
NEW HAMPSHIRE: DOVER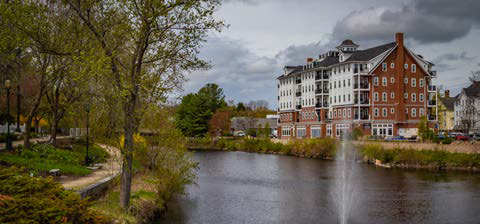 In many ways, the restored and updated Cochecho Falls Millworks at the center of Dover, New Hampshire is emblematic of the entire city, and all of New England, really. At once historic and modern, old-school and high-tech, this endearing hamlet of over 32,000 in the state's Seacoast Region is a best-of-both worlds kind of place in the middle of an exciting renaissance that's attracting business and people at a record pace.
The fastest-growing city in the Granite State, Dover has over $100 million in new development currently underway, including luxury apartments, commercial space, a new public high school, and new police headquarters. "It's all about quality of life," says Dan Barufaldi, Director of Economic Development for the City, which was recently recognized as one of the 10 Best Places to Live in New Hampshire by Liveability.com.
Dover's ideal location halfway between Boston and Portsmouth, Maine—and a short drive to the Port of New Hampshire, or the beach, or the mountains—is an easy sell. "The Downeaster Train gets you to Boston in 55 minutes," Barufaldi explains. "With WIFI all the way. People can have Boston salaries and Dover expenses and have a beautiful place to live."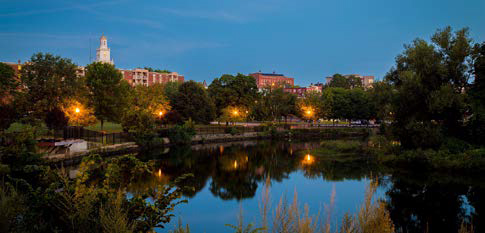 Businesses are loving Dover's industrial parks. Enterprise Park's 92 acres on the edge of town is home to 15 companies with 750 employees, including HM Machine, a computerize numerical control (CNC) machining company, and Certified Retail Solutions, a retail lifecycle services firm.
According to Barufaldi, the city specifically targets such small to medium-sized businesses that require educated employees, especially advanced manufacturing, high end service, health care, and tourism. In Dover they find a motivated and well-educated workforce that benefits from an excellent school system and training opportunities, such as Great Bay Community College's Technical Training Center across the border in Rochester.
Recreational opportunities abound in Dover, which boasts an ice arena (hockey is big here), as well as indoor and outdoor swimming pools and a public hiking trail that runs the length of the city. Other attractions include the Cochecho River Walk and the Children's Museum of New Hampshire.
NEW HAMPSHIRE: KEENE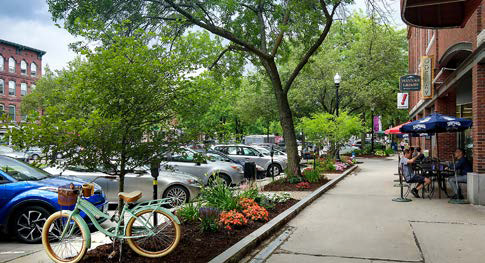 Keene, New Hampshire, pop. 23,056, is the largest town in the Monadnock Region of the Granite State and possibly one of the most charming in all of New England. This former mill town is so endearing that Boston.com recommended it as weekend road trip destination for Boston families. But "charming" and "endearing" don't begin to tell the whole story of all that Keene has to offer.
Initially settled in the 1730s, Keene developed a reputation as a manufacturing center in the mid-1800s when it served as a hub for three railroads. And that manufacturing legacy continues to be a mainstay of the local economy today, with advanced manufacturers like AMETEK Precitech Inc., which makes ultra-precision machining solutions; Bensonwood Homes, which creates custom building components; and Timken Aerospace Super Precision, which produces mini and precision bearings. "It's a diverse group of internationally relevant, high tech manufacturers that consistently lead their peers in both innovation and social responsibility," says Medard Kopczynski, Director of Economic Development for the City.
The local workforce is well-suited to the 21st Century economy, as well, with easy access to two excellent colleges in town: Keene State College and Antioch University New England. "Historically, Keene has been, and continue to be a growth bed for start-ups and entrepreneurs," Kopczynski adds. And this is by design. In addition to numerous incentive programs offered by the remarkably pro-business local government, the Hannah Grimes Center for Entrepreneurship in downtown Keene assists in and is dedicated to the development and growth of small businesses in the area.
Keene is the perfect all-seasons destination with easy access to snowy slopes in the winter and one of the best hiking trails in the state. Residents enjoy a tremendous quality of life enriched by arts and culture. Each April, for example, the Monadnock International Film Festival brings high quality independent cinema to downtown Keene. And then for ten days in June, Art Walk turns the entire downtown area into one great big art gallery. Other popular attractions include the historic Colonial Theatre, Stonewall Farm, and Central Square.
NEW HAMPSHIRE: PORTSMOUTH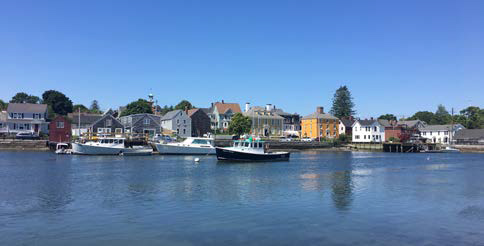 Year after year, Portsmouth is named as one of the best places to live or work, and the reasons for that are plenty.  Situated on the banks of the Piscataqua River, the quintessential New England town offers a high quality of life with abundant opportunities for employment, commerce, education, and recreation.
Portsmouth dates back to 1623, and it's home to the state's only deep-water port. While the town has a long and storied maritime history, it also has a longstanding history of arts and culture. "As a historic community, we have a lot of cultural tourism," says Portsmouth Economic Development Manager Nancy Carmer. "We're known as the place in New Hampshire to visit for architecture, arts, and culture."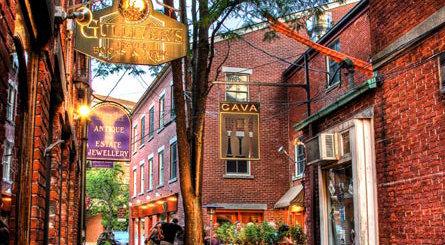 In addition to arts and culture, Portsmouth also offers fishing and water opportunities, boat tours, whale watching, and more. And just as diverse as its entertainment is the town's commerce. Portsmouth's economy is comprised of a broad range of sectors, from financial and manufacturing to government and retail. Some of the town's top employers include the Pease International Trade Port, the Portsmouth Consular Center, Liberty Mutual Insurance, and Portsmouth Hospital. Lonza Biologic, a pharmaceutical manufacturer, is even looking to expand its Portsmouth manufacturing facility from its 17 current acres to an overall 54-acre campus. "We're really proud about the quality of jobs here," Carmer says. "No one sector is more than 19% of our economy, and we feel that has really built a resilient local economy."
Portsmouth's Great Bay Community College works with local companies like Lonza Biologic and Northeast Rehab Hospital on workforce training programs to better train and equip potential workers—just another step community leaders are taking to expand upon the town's already attractive business climate. "We hope to maintain our economic vitality and vibrancy," Carmer adds. "We want to continue creating opportunities to attract people that love to live here and work here."
NEW HAMPSHIRE: CITY OF ROCHESTER
The City of Rochester in Stratford County, New Hampshire, combines small-town charm with big-town amenities. Recently named City on the Rise by Business NH Magazine, this city of 31,000+ in New Hampshire's Seacoast region is updating its centuries-old manufacturing tradition for the 21st Century by focusing on leading edge sectors like composite materials, medical devices, and aerospace equipment.
And it's paying off…
In 2017, Expansion Solutions praised the city for "leading the Northeast in Composites" with the marketing of local, state and federal incentives and services such as workforce training, real estate, transportation and financing services, a key element of its attraction for this new generation of manufacturers.
Success stories include a 343,000-square-foot, state-of-the-art composites facility in Rochester's Granite State Business Park, the result of a unique partnership between Albany Engineered Composites, a division of U.S. Albany International Corp., and Safran Engineered Composites, a division of the French firm Safran, a global leader in jet engines and aerospace components.
"Of course, world class companies require a world-class workforce," says Jennifer Murphy Aubin, Executive Secretary of Rochester's Department of Economic Development. And Rochester's got one. Nearly 90% of all working age residents have attained a high school diploma or higher and 20% have completed college or graduate studies. Employers and workers benefit from a network of outstanding educational institutions offering advanced workforce training, such as the UNH's High-Tech
Accelerator Program and Innovation Research Center.
But it's not all work here in the Lilac City. "Rochester features a wonderful quality of life," Aubin explains, "close to mountains, hiking trails and the seacoast. And recreational activities abound with sporting events, kayaking, swimming, golfing and more." Rochester's vibrant downtown arts and cultural scene includes art galleries, a museum, an opera house and more. And a recent Americans for the Arts survey found the city has more than double the art activity of the national average of communities of the similar size.
Rochester and Strafford County are one of the fastest growing regions in New England with an unemployment rate of 2.4%, well below the U.S. average of 3.9%.