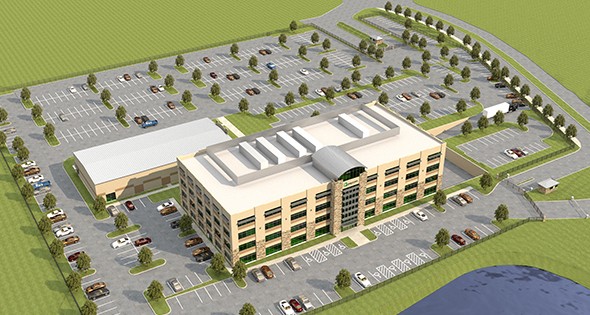 Paycom and the City of Grapevine Celebrate New Operations Center
06 May, 2020
Paycom Software Inc. ("Paycom") (NYSE:PAYC), a leading provider of comprehensive, cloud-based human capital management software,  hosted a groundbreaking ceremony for the all-new 150,000 square foot Texas Operations Center on Friday, April 19 at 4:00 p.m. at 3489 State Highway 121, Grapevine, Texas.
The event included remarks from City of Grapevine's Mayor William D. Tate and Paycom's founder and CEO, Chad Richison and entertainment by the Grapevine High School drumline. Construction will begin immediately with plans to complete the facility within the next two years. Paycom's 14-acre campus in Grapevine will eventually house 1,000 well-paying jobs. Grapevine is an ideal location for Paycom to continue its growth.
"Today marks an important day for Paycom," said Chad Richison, Paycom's founder and CEO. "Consistent growth continues to drive our strategic investments including our expansion in Texas. As we break ground on our new operations center, we are looking forward to joining the Grapevine community."
"Grapevine is incredibly proud to be home to Paycom, one of the fastest growing human capital management companies in the U.S. and one of the most innovative companies in the world. Innovation is such an important part of Grapevine's heritage. Whether entertaining families, or creating the next generation of HR technology, this fast-paced leader is a perfect fit for the Grapevine footprint." added Mayor William D. Tate.
About Paycom
Paycom ranks No. 5 on Fortune magazine's 2018 100 Fastest-Growing Companies list of domestic and foreign publicly traded companies. As a leader in payroll and HR technology, Oklahoma City-based Paycom redefines the human capital management industry by allowing companies to effectively navigate a rapidly changing business environment. Its cloud-based software solution is based on a core system of record maintained in a single database for all human capital management functions, providing the functionality that businesses need to manage the complete employment lifecycle, from recruitment to retirement. Paycom has the ability to serve businesses of all sizes and in every industry.
As one of the leading human capital management providers, Paycom serves clients in all 50 states from offices across the country.
About Grapevine
Grapevine is home to many successful businesses as well as numerous wineries, fine dining, nationally ranked festivals, and select attractions and resorts. Its economic development efforts are designed to further increase visitors and tax revenues through projects that emphasize hospitality, entertainment and retail uses. Grapevine also boasts exceptional commercial and office facilities that capitalize on the City's central location in one of the world's most dynamic regions and close proximity to the world's third-busiest airport, providing ready access to major U.S. and international markets. For more information, visit GrapevineTxEcoDev.com.
For more information:   Mona Quintanilla Office 817.410.3463 monaq@grapevinetexas.gov