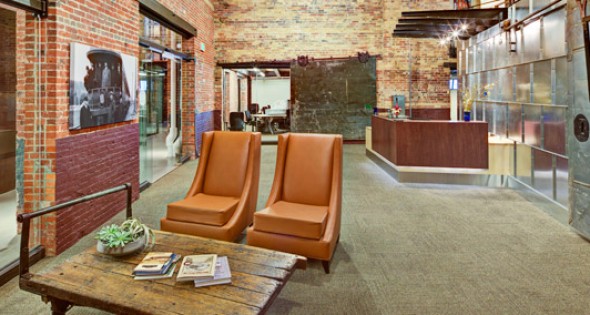 Plug into Co-Working Hubs
28 Apr, 2014
Above: McKinstry Innovation Center-Spokane
Image courtesy of McKinstry website
By Rachel Duran
Entrepreneurs can live and work and plug in from just about anywhere these days, but for some, there is no place like home. Serial entrepreneurs Matthew Marcus and Mark Colby have landed in the Kansas City metro and Spokane, Wash., respectively. Each has worked internationally and finds the hometown resources and ecosystems favorable to their startup activities.
One of the attractions is the ability to connect with like-mined people, including working in the same spaces. The synergies developing in co-working spaces have caught the attention of both startups and economic developers.
Marcus is the COO and co-founder of Hoopla.io, and a co-leader of the Kansas City (KC) Startup Village, which was founded in late 2012. Marcus and his fellow entrepreneurs are inspired by the access to Google Fiber's 1,000 Mbps fiber network that was launched in Kansas City, which makes it one of the nation's few gig enabled and connected cities. Hoopla.io is "the easy button for event marketing," Marcus says. "We help local businesses with events or specials better and more easily promote them online." The company has a presence in 15 cities.
Colby, who has started a number of ventures in Japan in the health care space, brought his latest project, Minapsys, to Spokane and settled at the McKinstry Innovation Center. Minapsys works to solve disconnects found in online group discussions, forums and chats by implementing a customized discussion process. The application can be used in a variety of settings, including university and municipal settings, at workshops, seminars and expos, and by human resources officials who want to create additional collaborations within their companies.
Colby considered a few locations, including Seattle and Palo Alto, Calif., and for him, one of the deciding factors came down to cost of living, as well as the availability of programmers. "We found that in Spokane programmers are not only here, but programmers are willing to come here from the high cost venues," Colby says.
Adds Yoko Colby, who relocated from Tokyo a few months back to join the Minapsys team in Spokane: "In general, the lifestyle is nicer; Tokyo is really cramped and more expensive. Things are more accessible here. The people here all seem to want to help and there are certain people here, if you identify them correctly, they know the right people you should talk to. And they very speedily connect you with them."
"You get these moments of collaboration that weren't planned. When you take this into account, this is really where the power lies in these startup hubs and communities." – Matthew Marcus, COO and co-founder of Hoopla.io, and a co-leader of the Kansas City (KC) Startup Village
Accidental Innovation
Even though entrepreneurs in co-working hubs are working in the same location on different ideas, they assist each other in ways they would have never thought of. The KC Startup Village is comprised of several residences in a specific area of the metro that serve as co-working hubs.
The KC Startup Village took shape without prior planning. Three properties hosting startup activities began operating within a block of each other during a two-week period, in the first neighborhood in the world that would benefit from Google Fiber. The center point of the KC Startup Village is literally located on State Line Road, separating Kansas and Missouri. Properties that are part of the village are located on both sides of the state line.
"What we have done in the village is create a support group, if you will, where you can ask someone a business or programming question because they might have just tackled that issue," Marcus says. "You get these moments of collaboration that weren't planned. When you take this into account, this is really where the power lies in these startup hubs and communities."
"I have seen where two companies end up next to each other in the same space, or in the same house, where technology from one opened up a sales channel for another that they didn't even realize," says Nathan Kurtz, entrepreneurship manager, Kauffman Foundation, which promotes entrepreneurship worldwide through various programs. The foundation is based in Kansas City.
Kurtz says these conversations wouldn't happen without having a water cooler to share. "Some of those efforts have been completely accidental and kind of amazing," he says. The Kauffman Foundation hasn't fully studied the co-working hub trend; however, anecdotally Kurtz knows entrepreneurs are learning different ideas, methodologies, techniques, tactics, and ultimately forming strategic partnerships.
Kurtz adds that there are any number of organizations that want to share resources, such as copiers, printers and scanners, with entrepreneurs. "It is often overlooked but it is very valuable for a startup to get out of the basement, but who are not ready for a corner office," he says.
Mark Colby says Minapsys hasn't had direct collaborations take shape as a result of being located in the McKinstry Innovation Center; however, the company has only been in the space a few months. "We are dealing with each other on social levels and I am sure that will merge into potential projects," he says.
Yoko Colby says McKinstry is a large space located next to the river and in the middle of a university hub. The co-working space also features communal meeting rooms and a 24-hour gym. The building's management team is working on attracting food trucks to the site a couple of times a week so employees can get out of the office and eat and interact socially.
"The biggest lesson I have learned working in a co-working space is that they are laboratories," says Lars Hasselblad Torres, who started Local 64, a co-working space located in downtown Montpelier, Vt.
The interactions co-working hubs create are being realized by entrepreneurs on both coasts. "The biggest lesson I have learned working in a co-working space is that they are laboratories," says Lars Hasselblad Torres, who started Local 64, a co-working space located in downtown Montpelier, Vt. He provides an example: a startup is seeking a solution on how to fly a drone over a skier and capture emotions in hi-def as they are blazing down a ski slope. "When you are working in a co-working hub, chances are you are one or two people away from a first person view flight nut who could build you this type of solution," Torres says.
Local 64 hosts mixers and social gatherings for startups, with the goal of connecting entrepreneurs and techies with investors. What's more, the gatherings help great ideas and talent find each other. "So those who might be building a platform online can find others who can help them with marketing, client services, development, investment or fundraising," Torres says.
Another important role Local 64 plays is as a networking hub, connected to co-working spaces in other parts of Vermont. If you are a member at one hub, you are a member at other hubs. This concept fosters networking and allows creatives to find each other. "It is the idea that people with good ideas can find skills to help them execute through co-working spaces and incubators," Torres says. "It is important to have more of these spaces, in Vermont and around the country."
Communities Step Up
Community and economic development leaders are catching on and embracing co-working hubs. In Vermont, economic developers value co-working spaces because they activate second floor office spaces in historic downtowns and villages that would otherwise sit vacant, Torres notes. In addition to spearheading Local 64, he is also the director of the Vermont Office of the Creative Economy.  Local 64 is located in a multistory commercial building, occupying the second and fourth floors. "We are in 2,000 square feet and it would be great if we could move to 3,000 square feet to comfortably meet demand," Torres says.
Marcus says the KC Startup Village could use more properties to support entrepreneurs. A number of the entrepreneurs in the village are from outside the region and the biggest struggle is to find properties to put them into. There are 25 plus startups in 15 properties in the village, with more coming online.
Overall, officials in Kansas have embraced the KC Startup Village, especially over time as leaders have seen successful ventures unfold; there were concerns that the villagers were coming into the area to party. The startup houses are issued special use permits to operate a business out of a house. "Essentially what most of the startup homes have done is have one person living there and the rest of the space is used for startups," Marcus says.
The KC Startup Village is a living incubator, Marcus says. "Success rates are higher when a startup is accepted into one of those [incubator] programs. The challenge is 100s will apply and only a handful will get in. The village essentially becomes a living incubator where we are open to anyone. I think over time you will see there will be startups in the village that reach success that they might not have otherwise."
Investors and other interested parties want to play a role in the successes; however, at this time they perceive loosely organized chaos, finding it tough to plug into the activities. The village has been led by entrepreneurs, with no hierarchy in place, which keep things relatively open, based on principles espoused by Brad Feld, an entrepreneur and partner at the Foundry Group. He also owns a house in the village.
The co-leaders plan to create a committee to steer the village into a more official capacity so that those that want to get involved can do so more easily. The village will also form a foundation so people can donate appropriately.  "I feel like our window of opportunity is here and we don't want it to slip away," Marcus says of the future of the KC Startup Village.
For more information about the organizations featured in this article, visit:
Minapsys (Spokane, Wash.)