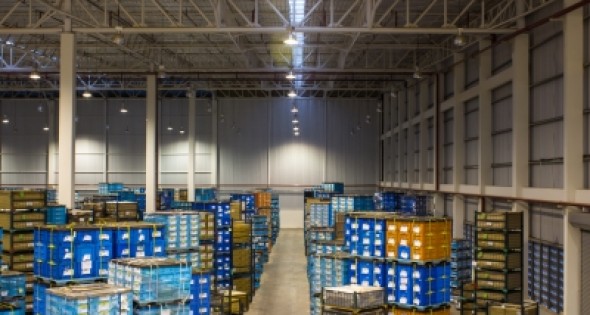 Retailers and E-commerce Battle for Warehouses
08 Jan, 2015
Retailers, consumer goods and e-commerce companies are driving nearly 40 percent of all industrial real estate demand.
Following the biggest Cyber Monday ever, retailers and e-commerce companies are engaged in a heated battle for the biggest distribution center facilities in locations close to large populations. As retailers bow to the demand for instant delivery gratification, JLL market data shows rising rents and a growing number of tenants searching for warehouse and distribution space. Sixty tenants are currently seeking big box warehouses of 1 million square feet or more nationwide, says JLL, with demand outweighing immediate, available sites by nearly three to one.

"Every retailer is asking how close can I put my distribution center to the customer?" says Craig Meyer, president of JLL's Industrial Brokerage group. "Proximity is the key to profitability in this era of same- and next-day delivery. To out-deliver the competition, we are seeing rapid growth from retailers on the East Coast, in major cities across the country, and even in secondary logistics corridors."

Rising Rents
Competition for space near East Coast seaports (New York/New Jersey, Savannah and Charleston in particular), is strong and will continue to drive rent increases in 2015. This trend will continue as supply chain executives seek to avoid delivery interruptions from congested West Coast seaports and truck driver shortages. For example, warehouses at the Port of Savannah saw more space leased in the first half of 2014 than in all of 2013.

Despite strong demand, supply isn't rising as fast as in past 'boom' cycles—another major factor fueling the battle for space and rising rents. Developers remain cautious regarding speculative development, keeping their investment in speculative distribution centers measured in the coming year.

In 2015, approximately 171 million square feet of new distribution center space is expected to complete nationwide. These new deliveries represent the highest level in seven years, but still fall below the 40-year average of 178 million square feet. At year-end, nearly half of 2014 construction activity was taking place in the nation's six largest logistics markets (Los Angeles, Inland Empire, CA, Dallas/Fort Worth, Chicago, New Jersey, Philadelphia and Atlanta), leaving supply even more constrained in secondary markets.
2015 Global Demand Drivers
Retailers, consumer goods and e-commerce companies are driving nearly 40 percent of all industrial real estate demand. A new JLL report on global e-commerce points to four major 2015 retail distribution trends:
1) Hello, Online Grocery Shopping. Grocery shopping as we know it is changing. Boston Consulting Group (BCG) expects the global online grocery market to increase from $36 billion in 2013 to $100 billion by 2018. This expansion from an industry with highly perishable goods requiring quick delivery and near-proximity will add urgency to the already overly-saturated demand for logistics facilities near major U.S. population centers.
2) Customers demand full channel integration. Delivering a seamless customer brand experience means using all channels—stores, websites and mobile platforms that must work together. And so should their real estate. Outdated distribution centers that don't support an integrated, omni-channel strategy will require updating or even eliminating. Likewise, stores must support e-commerce transactions without cross-channel glitches.
3) Sophisticated logistics strategies reshape real estate. Creative logistics strategies are pushing retailers in new directions. Amazon's 'anticipatory shipping' threatens to take consumer expectations about convenience to the next level. Another potential new development is the introduction of the 'click and collect' concept, where retailers partner with third-party logistics (3PLs) companies to allow customers to pick up online orders from convenient locations such as train stations, convenience stores or airports. As these strategies play out, both retail properties and distribution networks will change.
4) Flexibility = profitability. Location has long been a prime success factor for retailers, but it takes on a much broader scope in the new retail landscape where the location of store fronts, fulfillment centers and warehouse distribution centers all take on equal importance. To keep up with rapid changes to the market, retailers must plan their distribution networks and buildings with flexibility in mind. For instance, more retailers are using stores to help fulfill online orders, which may require adjustments to store layouts, dedicating more space to the backroom.
Download a copy of JLL's Global Omni-channel Revolution report here.
Illustration by photoraidz at Free Digital Photo.net
Source: JLL Press Release