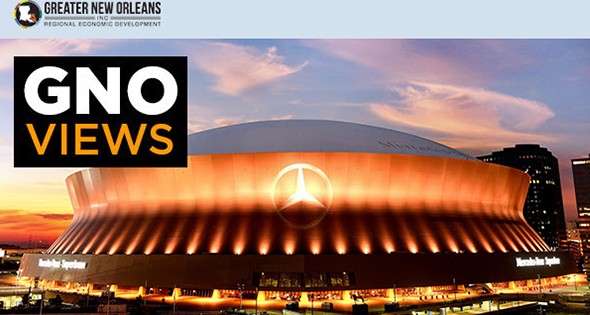 The Response to COVID-19
11 Apr, 2000
In some ways, this feels familiar.  Here in southern Louisiana, we have a physical memory for dealing with crises, and, frankly, we are pretty practiced at it.  From contraflow to the Cajun Navy, we know how to respond and we know how to lend a helping hand.  We call it "resilience."
With COVID-19, our immediate response has been to focus on reducing the rate and breadth of transmission – "flattening the curve."  Better hand-washing and social distancing have become the overnight new normal.  As always, this is our first priority – protecting lives.
But in many ways, COVID-19 is different.  The coronavirus is a health emergency, not a weather event; Greater New Orleans is not managing alone – we are experiencing COVID-19 along with the global community; and, from a financial perspective, the risk is to cash flow, not physical assets.
GNO, Inc. is focusing on this cash flow risk, in the context of business continuity.  COVID-19 is going to cause a "cash crunch" of up to eight weeks or more for businesses.  Hospitality will be especially hard hit, and small businesses will be particularly vulnerable.  If companies can make it through, they should be OK – there will likely be a strong bounceback in the Fall from rescheduled events and pent-up demand.  But businesses have to have enough cash to make it there – paying their employees, and covering their overhead, along the way.  If cash runs out, and businesses falter, and people lose their jobs, the economic effects will cascade.
What matters is ensuring that the short-term economic shock from COVID-19 does not turn into a long-term economic malaise.
With this in mind, GNO, Inc. supports efforts like the SBA's Disaster Relief Lending program, which will provide loans up to $2M.  But we think that faster, albeit smaller, relief is also needed, and to this end we are proposing a "Working Capital Relief Program."  You can see a draft of the concept here:  Leveraging our private network of 75,000 national bank branches, our proposal would quickly lend up to $25,000 to businesses, in order to make payroll, cover expenses, and keep their doors open.  COVID-19 is temporary, and we need to ensure our businesses – and the people they employ – are there for the recovery.
GNO, Inc. is engaged in other efforts to support business continuity.  For example, we are actively working with our broadband and cellular providers to ensure that there is adequate bandwidth to support region-wide "Work From Home" (not to mention "School From Home") bandwidth demands.  We are also encouraging the community to support local retail and hospitality businesses by purchasing gift cards, which get cash to a business today – and then let us return to our favorite shop or restaurant, later.
Finally, GNO, Inc. has set up a COVID-19 webpage, with regularly updated information, including business resources, health information, and workplace best-practices.
It is indeed different this time, but in many ways, the right response remains the same:  take care of your neighbors, communicate the facts, and solve the problems of today with a view to how we can create a better tomorrow.  Greater New Orleans knows how to do this.
Michael Hecht
President & CEO
Greater New Orleans, Inc.