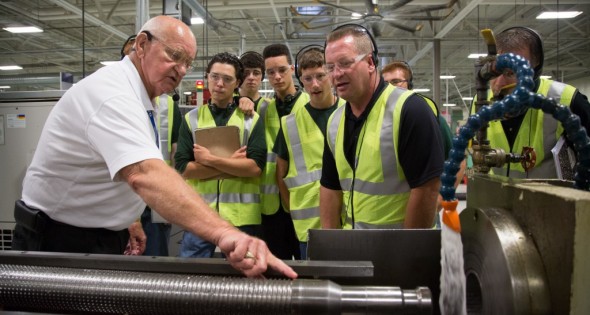 October 2 was National Manufacturing Day
01 Oct, 2015
Manufacturing Day is a celebration of modern manufacturing meant to inspire the next generation of manufacturers. Although Manufacturing Day officially occurs on the first Friday in October—this year is October 2, 2015—any day can be a Manufacturing Day.
Here is a sampling of events:
*Ann Arbor, Michigan area: Hatch Stamping Co. and NuStep Inc.
*Miller Electric Mfg. Co. An ITW Welding Company, Appleton, Wisconsin
*State of Wisconsin's events
Find an event near you.
View the event's sponsors.
About
MFG DAY addresses common misperceptions about manufacturing by giving manufacturers an opportunity to open their doors and show, in a coordinated effort, what manufacturing is — and what it isn't. By working together during and after MFG DAY, manufacturers will begin to address the skilled labor shortage they face, connect with future generations, take charge of the public image of manufacturing, and ensure the ongoing prosperity of the whole industry.
Supported by a group of industry sponsors and co-producers, MFG DAY is designed to amplify the voice of individual manufacturers and coordinate a collective chorus of manufacturers with common concerns and challenges. The rallying point for a growing mass movement, MFG DAY empowers manufacturers to come together to address their collective challenges so they can help their communities and future generations thrive.
Image: Students and instructors from Franklin County Career and Technology Center, in Southern Pennsylvania, tour the Volvo Trucks Group facility in Hagerstown, MD on Oct. 04, 2013 as part Manufacturing Day. Here, Company Ambassador Al Flennor, (white shirt) a 51-year employee of Volvo, gives a guided tour of the factory floor and points out many of the innovations and technology used to assemble the vehicle powertrains. Photo: The Manufacturing Institute