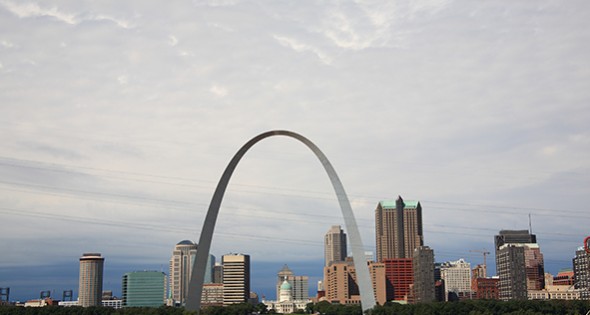 Vibrant Start-Up Incubator Environment Boosting Long-Term
25 Jul, 2017
The booming start-up community in the St. Louis area will contribute to long-term economic growth for the bi-state region, according to Kevin Kliesen, an economist at the Federal Reserve Bank of St. Louis.
"The vibrant start-up environment here bodes well for the St. Louis economy over the longer term," said Kliesen, who noted that the sector has recently grown faster than start-up hubs in Austin and Silicon Valley, and features start-up incubators like T-REX and Cortex, which have the potential to support stronger future economic growth.
Kliesen was the featured speaker at the St. Louis Regional Freightway Industry Forum in St. Louis on May 31, 2017. He offered an economic outlook at the local and national levels for the manufacturing and transportation sectors.
The economist said the nation is continuing to experience the third longest economic expansion in history, then drew on in-depth employment and economic output data to illustrate how the St. Louis Metropolitan Statistical Area (MSA) is keeping pace.
Despite a weak first quarter, Kliesen said, at the national level, both U.S. and global growth appear to be strengthening; business surveys indicate an increasing number of U.S. firms are planning to boost capital spending; construction activity continues to rise, and while world trade has slowed, U.S. exports are solid. He indicated that the St. Louis region's economy is also strengthening, but at a slower and somewhat uneven pace.
While total employment within the manufacturing sector has declined from almost 40 percent back in the early 1940s to about 10 percent today, productivity enhancements have resulted in output from manufacturing remaining constant at about 10 percent of GDP over the past 70 years. Total transportation employment as a percentage of overall employment has remained steady at approximately 3.5 percent over the past 27 years.
When looking at the St. Louis MSA as part of the global economy, Kliesen said the region is somewhat insulated from U.S. and global developments, although many St. Louis companies do compete in global markets for goods and labor. Big events, like recessions, certainly affect local economies, but Kliesen said the most recent recession hit the U.S. harder than it hit the St. Louis region. As the region emerges from that recession, both employment growth and overall economic growth are on the uptick, but the growth has slowed relative to national growth. A sizable decline in construction industry employment appears to be a contributing factor. The St. Louis region's growth rate since 2009 hovers at around 1 percent, relative to the national rate of 1.9 percent.