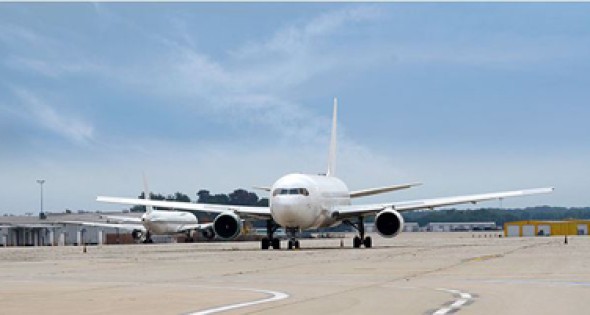 Wilmington Air Park
11 Jul, 2014
The Wilmington Air Park is an integrated Aviation and Logistics Business Park located on 1,900 acres in central Ohio. The Air Park features nearly 3 million square feet of industrial, office and hangar space. As a fully functional airport with two runways, (9,000 x 150 ft. and 10,701 x 150 ft.) and CAT III instrument approach, the Wilmington Air Park can land as large as 747-class aircrafts.
The Wilmington Air Park provides flexibility in landing schedules, plentiful aprons, on-site aircraft maintenance, Foreign Trade Zone Designation and an array of state and local incentive programs.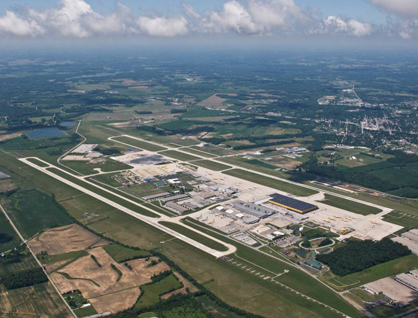 There are 8 industrial facilities that range from 74,000 square feet to 1.1 million square feet with ceilings height of 17 feet to 62 feet.  Ample dock doors and drive-ins allow for high capacity trucking needs.  Many of the facilities include adjacent office space.  A recently built Class A administrative building provides 104,000 square feet of multi-tenant office space.  Ample parking for completed inventory, trailer staging, and employee parking is available throughout the facility.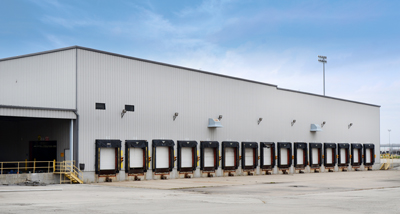 The Air Park is strategically located between Cincinnati, Columbus and Dayton, Ohio. It has easy access to I-71 and is within 50-70 miles of three international passenger-service airports. Ohio ranks in the top 4 states in the country for logistics. Ohio has the 7th largest road system in the U.S. Ohio is within 600 miles of 61% of all U.S. and Canadian manufacturing locations and is home to a diverse transportation system linking all North American and global markets.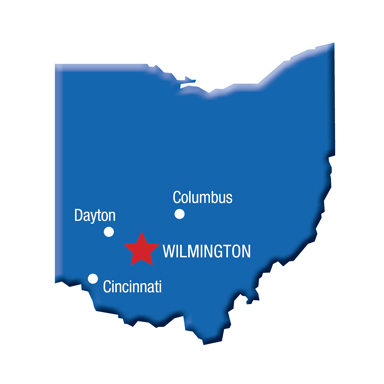 Key Site Features:
Full Functioning Airport
Two parallel runways (9,000 x 150' and 10,701 x 150')
CAT III Landing Instrumentation
Flexible Landing Schedules
LOCATION
| | |
| --- | --- |
| Highway | Crossed by eight major interstates, Ohio has the 7th largest road system and the 6th largest interstate system in the United States.  Wilmington Air Park is less than 10 miles east of Interstate 71 which serves as a major north-south link between the Great Lakes and the Southeast.  The recently completed 73 Bypass gives trucks easy access to the Interstate highway system. Ohio's trucking industry is the 4th largest in the nation adding over $6.3 billion to the gross domestic product. |
| Airport | In addition to the Air Park being a fully functional industrial airport, Wilmington Air Park is located within a 60-mile radius of the Dayton, Cincinnati and Columbus International Airports. Wilmington Air Park provides seamless air-to-highway connectivity. In addition, Ohio's 180-public airport system provides a sure air transport solution to every region in the state. |
| Inland Ports | Ohio has 209 port terminals along 716 miles of navigable waterways leading to the Gulf of Mexico and the St. Lawrence Seaway.  The Army Corps of Engineers ranks Ohio 7th in waterborne domestic cargo. |
| Rail | Ohio's rail industry ranks 4th in the nation as measured by contribution to the gross domestic product–$1.8 billion—and, its 5,318 miles of tracks than are more than those of 47 states.  Its 5,316 miles of tracks are more than those of 47 other states. CSX Transportation, Norfolk Southern and Wheeling and Lake Erie all run rail operations throughout Ohio.  Rail spurs connecting truck, air and water traffic maximize the benefit this system provides the region and state. |
Targeted Industries
Aerospace/Aviation
Logistics/Warehousing
Manufacturing
Research and Development
Unmanned Aerial Systems
Owned and Operated by the Clinton County Port Authority
Clinton County Incentive Programs
Land cost write down or free land – Critical to site selection
Sales Tax abatement on Construction Materials for Clinton County Port Authority owned Structures
Tax abatements
SBA designated HUB Zone
Eligible designated areas for New Market Tax Credits
Wilmington Air Park has a Foreign Trade Zone
Wilmington Air Park is located in an Enterprise Zone
Discounted Rent on the Wilmington Air Park by the Clinton County Port Authority
Clinton County Revolving Loan Fund (EDA and State funded, low interest loan pool)
Free usage of temporary office space at the Wilmington Air Park during start up
Utility rate incentives (Subject to usage)
Recruiting
Federally funded On-The-Job Training Grant Program
State of Ohio Incentive Programs
Research and Development Investment Loan Fund
Ohio Enterprise Bond Fund
166 Direct Low Interest Loan
Economic Development Grants
Roadwork Development (629)
Job Creation Tax Credit
Job Retention Tax Credit
Research and Development Investment Tax Credit
Contact Information
Kevin Carver
Executive Director
Clinton County Port Authority
937-655-7019
kcarver@ccportauthority.com
Dave Lotterer,
Jones Lang LaSalle
513-252-2166 (office)
Or 513-205-6816 (cell)
David.lotterer@am.jll.com
www.joneslanglasalle.com