3,000 Acres Available in Greater Richmond, Va.
10 Dec, 2014
Expanding and/or relocating businesses looking for a Southeast U.S. location will find an inventory of industrial and commercial sites prepped and ready for development in the Greater Richmond, Va., metro region.

Commercial real estate firm, Have Site Will Travel Ltd., features nearly 3,000 acres of available, shovel-ready and zoned land in the metro region. The sites are located in Caroline, New Kent, Henrico, Hanover and Goochland counties, and in the town of Ashland and the city of Richmond.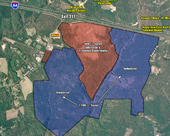 This variety of real estate assets ideally serves a range of operations, from manufacturers to processors to distribution centers to owner-occupiers to 3PLs. One of the sites is New Kent City Center, a 1,600-megasite in Talleysville. The property is Virginia's largest ready to develop, multiuse site located on Interstate 64 and Route 106, exit 211. The site is zoned for 1,200 acres of industrial uses, and 400 acres for industrial/economic opportunity.
The Caroline Commerce Center is located in Ruther Glen at the intersection of Interstate 95 and Highway 207. The 188-acre site will support industrial park sites of 5 acres to 100 acres. It is ideal for all industrial uses, and has two large retail pads located at the intersection.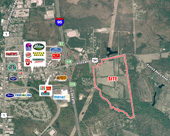 Another development is the East Ashland site, a planned mixed-use project of live, work and play, which can be redeveloped and/or rezoned into a greater density retail and industrial center, which is supported in the Greater Richmond region. The site is located at the southeast corner of Interstate 95 and Route 54. The 96-acre site consists of 43 acres available for commercial development, and 53.5 acres available for residential development.
These sites are part of Have Site Will Travel's portfolio, and could mean thousands of new jobs in the region. The company's founder and president, John Jay Schwartz, MCR, RPA, IBC, is a commercial real estate professional and site consultant. Known as the "man with square feet," Schwartz has worked in 40 states, and is celebrating 40 years with 40 million square feet. Schwartz is skilled in national rollouts; experienced in Tier I, II and III markets; and knowledgeable in all areas of commercial real estate support and execution.
Schwartz has worked with organizations such as McKesson, the General Services Organization, Wendy's, TGIFriday's, General Motors, Brinks Corp., Cornerstone Real Estate Advisors, Standard Insurance and Union Bank.  He has also worked with early-stage technology companies such as Dominion Telecom, Richmond Telecom, Guild Launch and TW Systems.

In addition, economic development organizations in various states, including Louisiana, Texas, Nebraska, New Mexico and Virginia, have called on his expertise and consulting services.
For complete details, visit www.HaveSiteWillTravel.com.