Florida East Coast Railway, Connecting Florida to the world.
17 Jul, 2015
Industrial Development Properties
Florida East Coast Railway's ('FECR') mission is to help provide FECR customers, as well as businesses considering a Florida solution, with important resources and direction including identifying potential rail sites along FECR's 351-mile track from Jacksonville to Miami. Locating the ideal site requires more than simply finding the ideal acreage or building. All facets including engineering, site layout and logistics assistance can be addressed by the FECR carload team.
 Please contact us for assistance with any upcoming Industrial Development projects within the State of Florida. If you are interested in any of our featured sites & properties below or if you are considering any re-location, expansion or development on Florida's east coast contact us via the information below or simply go to http://www.fecrwy.com .
Our success depends on your success!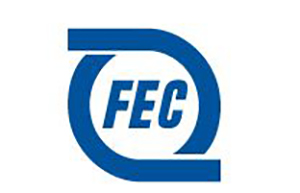 Featured Industrial Development Sites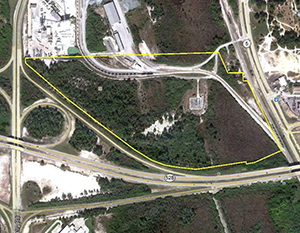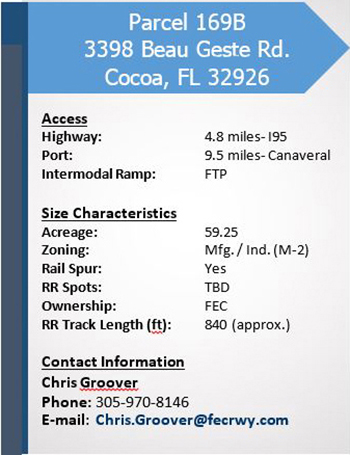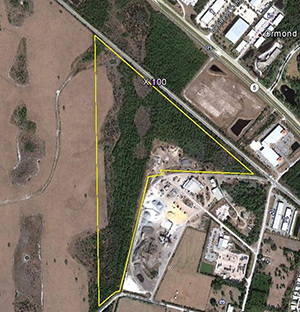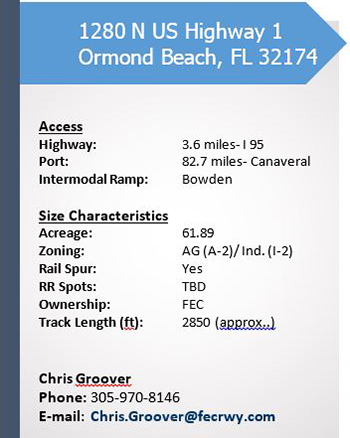 To View the Up-To-Date Map of FEC Industrial Development Sites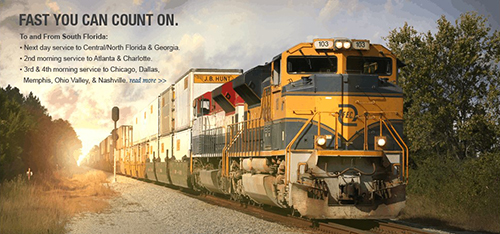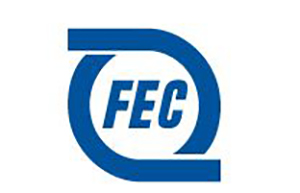 Transload Locations

Receiving commodities, but no way to unload?
Florida East Coast Railway's (FECR) distribution network, located along the east coast of Florida, is comprised of 9 facilities statewide. This diverse network of facilities allows non-rail served customers to enjoy the economies of long-haul rail with the convenience of localized trucking.
In the growing Florida marketplace, FECR aims to offer efficient and cost-effective transloading, storage and distribution solutions for shippers and receivers.
JACKSONVILLE, FL
MATCO Industries
7150 Phillips Highway
Jacksonville, FL 32256
Phone: (954) 946-5567
Matt Furber
matt@matcoreload.com
www.matcoreload.com
CITY POINT, FL
Ambassador Services Cocoa Reload Yard
3325 Beau Geste Rd.
Cocoa, FL 32926
Phone: 321-403-7488 / 321-690-1703
James Dezeih
jdezeih@asiterminals.biz
www.asiterminals.biz  
COCOA, FL
Decks & Docks Lumber Company
317 Rosa L. Jones Drive
Cocoa, FL 32922
Phone: 321-504-9606
Jesse Koehler
jesse@decks-docks.com
FORT PIERCE, FL
Decks & Docks Lumber Company
253 Florida Avenue
Fort Pierce, FL 34950-1548
Phone: 772-460-2323
John Miller
jmiller@decks-docks.com
www.fortpiercereload.com
POMPANO BEACH, FL
Matco Reload
1263 Hammondville Rd
Pompano Beach, FL 33069
Phone: 954-946-5567
Matt Furber
matt@matcoreload.com
www.matcoreload.com
FORT LAUDERDALE, FL
Decks and Docks Lumber
1801 SW 1st Avenue
Fort Lauderdale, FL 33315
Phone: 954-462-9099
Michael Furlong
mfurlong@decks-docks.com
MIAMI, FL
Southern Warehouse
7210 NW 77th Street
Miami, FL 33166
Phone: 305-883-0061
Jorge Mora
jmora@southerncompanies.net
www.southerncompanies.net
Dependable Warehouse and Distribution
2900 NW 75th Street
Miami, FL 33147
Phone: 305-636-4200
Manny Rivas<
mrivas@dwdi.net
www.dwdi.net
Alpinos Logistics and Distribution, Inc.
6885 NW 25th Street
Miami, FL 33122
Phone: 305-871-7082
Al Arango
alvaro@alpinos.com
www.Alpinos.com