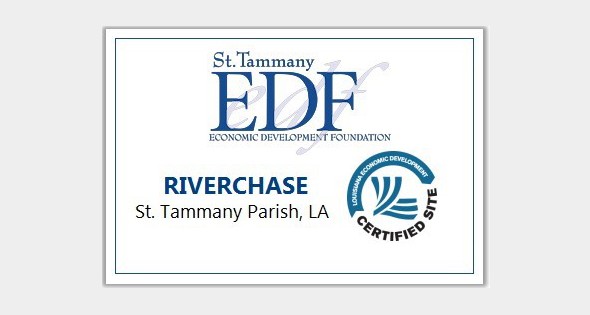 St. Tammany Economic Development Foundation
26 Jul, 2017
RIVER CHASE
Covington, St. Tammany Parish, LA
St. Tammany Parish is located strategically on the north shore of Lake Pontchartrain with easy access to New Orleans and other major population centers across the gulf-south. St. Tammany's low business cost, nationally recognized school system, and first-rate medical facilities make the community a destination of choice for businesses of every size. Three interstate systems—10, 12, and 59—pass through St. Tammany, along with a convenient network of U.S. and Louisiana highways and Norfolk Southern Railway.
As the fifth most populous parish in the state and one of the fastest-growing parishes, St. Tammany's upscale amenities, active community, and expansive green spaces offer wide-ranging, diverse opportunities for companies in any industry. The entire parish is renowned by outdoor enthusiasts, gourmands, golfers, and art-lovers for its versatility and charm.
Positioned between two NASA facilities and a favored home for international corporate headquarters, St. Tammany offers the best-situated location for your business to thrive. Whether you need to take an early morning flight out of Louis Armstrong New Orleans International Airport or ship out of the Port of New Orleans into the Mississippi River, your gateway to the world is less than an hour away.

RIVER CHASE
AVAILABLE ACREAGE
125 acres
TOTAL ACREAGE
125 acres

SALE PRICE
$522,720/acre
PROPERTY TYPE
Commercial
For More Site Selection Info/Data on St. Tammany Parish;
http://www.stedf.org/site-selectors.html
To View All Certified Sites within St. Tammany Parish:
http://www.louisianasiteselection.com/stedf/sites_search.aspx?Certified=True
Contact Us
St. Tammany Economic Development Foundation
21489 Koop Drive, Suite 7
Mandeville, LA 70471
Phone: (985) 809-7874
Toll-Free: (888) 868-3830
Fax: (985) 809-7596
Email Us
Subscribe to our Newsletter