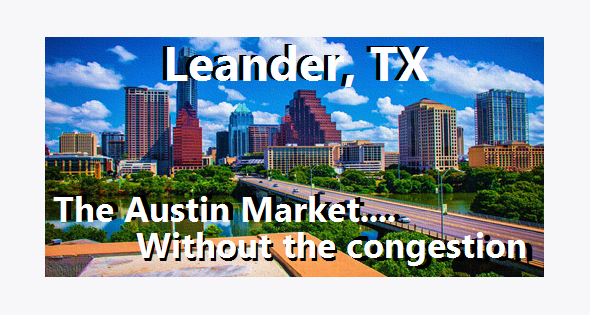 Leander, Texas
03 Feb, 2017

Only commuter rail into downtown Austin
Fastest growing city in the U.S. with a population over 15,000
12,000 student Austin Community College campus under construction (100 acres)
David's Hospital healthcare campus (50 acres) breaking ground in the spring of 2017
Top rated schools
One of the Top 100 Safest Cities in America

According to the U.S. Census Bureau, Leander was the fastest growing city in the nation from 2014 to 2015 of all cities with a population over 15,000.
Leander's Growth Rate from 2015 to 2016: 20% +

Leander's Growth Rate from 2010 to 2015:  42% +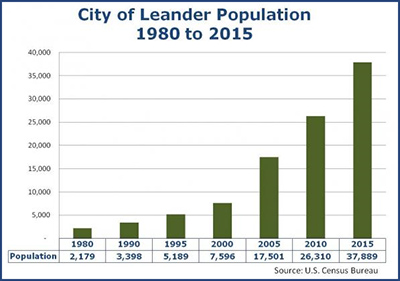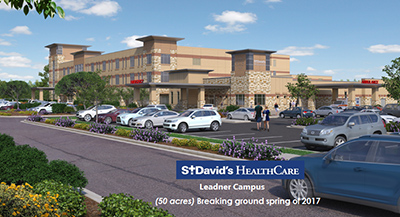 Work has begun on this 11,200-square-foot freestanding ED with 10 to 12 rooms.
The facility will also feature advanced testing capabilities including radiological testing and a medical lab. It will be staffed by board-certified.
Emergency medicine physicians affiliated with St. David's HealthCare and nurses trained in trauma care.
Completion is anticipated in 2017.
The remaining plans for the site include at least one medical office building and an 80-bed hospital with the capacity to grow as the community grows.
During the emergency center's first year of operation, it is expected to hire 25 employees, including nurses, imaging personnel, and laboratory personnel.
Registration & support staff and admin personnel.

With the future construction of the hospital, more than 200 jobs will be created.
Austin Community College, San Gabriel Campus

Austin Community College's 100-acre San Gabriel Campus in Leander is scheduled to open for classes in the summer of 2018.
Scheduled to open summer 2018, the 106,000-square-foot San Gabriel Campus will have an initial capacity for 2,500 students.
Will feature classrooms, science labs, and the college's second ACCelerator learning center.
The campus will be designed to grow with Leander, currently the fourth fastest-growing city in the state.
Long-term plans for the 100-acre campus site include an early college high school. Along with classrooms and science labs.
The San Gabriel Campus will feature the college's second ACCelerator learning lab.
Campus Information
| | |
| --- | --- |
| Feature | Approx. Sq. Ft. |
| Classrooms and Science Labs | 22,300 |
| Library, Learning Lab, Computer Lab | 17,900 |
| Student Services and Support Spaces | 4,500 |
| Offices for Faculty, Administration, and Police | 8,600 |
| Common Areas | 8,000 |
| | |
| --- | --- |
| Project at-a-glance* | |
| Budget: | $60 million |
| Total Area: | 100 acres |
| Building Square Footage | Approx. 106,000 |

The City of Leander has introduced a new pilot incentive program to encourage new business development and expansion within the "Old Town" District (see map).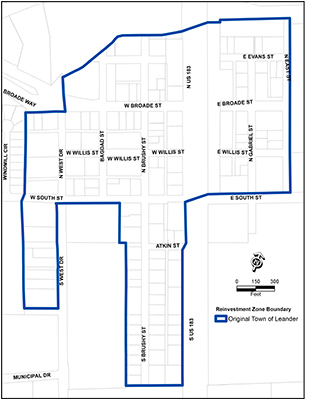 To Learn more on the Old Town Initiative go to;
https://www.leandertx.gov/ed/page/old-town-incentive-program  

To Search for Available Sites & Properties within Leander go to;
http://cdx.xceligent.com/CDXDirect/Clients/Frames/Search.aspx?FullId=3243_34087
To View City of Leander ED's Welcome and Promotional Video go to;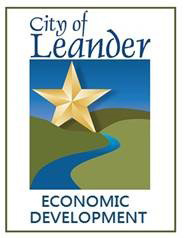 Economic Development Director
Mark S. Willis, MBA, CEcD
Phone: (512) 528-2852
Economic Development Manager
Eric Zeno
Phone: (512) 528-2855
Physical Location
100 N. Brushy
Leander, Texas 78641
Mailing Address
P.O. Box 319
Leander, Texas 78646