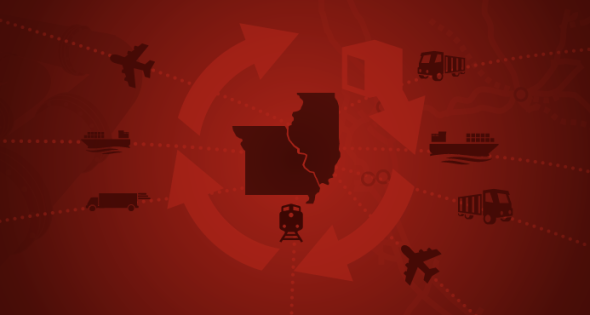 New Website Promotes St. Louis Gateway Initiative
10 Nov, 2014
The St. Louis Gateway is a new collaborative initiative to create a new brand identity for the St. Louis region —and for southwestern Illinois within that region — as a multimodal hub poised for growth. At the heart of the effort is the new website, www.stlgateway.com. The collaboration is between Leadership Council Southwestern Illinois and St. Louis Regional Chamber.
The website highlights the bi-state St. Louis region's strategic location and seamlessly integrated transportation infrastructure, underscoring how it is ideally suited for multimodal logistics and supply chain solutions.
Information and videos on the site highlight the region's key advantages, including multiple Foreign Trade Zones, shovel-ready sites available throughout the region, and an educated workforce centered on transportation and supply chain solutions for decades. Even the region's bi-state composition signals strength, providing twice the leverage on major infrastructure projects, evidenced by the new Stan Musial Veteran's Memorial Bridge spanning the Mississippi River.
The region's multi-modal transportation infrastructure includes six Class I rail lines, four major interstates, three airports, several pipelines, and the most northern ice-free, lock-free river and port capability.
For complete details, visit www.stlgateway.com.
Illustration: stlgateway.com