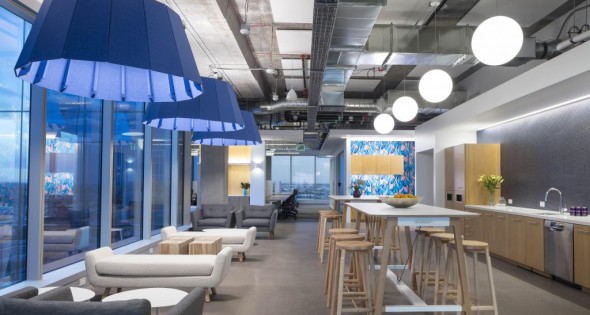 Opendoor Expands Presence In Arizona With Creation Of Regional Hub In Tempe
19 May, 2022
​​​​​​Representing a multi-million dollar investment, the expansion supports over 500 jobs
TEMPE, AZ — Opendoor, a leading digital platform for residential real estate, is doubling down on its commitment to Arizona, opening a 100,807-square-foot space in Tempe to serve as the company's regional hub. The space is the company's largest office, supporting over 500 jobs.
"Opendoor has been supporting Arizonans with the confidence and control to make life-changing moves since launching in Phoenix in 2014. Since our first customer eight years ago, we have become part of neighborhoods across the state, serving tens of thousands of homebuyers and sellers and partnering with contractors and small businesses," said Megan Meyer Toolson, Chief Customer Officer and Arizona resident. "Hundreds of employees now call Greater Phoenix home. We are proud to share our latest commitment to Arizona, the creation of a regional hub in Tempe that will support over 500 jobs and allow us to continue contributing to the growth and success of this great state."
"We are proud to welcome Opendoor's regional hub to Tempe," said Sandra Watson, President and CEO of the Arizona Commerce Authority. "Opendoor complements Tempe's vibrant technology ecosystem and innovation taking place at Arizona State University. We are grateful Opendoor continues to invest in Arizona while supporting hundreds of jobs and furthering Arizona as a proptech epicenter."
Since 2014, Opendoor has served over 37,000 Arizona buyers and sellers and infused over $225 million into the state's economy through its work with local contractors, tradespeople and real estate agents. As the region continues to attract top talent, Tempe's central location and growing tech community attracted the company to establish its regional hub in the city.
"We're excited to welcome Opendoor to Greater Phoenix as it brings its regional hub to Tempe," said Chris Camacho, President and CEO of the Greater Phoenix Economic Council. "Opendoor joins a growing group of industry-transforming companies expanding to Greater Phoenix, solidifying the region's standing as a premier market for new technology with the workforce availability, supportive environment and modern infrastructure to bolster innovative, high-growth businesses."
"Opendoor is bringing more than 500 IT, finance, HR and managerial jobs to Tempe," said Tempe Mayor Corey Woods. "We appreciate Opendoor's investment in our city and welcome them to our community."
Opendoor's expansion adds to recent technology announcements in Arizona. In the past six months, Sendoso announced an office expansion and relocation of its headquarters to Phoenix, creating over 1,000 jobs, NerdWallet announced an office expansion to Scottsdale and Amazon announced it is expanding its Phoenix Tech Hub, creating over 500 jobs.
About Opendoor
Opendoor's mission is to empower everyone with the freedom to move. Since 2014, Opendoor has provided people across the U.S. with a radically simple way to buy, sell or trade-in a home. Opendoor currently operates in a growing number of markets across the U.S. For more information, please visit opendoor.com.
About the Arizona Commerce Authority
The Arizona Commerce Authority (ACA) is the state's leading economic development organization with a streamlined mission to grow and strengthen Arizona's economy. The ACA uses a three-pronged approach to advance the overall economy: attract, expand, create – attract out-of-state companies to establish operations in Arizona; work with existing companies to expand their business in Arizona and beyond; and help entrepreneurs create new Arizona businesses in targeted industries. For more information, please visit azcommerce.com and follow the ACA on Twitter @azcommerce.
About the City of Tempe
Located in the heart of the Greater Phoenix Metropolitan Area, Tempe is home to Arizona State University, the famous Mill Avenue and Tempe Town Lake. Tempe makes waves as a technology and business magnet, an inclusive, caring community and a hub for recreation and adventure. Visit us at tempe.gov and follow us on Twitter @tempegov.