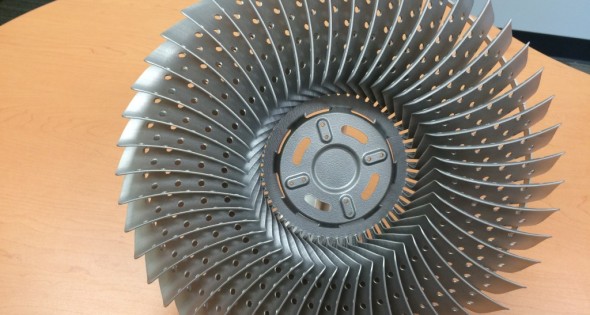 Additive Manufacturing on the Make
04 Jan, 2015
Caption: Cooling fan built in AlSi10mg. The diameter of the part is 380mm (15").
Photo: citim AM
By Mark Kleszczewski
Manufacturing can push the limits with 3-D printing.
The terms stereolithography, selective laser sintering, fused deposition, multi-jet fusion and even "additive manufacturing" may not mean much to most people, but to manufacturers they are among the fastest-growing ways to innovate and become more competitive. That's because as these various "3-D printing" technologies mature, they're accelerating the transition from prototyping to larger-scale production capabilities, resulting in the prospect of faster, cheaper and more flexible manufacturing.
Though many technical challenges have yet to be solved, the widening adoption of additive methods is attracting attention and investments from a wide range of public and private stakeholders. As a result, many communities — especially those with a strong manufacturing heritage and workforce — have begun benefiting from new jobs and facilities at the forefront of what many industry watchers are beginning to call the next industrial revolution.
"We can now make parts smaller, combine several parts to make one and build parts with intricate interior geometries that would be very difficult to cast and impossible to machine. What was once impossible to build is now possible. Our biggest obstacle is our imagination." – Chris McKenna, vice president, citim AM Inc. 
From Prototyping to Production
"We are seeing companies push the limits of additive manufacturing (AM) to new levels and apply the technology in entirely new ways," notes Terry Wohlers, president, Wohlers Associates, in the Wohlers Report 2014. "Through investment, hard work and determination, companies in aerospace, medical, dental and other industries are finding ways to use additive manufacturing to produce quality parts."
In looking at 2014 trends, Wohlers' consultancy found that revenues from the production of parts for final products represent nearly 25 percent of the entire market for additive manufacturing and 3-D printing. Since 2003, this market segment has gone from less than 4 percent to more than one-third of total revenues from AM products and services worldwide. In capturing this share of the market, the use of additive methods for this application grew by more than 65 percent in 2013 to an estimated $1.065 billion, up from $643.8 million the prior year. This is the first time in the history of AM for this market segment to reach the $1 billion mark.
And that's just for production applications. Analysts at IDC International estimate that although global spending on 3-D printers, supplies and services will total a relatively modest $2.7 billion this year, they expect long-term growth of 29 percent annually in the broader sector. Analysts at Morgan Stanley foresee even faster annual growth of 34 percent or more than $20 billion in sales by 2020.
One of the main advantages of 3-D printing technology is that it drives faster prototyping and design cycles that gets products to market faster, giving manufacturers and investors a quicker return on their investment, says Steve Erickson, vice president of sales and engineering, First American Plastic. "From printing hard-to-find parts to reducing waste, manufacturers are seeing serious cost-saving potential from 3-D printing. It's a meaningful trend and one that will likely continue to shape how manufacturing is done in the U.S. and abroad."
Erickson further explains that 3-D printing allows one to "think" in actual plastic, creating live, working models of components that enables moving from conceptualizing onscreen with a 2-D CAD graphic to creating and handling a fully-formed and working three-dimensional piece — so that you or a designer examine detail, integrity of design, quality of construction and functional operation.
Consequently, output in manufacturing will also increase, as quality issues become less of a problem. Any idea will have already been thoroughly tested before it goes into full production. "Expect operations that are far more efficient and objects that are manufactured to be more complex, lighter weight and more reliable," Erickson says.
That's a major advantage for companies such as GE, whose aviation division specializes in making precision, super-alloy machined parts for jets. For example, the company is developing an engine fuel nozzle that is up to 25 percent lighter and more complex than its counterparts, while reducing to one part what was previously built from many assembled parts, says Tom Sinnett, applications manager, Additive Development Center, GE Aviation.
To turn the new design into reality, GE is allocating $50 million to expand its existing 300,000-sqare-foot facility in Auburn, Ala. The facility will be the first of its kind to mass produce additive components for the jet propulsion industry. Upon completion, GE's investment there since 2011 will total more than $125 million.
Equipment installation at the location began in late 2014 with new production slated to commence this year. By the end of 2015, the plant could have as many as 10 printing machines with the potential to grow to more than 50 printers. The high-tech ramp-up is expected to boost annual production from about 1,000 fuel nozzles today to roughly 40,000 by 2020.
For the local economy, the higher rate means increasing capital investment and more jobs. The factory — currently home to 70 employees — expects the new facility to grow that employee number to 300 upon reaching full capacity.
In November, GE announced it plans to spend $32 million on a new advanced manufacturing center outside Pittsburgh. At the center, the company will develop and help implement additive manufacturing across its industrial businesses.
Global manufacturing giants are not the only ones gaining by implementing additive manufacturing methods.
"You will see tremendous growth in this field heading into 2015 as more and more companies are starting to design their parts specifically for building with additive technology," says Chris McKenna, vice president, citim AM Inc. "The new generation of metal additive machines coming out have a bigger build envelope and are designed more for production. This process will probably never replace conventional casting methods, but it's a great way to do small-batch production builds with a very short lead-time."
"We can now make parts smaller, combine several parts to make one and build parts with intricate interior geometries that would be very difficult to cast and impossible to machine," McKenna continues. "What was once impossible to build is now possible. Our biggest obstacle is our imagination."
McKenna's company — part of citim GMBH, a Germany-based prototype manufacturer — is not only proving what's possible for industries from aerospace to motorsports, it is also showing how additive manufacturing can attract foreign direct investment.
Last September, the company announced plans to invest about $9 million in Kennesaw, Georgia, by 2015 and employ approximately 28 people there over the next three years for direct manufacturing of metal components for the American market.
McKenna says the company selected Cobb County for its new facility because it's not only a desirable place to work, but also to live. "We had several sites in mind, but it came down to the ease of travel to Atlanta's airport, the time zone which benefits our colleagues traveling from our headquarters in Germany and the lower cost of doing business," he says. "Besides all that, it's a great place to live. The people are extremely friendly and Atlanta is a great city."
Collaborations Help Companies
Universities and academic researchers — in partnership with state and federally-funded initiatives—are also collaborating to propel the technology forward and move it onto more factory floors.
"A lot of the excitement is coming from being able to take this technology and use it for production, instead of just prototyping," says Timothy W. Simpson, Ph.D., professor, mechanical and industrial engineering and engineering design, The Pennsylvania State University. "Small to midsize companies in particular need to pay attention. For them, highly-customized design and small-scale runs are right in their technological sweet spot."
"However, many of them can't afford the research or equipment. Plus there are many technical unknowns which still exist, especially around process parameters and standards," Simpson cautions. "You can give two manufacturers the very same CAD file, but get back two very different parts from them."
Simpson notes that one resource companies can tap into for effectively increasing their use of additive technology is the world-class Center for Innovative Materials Processing through Direct Digital Deposition (CIMP-3D), operated by Penn State University along with its partners Battelle Memorial Institute and Sciaky Inc.
"We've also started offering short, practical day courses and hosting forums on the technology, application and business of 3-D-based manufacturing," Simpson says. "With the help of America Makes and Pennsylvania's support for research grants and projects, we're also going to be offering funding for small and midsize manufacturers to be able to work with us."
Adapting to Tomorrow's Technology
It will be quite a while, if ever, before hard-to-find replacement parts become a thing of the past, but industry leaders agree that additive manufacturing's potential is tremendous.
"Some things never change — or at least they are working well enough that an industry has no cause to abandon them. Plastic injection molding falls into that category," Erickson says. "It's one of the most basic and reliable methods for manufacturing plastic components, in every industry from food to automotive."
But Erickson suggests that manufacturers should expect to see numerous benefits from 3-D printing as the technology continues to improve and printing costs decrease. "While large printers capable of running thousands of parts in a day are still costly, their smaller counterparts are becoming very affordable. It may soon be considered more expensive not to have a 3D printer on site.
"In the end, the manufacturers who are best able to adapt will be the ones who thrive," Erickson continues. "And the ones who are able to embrace changing technology will be the ones who ultimately decide the direction we take."
For more information, visit: