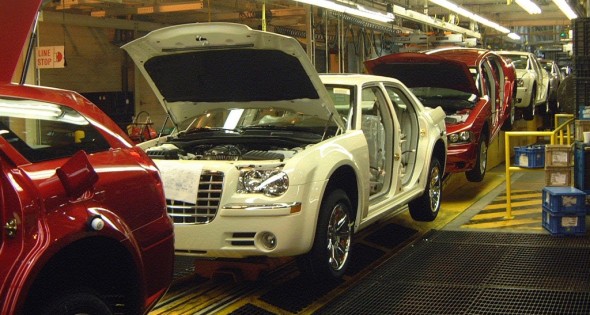 Auto Suppliers: Under Pressure
03 Aug, 2015
Cover photo: City of Brampton (Ontario) Economic Development Office
By Rachel Duran
Selecting the ideal location has never been more important.
Site selection for automotive suppliers is all about achieving balance. Automotive OEMS continue to lean on and encourage their suppliers to exclusively serve one OEM from a facility; however, suppliers need to serve multiple platforms and clients from the same facility.
"What we see in the marketplace right now is most of our clients are being pressured to go to other parts of the country," says Brandon Podolski, partner, Plante Moran CRESA. "There are a lot of legacy costs with respect to the Big 3 in the Midwest. That will continue."
Things get interesting when suppliers begin to explore international strategies to satisfy where OEMs are locating, for example to the Southern United States, and northern and central Mexico. "Our clients, in order to diversify their customer base, are being asked to come to the South," Podolski says. "But what is interesting right now is there is an astronomical amount of investment happening in Mexico."
Plante Moran CRESA works will all tiers of auto suppliers in the site selection process. Podolski says auto supplier clients are seeking locations that will allow them to both mitigate the costs of setting up a manufacturing operation and serve multiple platforms and multiple OEMs from any one facility. "You have to analyze, 'where can I thrive and do business for the long term if a plant will cost $20 million to $50 million to set up, and serve multiple clients.'"
The North American marketplace continues to be an attractive market for auto OEMs. Automotive-industry investments north of the border are making a comeback. Ontario's auto sector took a hit a few years back. Recent noteworthy projects include Ontario's officials partnering with Honda in 2014 to secure an $857 million investment in the company's Alliston assembly operations, generating new business and suppliers, such as Howa Canada, which is establishing its first Canadian facility. The company will produce interior trim components for the 2016 Civic built at the plant. The company was supported in its investment with just over $1 million from the Southwestern Ontario Development Fund. Since 2012, the fund has committed $50 million to organizations, leveraging more than $580 million in private investment.
Franklin County, N.C., Officials Ready to Help Suppliers
For Palziv North America, Franklin County offered a business-friendly climate, where government officials continue to support the company's investment through incentives to assist with a 60,000-square-foot expansion, which will feature warehouse space and support two additional production lines. "The state also contributed building reuse funds," says Ritchie Duncan, existing industry coordinator, Franklin County Economic Development Commission.
Duncan says the Israeli-owned supplier produces materials both for packaging and for utilization within cars. She says there is a keen interest in the region by auto suppliers, an industry that will benefit from a convenient location to Southern-based OEMs, with access to interstates 85 and 64, as well as proximity to the Raleigh-Durham International Airport. What's more, the county offers competitive land costs compared to the surrounding area, which includes Wake County.
Companies will also find workforce training partnerships and connections with the branch of Vance-Granville Community College in the county. Duncan again notes the pro-business climate found in the county. "Our job at economic development is we can facilitate communication and explore opportunities for grants or incentives," she says.
For complete details, visit www.franklincountync.us.
Ontario is ranked in the top two in North America for vehicle production, and is the only sub-national jurisdiction to have five major global automotive assemblers: Fiat Chrysler Automobile Inc. (FCA) Canada, The Ford Motor Co., GM, Honda, Toyota and truck manufacturer, Hino.
FCA Canada is located in Brampton, part of the Greater Toronto Area (GTA). The assembly plant produces the company's top-selling models: Dodge Charger, Dodge Challenger and the Chrysler 300. The facility employs 3,400 people.
The 200 auto-related suppliers operating from Brampton have found the right balance to serve multiple platforms and OEMs, providing services such as stamping, coating, precision components and more. In addition to the synergies of the supply chain ecosystem, the companies find strong workforce training opportunities, for example through the Sheridan College Centre for Advanced Manufacturing and Design Technologies. They also find ample industrial land, and an extensive intermodal rail network.
Brampton is one of the few GTA suburbs with a significant amount of land. For example, Bram West has more than 700 acres available; there are more than 1,200 acres along Highway 427; and Bram East has 2,000 acres available, and an additional 700 acres.
Auto companies will also benefit from the presence of Canadian National's intermodal terminal in Brampton, which moves 58 percent of North America's rail, says Sohail Saeed, director for economic development and tourism, city of Brampton Economic Development Office.
Provincial and federal funding support the auto cluster in the GTA. Saeed says this plays an important role for companies growing in the local areas. The cluster also benefits from the Auto Mayors Conference, a roundtable consisting of auto industry leaders, public officials and others, who discuss the challenges and successes of doing business in the region, and share their concerns with federal level officials. For example, Canada lacks an auto industry strategy at the federal level; decisions are typically made on an as needed or ad hoc basis, Saeed says. "With one voice, we are saying the federal government should look at creating a long-term strategy so we can determine the sustainability of the auto sector in Canada."
Viva Mexico
A sustainable auto industry destination is Mexico, proven out by a recent investment announcement by GM, which plans to spend more than $5 billion through 2018 to expand four plants in Mexico. BMW has announced an assembly plant in San Luis Potosi. Earlier this year, Toyota announced it will build a new $1 billion assembly facility in the state of Guanajuato, which will open in 2019. The company will focus on producing the Corolla.
Suppliers should take note that the supply chain in Mexico is changing. "What it looks like today is not what it will look tomorrow," Podolski says. "The border regions are pretty well populated. But in the Bahillo, which is central Mexico, it is all new infrastructure and companies are heading there."
The newer infrastructure means there isn't a deep inventory of available facilities. "A lot of our clients are having to contemplate build to suite in these areas where new developments are happening," Podolski says. "Are Mexican officials willing to talk about these projects? Absolutely. You can capitalize on incentives to help mitigate costs.
"It all depends on who your customers are as to where that supply chain is," Podolski continues. Things will need to settle before the industry discovers how the supply chain will work out, such as how will the labor force react to larger OEMs in the marketplace.
KC: Emerging Supplier Haven
Suppliers are flocking to both sides of the state line in the Kansas City metro area, reacting to major expansions of General Motors in Fairfax, Kansas, and The Ford Motor Co. in Claycomo, Missouri. Eleven auto suppliers to both GM and Ford have located to the region in the last 24 months.
"The models that are made here are top sellers for both companies; the Malibu with GM, and the F-150 and the new Transit van for Ford," says Chris Gutierrez, president, KC SmartPort. "OEMs are driving the supplier base to be here and be productive. It has caused them to invest here as opposed to bringing product in from another manufacturing facility. They can manufacture here and sequence them to a plant in another location."
Both of these OEMs are adding second and third shifts. At an industry event held in the spring called KC Velocity, representatives from both Ford and GM stated the quality and productivity of the workforce in Kansas City is what makes those plants the most effective and productive plants in their global networks, Gutierrez notes. "And suppliers see that as well."
Suppliers selecting the Kansas City marketplace include Yangfeng USA, Grupo Antolin North America, Martinrea International, Inergy, Challenge Manufacturing, and most recently, US Farathane. These suppliers work with area community college systems to train workers for specialized high-skilled manufacturing jobs. Historically, Kanas City (Kansas) Community College and the Metropolitan Community College have been partners to Ford, GM and Harley-Davidson, so they understand these needs and skills, Gutierrez points out.
Polk County, Ga., Allows Suppliers to Serve Multiple OEMs
Polk County is a rural community located in northwest Georgia, in the middle of an automotive industry triangle featuring Atlanta, Birmingham, Alabama, and Chattanooga, Tennessee. The advantages to serve multiple OEMs include access to U.S. highways, and a state highway that connects to interstates 75, 20 and 85, which bypass traffic in Atlanta, says Rachel Rowell, president and CEO, Development Authority of Polk County. What's more, Norfolk Southern and CSX run through the county, and a couple of industrial sites could provide access to both rail lines.
"We are home to Tier I supplier Jefferson Southern Corp., which does metal stamping work for Honda," Rowell says. The company invests in its future talent pool, sponsoring an engineering lab at one of the area high schools. The county is home a new College and Career Academy, which supports dual enrollment in high school and college. The academy has partnered with Georgia Northwestern Technical College and Georgia Highlands College for workforce training.
Polk County also offers the benefit of available industrial acreage and room to expand. A recent addition to the inventory is a 100,000-square-foot spec facility in Cedartown, which sits on 18 acres and is expandable to 200,000 square feet, as well as additional acreage if needed. "We assist companies and do it very well by working together to support industry in our community," Rowell says. "We make sure we have a proactive community."
To learn more, visit www.polkgeorgia.com.
The need for skills training has never been greater in the region due to the huge burst of auto-related employment. "It is going to be a challenge for everyone because they have all invested in the last 18 months; there will be upwards of 1,800 jobs and all of those have to be filled as they ramp up the production for Ford and GM," Gutierrez says. "It is a 24/7 operation to get those workers in place and get them trained internally. I think having the procedures and the community colleges already geared up has been great for us."
"Kansas City is home to one of the strongest product lineups in North America," said Don Maahs, vice president sales and marketing, Magma Cosma, at the KC Velocity event. "That fact alone makes Kansas City an attractive investment opportunity for the companies supplying to GM and Ford."
"GM's Kansas City plant is one of the most efficient and highest quality rated in the GM network," said Bill Kulhanek, plant manager, General Motors Fairfax. This spring, the Fairfax facility hosted GM CEO Marry Barra to celebrate the company's production of 500 million vehicles.
It is clear OEMs need suppliers located within proximity to their assembly plants. "So, for communities such as Kansas City, they need to recognize they have a very good location, with good platforms and OEMs that are expanding at those locations," Podolski says. "It sends a signal to our clients that we must invest in that region for many years to come and we can do business with two large OEMs and satisfy multiple projects and platforms." Plante Moran CRESA advised US Farathane, an auto plastics manufacturer, in its selection of Riverside, Mo.
Gutierrez says both states comprising the Kansas City metro area support the expansion of the auto industry cluster. Advantages include the presence of two OEMs, an emerging supplier network, workforce training and incentives. "And, there is more room to grow here," he says.
For auto suppliers, the site selection process focuses on balance. "Understanding where your customers are and where you should be located is very important," Podolski says. "It could be the difference maker of whether you can actually get close to another OEM and satisfy a contract."
For more details on the organizations featured in this article, visit:
City of Brampton (Ontario) Economic Development Office