Data Centers Continue On Huge Growth Trajectory
06 Aug, 2018
Next-generation applications and new information technology causing Data Centers to modernize
One of the real growth areas reflecting both the additional work in cyber activity and the fact that all businesses want to keep their info on the "cloud" is the explosion of new data centers and the expansion of existing ones both in the United States and around the world.
Statista, a market and consumer data company, reports that worldwide information technology spending on hardware and devices this year is expected to soar to $706 billion globally, with spending on information technology (IT) expected to reach $3.74 trillion. Data centers globally will be storing over 547 exabytes (one billion gigabytes) by the end of 2018.
For CEOs, understanding that trend should be a call to action to accommodate the exponential growth of a company's data analytics, store it for quick retrieval, and analyze it for use in application development, strategic sales and marketing, new product development or competitor insight. Some businesses are virtually deleting their in-house IT operations in favor of cloud storage/access systems.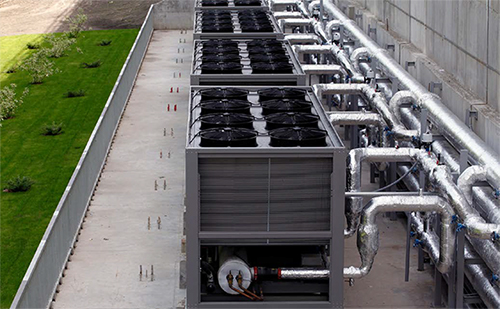 DATA CENTERS SEE
DATA-HEAVY STEAMROLLER COMING
According to the International Data Corporation (IDC), a global market intelligence firm, by 2020, the heavy workload demands of next-generation applications and new information technology architectures in critical business facilities will have forced 55 percent of businesses to modernize their data center assets through updates to existing facilities and/or the deployment of new facilities.
By 2019, 50 percent of organizations will have initiated efforts to accelerate the adoption of next-gen workloads, forcing drastic changes to infrastructure design and placement as well as IT operations models.
What should be happening now, IDC reports, is that organizations need to more effectively support mobile, cloud, business integrated analytics and the Internet of Things (IoT) services.
While IT managers are sourcing and deploying IT infrastructure in new ways to support digital transformation initiatives, data center managers are increasingly concerned with limiting factors such as floor space, power and cooling, data center life-cycle management and staffing.
To that end, by 2021, critical infrastructure in half of enterprise data centers will be operating autonomously.
But there is even more going on here in ways that are transforming how business and industry can access and use more and more information. New developments in data centers are coming from large-scale public cloud support centers, called hyperscale data centers.
Operators of hyperscale cloud data centers are increasingly dominating the cloud landscape, according to findings in the Global Cloud Index white paper by Cisco.
Hyperscale data centers are defined as having more than $2 billion in annual revenue from Software as a Service (SaaS) (for example, Salesforce, ADP, Google); more than $4 billion in annual revenue from Internet, search, and social networking (for example, Facebook, Yahoo, Apple); and more than $8 billion in annual revenue from e-commerce/payment processing (for example, Amazon, Alibaba, eBay).
Synergy Research Group, which provides market tracking and segmentation data on IT and cloud-related markets, reports that there are now nearly 400 hyper data centers in the world. Most of them – 44 percent – are in the U.S., driven mostly by growth in Google.
There has been a flurry of new such centers opening in Germany, Singapore, Australia and Brazil in mid-2017.
Cisco reports that cloud workloads are expected to nearly triple by the end of 2021. Part of the reason is the advancement of data handling technologies. Cloud economics, including server cost, resiliency, scalability, and product lifespan, along with enhancements in cloud security, are promoting migration of workloads and compute instances across servers, both inside the data center and across data centers (even data centers in different geographic areas).