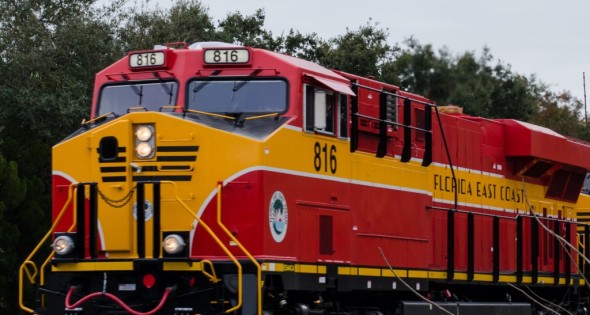 Logistics and Supply Chain Sector Rebounds
28 Aug, 2015
Caption: FECR provides reliable, flexible and safe end-to-end intermodal rail solutions to customers, reaching 70 percent of the U.S. population in four days or less. Photo: Florida East Coast Railway
By Mark Kleszczewski
Costs rise, but logistics sector moves forward.
Logistics is often undervalued by those outside the sector, but it's critical to running today's globalized economy. Despite rising costs, both private companies and communities are investing in supply chain infrastructure and resources to position themselves for future growth.
"It's an incredibly dynamic time in the logistics and supply chain world," says Rich Thompson, managing director, Americas leader — supply chain & logistics solutions, JLL. "Supply chain professionals are always focusing on cost, service and risk in order to determine efficient and effective solutions. But transportation costs are rising and there are many new trends in freight, labor, inventory and real estate coming together — so executives need to act now if they want to manage all the changes taking place."
For example, as more consumers take advantage of purchasing goods through multiple channels, ranging from brick and mortar stores to online shops, retailers need to rethink their underlying logistics strategy and real estate decision making process, Thompson suggests. E-commerce is getting bigger by the year, so developing adaptive, omni-channel supply chain capabilities, which also provide same-day delivery, will be key to staying competitive. That's driving demand for warehousing and distribution space close to population centers, he says, and causing a ripple effect on trucking, rail lines and seaports.
In response, third-party logistics providers like Kansas-based Smart Warehousing, have been busy upgrading their warehousing and delivery capabilities to capture new opportunities. Earlier this year, the company expanded its facility at Logistics Park Kansas City (LPKC), a 1,500-acre master-planned distribution and warehouse development anchored by BNSF Railway's newest, state-of-the-art intermodal facility in Edgerton, Kansas.
Occupying the balance of Inland Port IV brings Smart Warehousing's total footprint to nearly 575,000 square feet at LPKC, whose geographic location and direct-rail access allows for the efficient shipment of goods throughout the United States.
"Since locating its headquarters at LPKC last year, Smart Warehousing has experienced operational efficiencies and incremental growth," said Patrick Robinson, vice president, NorthPoint Development, in a recent public statement. "We are thrilled that this growth has resulted in Smart's expansion at LPKC."
"We are excited to increase our presence at LPKC," added Carl Wasinger, CEO, Smart Warehousing. "Consolidating our operations and the ability to help solve capacity issues in the supply chain industry are key reasons for our expansion. We are also excited about our relationship with BNSF Railway and how this will allow us to create unique and customized logistics solutions that leverage our technology and presence at LPKC."
Sector Growth Resumes
According to the Council of Supply Chain Management Professionals, total U.S. business logistics costs rose to $1.45 trillion in 2014, a 3.1 percent increase from the previous year, with the growth rate in logistics as a percent of GDP declining from 8.4 percent to 8.3 percent.
CSCMP reports that despite cost pressures, the supply chain industry experienced its best year since 2007. Even though rates remained almost flat despite the near 100 percent capacity utilization in the trucking industry and capacity problems faced by rail, the transportation sector grew by 3.6 percent due to higher shipment volumes spurred by increased consumer spending.
Intermodal shipping, which provides a greener and less costly alternative to truck — also making it a risk mitigation play — continues to grow, with volume increasing 5.2 percent, surpassing 2013's record total.
In Florida, developing intermodal capabilities is proving to be a winning strategy as global shipping patterns adjust to shifting trade routes.
"We serve three major south Florida ports, handling everything from consumer goods to aggregate rock for construction," says Jim Hertwig, president and CEO, Florida East Coast Railway (FECR). Intermodal is already 78 percent of our business and continues to grow at double digit rates."
That's possible, he says, thanks to the recent completion of a 43-acre Intermodal Container Transfer Facility (ICTF), to transfer international intermodal containers between ship and rail. A new overpass from I-595 over the FECR's two new ground level rail tracks brings traffic directly into the port. The new rail tracks expand into six working tracks totaling approximately 18,000 linear feet that can service up to a 9,000-linear foot train, and also include a separate 500-foot spur to handle project cargo.
"We're also getting down to a water depth capacity of 50 feet," Hertwig adds. "That means we'll be only one of three ports on the East Coast able to handle the bigger ships that'll be coming through the upgraded Panama Canal starting next spring. They'll be carrying valued commodities heading directly for the Southeast."
Among the area's beneficiaries of those capabilities is the nearby Port of Palm Beach, which is also leveraging local assets to reduce transit times and drive cost savings, notes Manuel Almira, director, Port of Palm Beach, Florida.
"We're the only port in south Florida equipped with the necessary infrastructure to load barges with raw sugar, which is then transported up the East Coast — that helps take trucks off the highways," Almira says.
"It's also not uncommon for heavy machinery, generators and transformers to be imported here heading for Miami, Orlando or the Everglades," he says. "That's where FP&L built a new energy facility with equipment that came from South Korea and Japan. Being able to load it directly onto rail saved money and time."
Almira notes that such efficiencies combined with proximity to growing regional and Caribbean markets are extremely attractive to companies like Tropical Shipping, which relies on local intermodal, truckload and transshipment to move more than 7,400 TEUs per acre from the port to just about every island in the Caribbean.
It's also allowing the company to take advantage of its recently received license for eventual service to Cuba. "It's a matter of when, not if, Cuba's 11.7 million consumers will drive additional demand for just about everything from here," Almira says.
Further up the coast, efficiency and modernized capacity are key advantages at the Port of Baltimore, ranked as the top port among all U.S. ports for handling autos and light trucks, farm and construction machinery, imported forest products, sugar and aluminum.
Offering a 50-foot-deep channel and container berth, the port averages nearly 40 container moves per hour per crane — one of the fastest and most efficient rates among East Coast ports — allowing it to accommodate some of the largest ships in the world today. That's attracted the likes of international container shipping company CMA-CGM of France.
"CMA-CGM is one of the largest container shipping companies in the world," said James J. White, executive director, Maryland Port Administration, in a public statement. "It is a tribute to the abilities and reputation of the Port of Baltimore as one of the most efficient container ports on the East Coast that a container company of this magnitude decides to bring their business to Maryland."
Baltimore is also where Amazon.com built a 1.1 million-square-foot facility in 2013. Thanks to a series of mezzanines that brings the facility's total useable square footage up to 2.4 million, the 40-foot high structure has room for 5 million SKUs.
Located in proximity to both the Port of Baltimore and rail service, the Amazon warehouse is also benefitting from a 24-hour back gate to the port's Seagirt Terminal, which includes 11 cranes, four of which are super Post-Panamax capable of reaching 22 containers across a ship.
On the other side of the country, the ability to handle diverse goods at high volume is a major advantage at the 2,000-acre, California-based Port of Stockton, which provides a wide array of capabilities for non-containerized cargo. It handles more than 1 million metric tons per year of nitrogen fertilizers used by 90 percent of the producers of agricultural products in the greater San Joaquin Valley.
During 2014, the port also handled 4.1 million metric tons of cargo that included steel products, bagged rice, bulk cement, bulk molasses and edible oils, notes Mark Tollini, senior deputy port director, Port of Stockton.
Tollini says that 15 berths featuring more than 12,000 lineal of on-dock rail allow for direct loading and discharging to ships moored alongside, making the facilities very attractive to heavy-lift project cargoes, such as wind energy components and refinery equipment.
The port has developed plans for improvements that include bridge replacements, widening of rail grade separations and accommodating new Interstate 5 ramps that will terminate at Navy Drive by the end of 2016. Rail infrastructure improvements include adding 22,000 lineal feet of class yard interchange track, allowing up to 12 unit trains plus manifest business per week.
Rising costs, equipment limitations and personnel capacity remain a major concern for much of the supply chain industry, but opportunities abound for those taking the long view.
"Florida is now the third most populous state," Hertwig says. "For it to continue to grow, port activity is very important, especially as we see the dynamics of imports changing. Having seamless, on-dock rail which cuts out truck movement and congestion is very valuable. We also do a lot of business with UPS and FedEx, especially around the holiday period, so we're ready to take advantage of a continued increase in that as well."
"As freight costs go up and companies try to differentiate themselves with service, developing facilities that are closer to the customer is going to continue," Thompson says. "We've estimated the demand for distribution space in the 5,000 plus-square-foot category to be reaching over 40 percent just from ecommerce alone, which will have a huge influence on the supply chain," Thompson says. "If you talk to any major retailer, they'll tell you that we're only in the second inning of a nine inning game. It's not a fad and it's only going to continue to evolve."
For complete details on the organizations featured in this article, visit:
JLL
Florida East Coast Railway
Maryland Port Authority
Port of Palm Beach
Port of Stockton
Smart Warehousing
Mark Kleszczewski is president and CEO of GoBusiness Group LLC and a freelance writer on critical business topics. He can be reached at mark@gobusinessgroup.net.