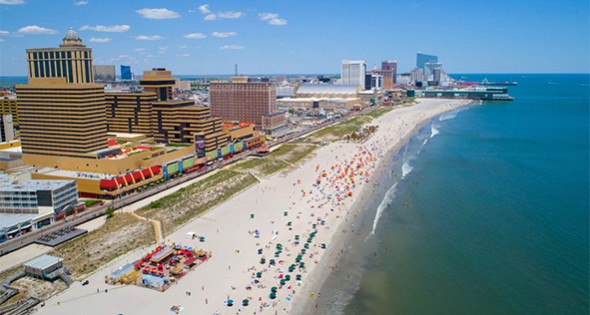 NEW JERSEY: Onward and Upward
08 Aug, 2019
New Jersey may be first thought of as the home to iconic musicians such as Bruce Springsteen and Jon Bon Jovi. But it also has world-class universities as well as leading technology and biological science firms. The state enjoys a multifaceted economy with the largest industry sectors composed of pharmaceuticals, biotechnology, IT and telecommunications, and financial services. There is also a strong service economy in retail sales, education, and real estate, serving residents who work in nearby New York City or Philadelphia.
Tourism is also a major draw to the state. Popular destinations include Atlantic City—the East Coast's answer to the casino hub of Las Vegas—and the rest of the Jersey Shore attracts millions of visitors every year. The New Jersey Tourism Industry Association announced that there were 111 million visitors to the state in 2018, an increase of 7.4 percent from the previous year. This provided an estimated $44.7 billion in revenue. Additionally, sports betting has become a growing source of gambling revenue since being legalized in 2013.
There are ample opportunities for businesses to take advantage of state-funded financing and incentive programs. New Jersey Economic Development Authority is eager to work with businesses of all sizes to help enhance local and state economies. They offer a variety of programs and services designed to assist small to mid-size business, large manufacturers, or even emerging technologies gain access to capital. These programs provide access to capital in a variety of forms including tax-exempt and taxable bond financing, loans, loan guarantees, as well as business and tax incentives.
Home to over 9 million residents, New Jersey has a household income well above the national average. And they have one of the most well-educated labor pools in the country. A recent US News and World Report survey ranks New Jersey second overall in education. And the state is considered to be a hotspot for the biotechnology sector, boasting more engineers and scientists per capita than any other state. Princeton University is one of the leading research institutions in the world and Rutgers, the state's flagship institution, has accredited medical and dental schools.
NEW JERSEY: GLOUCESTER COUNTY
Located just across the Delaware River from Philadelphia, and a short thirty-minute drive from Atlantic City, Gloucester County, New Jersey reaps the rewards as part of one the country's largest metropolitan areas, while maintaining a degree of separation that is cherished by the residents, inspiring the County's moto: "Close to Everything. Far from it All."
With a long history rooted in the land, Gloucester County is home to more than 100 producing farms, but for years has leveraged its agricultural roots and ideal location to become what can best be described as the food processing hub of South Jersey. Within a 50-mile radius are more than 600 food manufacturing facilities, including national product lines such as Chelton House salad dressings, UTZ snack foods, and US Food Services that are manufactured in and distributed from Gloucester.
Sitting roughly halfway between New York City and Washington, D.C., and in close proximity to the ports of Philadelphia, Delaware and New York, the county has built on its food processing and distribution foundation to become a major distribution, warehousing and logistics center for the entire east coast. Today, it boasts more than 20 industrial parks covering more than 6000 acres, including the Pureland Industrial Complex, the largest industrial park on the east coast and one of the largest in the world.
Other important, growing sectors of the Gloucester economy include healthcare, manufacturing, heavy industry, commercial enterprise and innovative new technology. Major employers operating state-of-the-art plants in the county include such giants as ExxonMobil Research and Engineering, K-Tron International, Inc., Omega Engineering, Metrologic Instruments, Inc., and NuStar Energy. And since 2008, nearly $200 million in improvements and new facilities have been completed by county health care providers alone.
Gloucester County is creating an environment for technology to flourish by attracting high-paying jobs and keeping tech-savvy college graduates in the region. Key to this effort are targeted, high-tech educational offerings. For example, Rowan College at Gloucester County offers an innovative Food Science degree program and offers food production industry training through a partially reimbursable grant that can be customized to each company's specific needs.
Another recent innovation that is attracting 21st Century technology to the county is the South Jersey Technology Park at Rowan University, which caters to start-ups and established companies bringing innovative new technologies to the marketplace and serves as a home for researchers, inventors, entrepreneurs, professors and students.