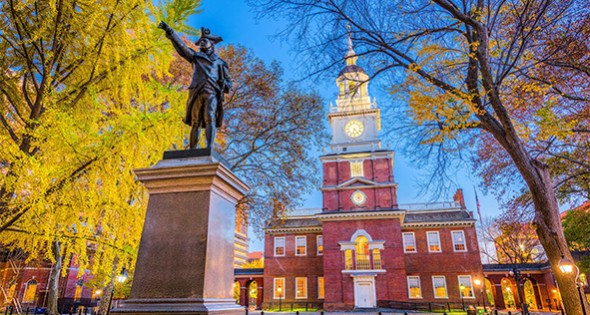 PENNSYLVANIA: Ready to Grow with You
01 Aug, 2019
A growing population, strong economy and a business-friendly climate make Pennsylvania a viable state for expansion. Although it is still a major manufacturing center, Pennsylvania's industrial production has given way to other industries such as natural gas, agribusinesss, and tourism.
The Keystone State is still one of the leading steel producers in the United States. It produces other manufactured goods include fabricated metal products, industrial machinery and equipment, transportation equipment, chemicals and pharmaceuticals, lumber and wood products, stone, clay and glass products.
Pennsylvania contains an abundance of natural gas resources in the state and has been the second-largest natural gas producer in the US for 5 consecutive years. These resources lead to the Shell Oil Company's decision to construct a new plant that will be used to produce ethylene—a main feedstock for the plastics industry. Currently under construction and expected to open in the early 2020s, the economic impact in the Pittsburgh regional area will be major including an estimated 6,000 construction jobs to build the site and 600 permanent jobs for employees working at the plant.
The state offers numerous employee assistance and workforce development programs. One such program involves a state funded network of industrial resource centers that introduce small and medium-sized manufacturers to new business processes and the latest technologies, innovative techniques, and industry best practices they need to grow and remain competitive.
The Keystone Innovation Zone program was implemented to address the lack of entrepreneurial activity and knowledge economy growth around the state. Fifteen years ago, these zones were established around institutions of higher education located in both rural and urban regions; ranging from research universities to local community colleges; different partnerships from their region that include such economic development provider as local governments, financial institutions and venture capitalists.
There are also several cultural opportunities throughout the state such as world class art museums including Carnegie Museum in Pittsburgh and the Philadelphia Museum of Art. History buffs will enjoy the Liberty Bell and Independence Hall in Philadelphia or the Gettysburg National Military Park and Battlefield.
Pennsylvania also boasts 7 major professional sport franchises giving residents several opportunities to pledge their allegiance to a team.
PENNSYLVANIA: POCONO MOUNTAINS
For as long as anyone can remember, the Pocono Mountains have been calling nature-lovers and tourists into the majestic hills and idyllic valleys of northeastern Pennsylvania. Natural wonders and world-class recreation and resorts have made the region a year-round destination, attracting 27.9 million visitors annually, a 13% increase over the past five years. In 2018 alone, tourism added $3.3 billion to the region's economy. Not surprisingly, it is the area's largest employment sector, followed closely by retail, then healthcare, education and manufacturing, which are all indicating growth.
Recently, the area's skilled workforce, low cost of living and outstanding quality of life have been attracting an increasingly diverse mix of economic activity, with much of the growth coming in advanced, technology-driven manufacturing, life sciences, and logistics. According to Michelle Bisbing, Director of Marketing for the Pocono Mountains Economic Development Corporation, they are particularly targeting "small to medium size manufacturers, professional office and back office, and technology companies,".
The Tobyhanna Army Depot in Coolbaugh Township is the largest public employer in the entire Northeast Pennsylvania region with 3,400 employees. And Sanofi Pasteur in Swiftwater, the region's largest private employer, is the largest manufacturer of vaccines in all of North America. Tobyhanna is also home to a Walmart Distribution Center and J & J Sales & Logistics. And last November, American Tire Distributors, Inc. opened a new warehouse operation in Blakeslee.
Education opportunities in the Pocono region are tailored to serve the interests of both employers and employees. "Northampton Community College in Tannersville offers a variety of programs," says Bisbing, "and will customize training based on employers' needs." Career and technical education is also available at Monroe Career and Technical Institute and include adult programs in the evening. In addition, East Stroudsburg University offers 4 year, masters and doctorate programs.