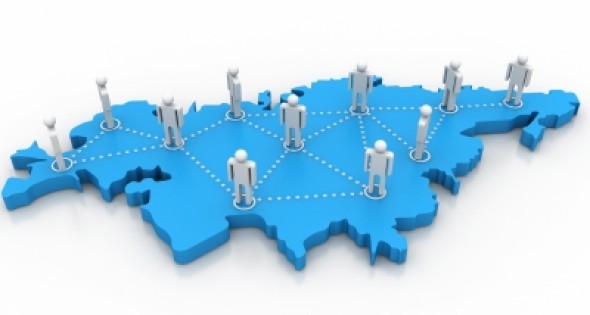 Thailand: A Rising International Business Hub in Asia
02 Sep, 2014
Thailand, a growing international business hub in Asia, is quickly becoming the center for multinational companies looking to penetrate the much sought-after Asian consumer market. Centrally located in the region, Thailand provides companies with easy access to the almost four billion consumers in the Asian region, including China, Japan, India and Australia, and to its neighboring countries that make up the ASEAN community (Indonesia, Malaysia, Philippines, Singapore, Brunei, Cambodia, Laos, Myanmar, Vietnam and Thailand). Thailand's domestic market accounts for more than 67 million consumers with increasing purchasing power.
Its resilient economy, strategic location, well-developed infrastructure, pro-investment policies, highly skilled workforce and strong export industries all contribute to the ease of doing business in Thailand, making it one of the easiest places to do business in Asia. With the creation of the ASEAN Economic Community (AEC) in 2015, Thailand's appeal will grow among companies that want to do business in Asia. The formation of the AEC will allow and encourage regional economic integration among the 10 ASEA countries, with free movement of goods, services, investment, labor and freer flow of capital.
"We look forward to the much anticipated launch of AEC in 2015, which will further strengthen the investment climate of our region as a whole," says Ajarin Pattanapanchai, deputy secretary general of the Thailand Board of Investment (BOI), a government agency that provides services, assistances and resources to foreign investors. "Integration with ASEAN means growth opportunities for the region's economy, and we believe Thailand is well positioned to support that growth."
The World Bank has consistently ranked Thailand among the easiest places to do business in Asia, and one of the top 20 countries in the world. The country has more than 60 industrial parks, many with built-in facilities that businesses can quickly move into. Thailand's well defined investment policies and government agencies provide a well-connected support system for foreign investors. Through the BOI, the government offers investors a range of support services, incentives and exemptions to help them get into business quickly and effectively. Thailand has been ranked as one of the best countries for expatriates in the HSBC annual Expat Explorer Survey.
Thailand has historically been known for its highly trained labor force. The government has consistently placed the training of its workforce as a top priority and has implemented a number of educational and training programs to ensure adequate supply of skilled workers for various industries. In recent years there has been a rise in the demand for skilled workers to support the growing information technology sector. To meet this demand, at the university level a number of intensive technology programs have been put in place. These university programs aim to produce 50,000 business technology students per year.
Thailand offers the infrastructure, location, workforce and market access to a wide range of industries. Areas where there are opportunities for foreign investors include automotive, aerospace, food processing and biotechnology.
Down to Business
*Thailand was one of the founding members of ASEAN and has been instrumental in the formation and development of the ASEAN Free Trade Area.

*Thailand's infrastructure includes six deep sea ports, two international river ports, and seven international airports.

*Development plans for 2012 – 2022 include a high speed rail network that will run through Thailand and connect to southern China.

*Thailand is home to more than 100 international schools, offering classes in English, Japanese, French, German and Chinese, as well as other languages and curricula.
Southeast Asia's Detroit: Thailand's Growing Auto Industry
Thailand — whose auto market is the largest in Southeast Asia and the ninth largest in the world — is on track to become a leader in eco-friendly and fuel efficient car production, with Nissan, Toyota, Honda, Suzuki, Mitsubishi and General Motors, participating in the country's ambitious eco-car initiative. The eco-car program offers maximum incentives for integrated car assembly and key parts manufacturing projects. Projects must meet a minimum investment value of approximately US$168 million, companies are offered a corporate income tax exemption of eight years, and are allowed duty-free importation of machinery.
Since the project was launched in 2010, 712,000 eco-cars have been produced in Thailand, helping the country achieve annual production of 3 million cars sooner than previously planned (2017-2018).
During the same time, the market share of eco-cars has also risen dramatically, from 5 percent of the passenger car market in 2010 to 27 percent in 2013.
Thailand's robust automotive sector provides a strong platform to support the eco-car initiative, and the country's ideal central location in Asia and vast incentives have continued to lure additional investment — apart from the eco-car initiative — from the major car companies, as well as from suppliers.
Thailand an Emerging Regional Aerospace Hub
Just 10 years after Thailand's government announced a new investment and incentives policy with the goal to position the nation as a premier aviation hub, the country has quickly become a full-service, high-quality leader in the aerospace industry. Today the aerospace industry contributes approximately $25.5 billion — 9 percent of the Thai GDP — to the economy. The country not only serves major aerospace companies in the areas of aircraft parts production and components manufacturing, but it also provides other functions including maintenance, air transport services, ground-based infrastructure, supply chain activities and other related business areas.
Leading aviation companies such as General Electric Co., Rolls-Royce Co., Michelin, Senior plc, Triumph Group, Chromalloy, Ducommun Inc., Aeroworks, Eurocopter, Driessen and Minebea currently have operations in Thailand, and this sector will continue to grow as demand grows. Boeing forecasts that by 2028, the Asia-Pacific region will be in the market for 9,000 new airplanes.
In 2003, Thailand did not have a single aircraft maintenance center, forcing companies to send aircrafts abroad for an expensive and lengthy process of repair and overhaul. Over the past decade, the nation has expanded aggressively to become a center for the maintenance and production of aircraft parts, with an aircraft and parts market worth more than $1 billion and growing. Overall, civil aviation supports 393,000 jobs directly and 1.8 million additional jobs in the tourism and travel sectors.
Because of its strategic location and spacious facilities, Thailand has the capacity to handle enormous cargo loads and passenger traffic. The country's registered airlines carry more than 638 thousand tons of freight each year, according to the International Air Transport Association, with the region's cargo volumes projected to grow 6.3 percent annually through 2030. In addition, Thailand has seen a great increase in passenger traffic; in 2012 alone, 44.3 million international passengers traveled through Thailand's airports, with 2013 travel up 20 percent.
Thailand's Multibillion Dollar Food Processing Industry
Thailand's agricultural roots and natural resources have made the country one of the world's largest food exporters, with annual exports exceeding $30 billion in 2012. The industry's year-over-year growth rate of 12 percent will allow Thailand's exporter's to expand their reach from primarily western countries to emerging markets such as ASEAN, China, India, Russia and Africa.
Often referred to as the "Kitchen of the World," Thailand is a global leader in rice, processed chicken, seafood and fresh fruit production, and its agricultural and food processing industries employ 870,000 workers at over 10,000 companies, including Unilever, Cargill, Coca-Cola and Dole. With more than 80 percent of the raw materials in domestic food manufacturing being locally sourced at low prices, Thailand has a comparative advantage among its competitors. Additionally, food producers in Thailand benefit from supporting industries, such as food processing, packaging and distribution.
With the increased emphasis on research and development within the food industry, the Thai government provides food companies with a number of resources, such as the high-tech R&D centers like the Thailand Food Export Center. In the area of food safety, Thailand was the first country to use cutting-edge technology from IBM to adopt the Electronic Product Code Information Service (EPCIS) standard for food traceability that ensures safe food transfer across borders.
Outdoors and Recreation
From tennis and golf to cricket, rugby union and polo, Thailand has almost every outdoor sport. Thailand is also home to more than 100 golf courses, world-class scuba diving, snorkeling and sailing, sea kayaking, deep sea fishing and more.
Thailand's Growing Biotechnology Sector
Thailand's biodiversity, R&D programs like the multibillion baht Biotechnology Development Policy Framework 2012-2021, highly trained technicians and strict intellectual property laws give the country a comparative advantage in the marketplace for investment from medical and biotechnology firms looking to reach a rapidly expanding Asian market for health care products. Thailand's biotechnology sector is expected to grow, with the support from the Thai government and with new initiatives and innovations in the areas of drug discovery, agribusiness, stem cell research, DNA and genomics.
Leading multinationals like 3M, Bausch & Lomb, Cardinal Health, GE Medical Systems, and Johnson & Johnson, have chosen Thailand as the center of their Southeast Asian operations for its highly educated workforce and developed infrastructure for high volumes of imports and exports.
With a drug and medical market that has grown to more than $1 billion, and a medical tourism industry with nearly 2 million foreign patients each year, Thailand also offers a range of domestic opportunities for healthcare companies. More than 1,400 hospitals and 265 medical device manufactures have established a flourishing market for more than 1,400 medical device importers.
More than 165 biotechnology firms, including Novartis International, Purac, Betagro, Maine Biotechnology and East-West Seed, take advantage of Thailand's position as a world leader in agriculture and a top five food exporter. They also reap the benefits of world-class facilities like the 80-acre Thailand Science Park, located only 12 miles outside of bustling Bangkok, which employs 1,600 full-time researchers and technicians in laboratories, incubator units, pilot plants and greenhouses.
In the last several decades Thailand has experienced tremendous economic growth and attracting foreign investment from a diverse range of industry sectors. As companies look to enter or expand operations in the growing Asian consumer market, Thailand expects international investments to continue.
"For companies looking to invest in Asia, Thailand is an ideal gateway," Pattanapanchai says. "Our resilient economy, geographic location, strong infrastructure, skilled labor force and supportive government will provide investors with the necessary resources to succeed."
For complete details, visit the Thailand Board of Investment at www.boi.go.th.
Illustration by jscreationzs at Free Digital Photos.net