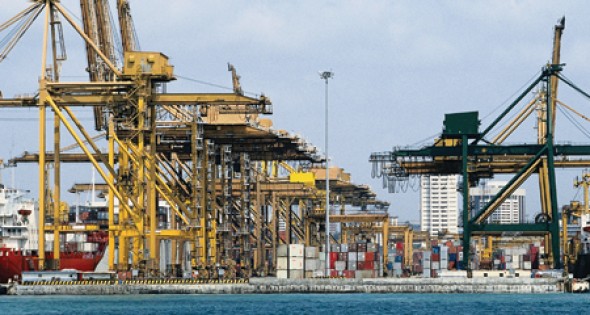 West Coast Ports: Impact on Phoenix
27 May, 2015
CBRE Research has released its 2015 North America Ports & Logistics Report. The inaugural report examines the volume of trade that flows through North American ports, the issues that can affect capacity utilization and the movement of cargo, and the subsequent effects on commerce and commercial real estate markets.
The report also includes the first CBRE Ports & Logistics Index, which measures key port infrastructure and real estate metrics and ranks the top U.S. and Canadian port markets for industrial real estate. The Ports of Los Angeles and Long Beach ranked first and second overall on the Index, respectively.
"The impact of West Coast ports on the overall economies of Western and Southwest markets can't be overstated," said Senior Managing Director Kurt Strasmann, who leads CBRE's Port Logistics Group in the U.S. "Seaports are the gateway to domestic and international trade. Approximately 95% of cargo by weight and 65% by value entering the U.S. travel through a seaport. The Ports of LA and Long Beach alone see more than 40% of the nation's container volume."
Going forward, that volume is only expected to increase. With a port infrastructure well suited to handle the largest cargo container ships, proximity to the Asian export markets, a vibrant local economy and a deep industrial labor real estate market, Southern California will remain the preferred port market for importers and exporters alike. As container traffic increases at West Coast ports, local experts expect the increased volume to have an impact in Arizona as well.
"Locally, companies that have a significant stake in the state of the U.S. shipping and logistics industries can be found Valley-wide. For instance, metro Phoenix has been established as a major emerging e-commerce hub," said Senior Vice President Pat Feeney, a member of Port Logistics Group locally. "Metro Phoenix is home to a number of third-party logistics providers as well as major manufacturing and distribution users, and the flow of goods between Arizona and the Ports of LA and Long Beach have huge implications on our local and state economies."
Going forward, Feeney expects increased volumes at West Coast ports will result in supply chain users seriously exploring diversification strategies for the movement of cargo both intra- and interstate. He points to the fact that as container traffic increases at West Coast ports, burdens on port systems – particularly on labor and port efficiencies – will also increase. Feeney also points to the trucking industry's struggle to replace an aging driver labor pool as another major burden on the current system. What this means to local markets remains to be seen, but the real estate expert says a case could be made for shifting supply chain strategies translating to the need for smaller, strategically located facilities closer to high densities of customers versus the current trend of larger, million-plus square-foot facilities farther apart.
"There will need to be a reevaluation of supply chain and real estate strategy for companies that rely heavily on shipping and transport to meet customers' needs," said Feeney. "For instance, if you're an e-commerce user your concern is delivery time and product availability. A loss in efficiency in shipping negatively affects both so the ability to adjust quickly is imperative."
CBRE's Port Logistics Group is a specialty practice group comprised of industrial specialists with an emphasis toward the knowledge and workings of the nation's seaports and the critical component that the ports play within the overall supply chain. Additional information can be found at www.cbre.us/services/industrial/port-logistics.
Source and image: CBRE