Cape Fear Region, North Carolina
27 Oct, 2017
Brunswick, Columbus, Pender, and New Hanover Counties
The Cape Fear Region in North Carolina brings together everything the most enterprising businesses need to succeed. Across our four counties—one of the fastest-growing regions in the southeastern US—you'll find a strong and expanding infrastructure. An eager, diverse workforce. Excellent education and training. Top-notch healthcare. A commitment to community service and smart, sustained growth. All backed by access to capital and resources that can turn promising opportunities for expansion or relocation into profitable reality.
It's also a really nice place to visit—and an even better place to live.
SMART. SKILLED. MOTIVATED.
North Carolina was named #1 for Workforce Development by Site Selection magazine. There are more than 200,000 skilled workers in the Cape Fear Region, and upwards of 30% of the workforce has at least a four-year degree.
All of which mean we have a steady stream of well-educated, highly motivated employees — eager graduates, innovative entrepreneurs, experienced managers and respected industry leaders. And we offer a broad range of resources to help businesses recruit and retain top-notch executives, scientists and other professionals.
BUILT FOR BUSINESS.
Planes, trains and automobiles? Of course — and don't forget about ships. The simple truth is, the Cape Fear Region is easily accessible from just about anywhere, giving an easy way to connect to the transportation grid efficiently and affordably.
The Port of Wilmington, for instance, is a deep-water seaport that's within 700 miles of more than 70% of the U.S. industrial base. Wilmington International Airport (ILM) has direct flights to major east coast markets and connecting service to the world. The area is quickly accessible by interstate highways, and the robust North Carolina rail network includes 2 Class I Railroads and 3 Intermodal terminals.
In other words, when you start here you can really go places.
GROW. PROSPER. CONNECT.
The Cape Fear Region offers access to the capital and resources to get startups off the ground, or take an enterprise to the next level.
Just as important, we also prioritize things beyond business that make life better. World-class healthcare. Educational opportunities from K-12 to PhD. And a range of philanthropic organizations and events that give everyone a chance to get involved, put workplace values into action and come together to celebrate our collective achievements.
HIGHER-ED PREPARED. REAL-WORLD READY.
In the Cape Fear Region, we're committed to practical, lifelong learning. On one hand, we're home to a major research university that was chosen as the site for the new $250 million National Biopharmaceuticals Program, and was recently recognized by the Peace Corps as one of the nation's top volunteer-producing universities.
And on the other hand, the area boasts three community colleges that train and educate 15,000+ additional students. They feature programs that make sure engaged learners know everything they need for the job opportunities in the region. And we have an expert, qualified workforce—a third of our workforce has a four-year degree or higher.
WORK SMARTER. LIVE BETTER.
More than just a location to set up shop, this is a great place to put down roots. The Cape Fear Region has long been recognized for its mild and sunny climate, beautiful white-sand beaches, legendary southern hospitality and easy access to world-renowned golf courses.
Our four counties encompass Wilmington's historic downtown and burgeoning redevelopment. Urban centers and coastal locations. Rural pastures and welcoming beach towns. Progressive healthcare and plentiful outdoor pursuits. Plentiful arts and cultural opportunities. Seaside retreats and vibrant residential communities.
Together they offer a range of appealing, affordable options for living and playing. In a place where business, individuals and family can thrive.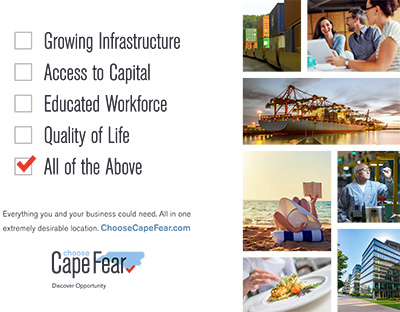 Contact Us Today
Ready to take advantage of a singular opportunity? The choice is yours. We would be delighted to help. You can start by finding out more about an area that's already been chosen by Fortune 500 companies, first-time entrepreneurs, advanced manufacturers and high-tech enterprises.
For more information, please visit ChooseCapeFear.com or email ChooseCapeFear@WilmingtonChamber.org.