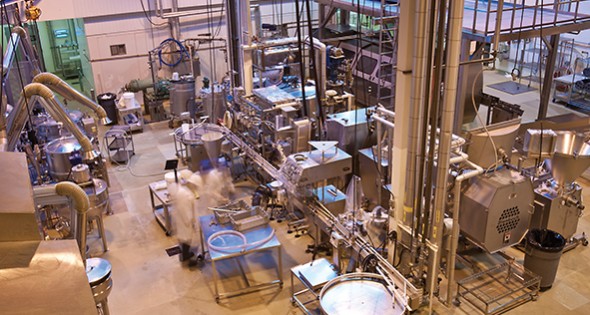 Farms Fielding Efficiencies Faster
26 May, 2017
Multi-generational farm families are looking to boost economic growth by diversifying product offerings and adding new technology solutions
The agriculture industry in this country has rebounded from the recession of a couple of years ago, but it is still in a sort of transition stage between the old school generationally-owned farm operations that have been in operation for decades to one that is embracing new technology and finding new ways of using their land.
The U.S. Department of Agriculture's (USDA) National Agricultural Statistics Service (NASS) reports that family-owned farms remain the backbone of the agriculture industry. "As we wrap up mining the 6 million data points from the latest census of agriculture, we used typology to further explore the demographics of who is farming and ranching today," NASS Statistics Division Director Hubert Hamer said in a 2016 USDA study, "Rural America at a Glance."
"What we found is that family-owned businesses, while very diverse, are at the core of the U.S. agriculture industry," Hamer reported. "In fact, 97 percent of all U.S. farms are family-owned."
The report further stated that 97 percent of the 2.1 million farms in the United States are family-owned operations, and that 58 percent of all direct farm sales to consumers come from small family farms.
Forecasting Profitability
Farm sector profitability measures are mixed for 2017, according to another report by the USDA. Net cash farm income is forecast to rise by $1.6 billion to $93.5 billion from 2016, an increase of 1.8 percent.
But net farm income is forecast to decline by 8.7 percent to $62.3 billion, the fourth consecutive year of declines after reaching a record high in 2013.
Overall, cash receipts are forecast to remain largely unchanged, with large offsetting changes in dairy receipts – up by $4.7 billion, or 13.7 percent, based on forecast higher prices – and cattle/calf receipts, which are forecast down by $4.5 billion (6.7 percent) based on anticipated lower prices.
According to USDA figures, the 2017 forecast for average net cash income for farm businesses is up by 2.2 percent, with the largest increases for farms specializing in cotton (up 34 percent) and dairy (up 47 percent).
Resilience Is The Key
The agriculture industry is all about adaptability, and diversifying, to stay economically strong.
One example is in Madison, Wisconsin, home to more than just cheese-making, according to Paul Jadin, president of Madison Region Economic Partnership. "There is a lot of micro-brewing in the area as well, and these microbreweries are rapidly gaining marketshare," Jadin says.
That's great for the Madison area, because one of the largest food processors, Oscar Meyer, is closing its plant after a century of operation, and consolidating operations in Chicago and Iowa, Jadin says.
"But what is also really growing here is the pre-packaged market for specialty cheeses, pecans and nuts, many sent out to international markets," Jadin says.
According to the University of Wisconsin Center for Integrated Agricultural Systems, specialty cheese production has more than doubled in Wisconsin since 1994, when specialty cheese was first tracked separately from commodity cheese.
A California Milk Advisory Board (CMAB) 2004 study found that specialty cheese consumption has increased five times faster than total cheese consumption over the past ten years.
Jadin says that the Madison area is the "epicenter" of specialty cheeses, with up to 25 percent of all cheese processed in Wisconsin now packaged and sold as specialty cheeses.
In fact, specialty cheese is the focus of a research center at the University of Wisconsin-Madison, called the Wisconsin Master Cheesemaker Program, the first of its kind in the world, Jadin says.
Directly east of Wisconsin, the dairy industry in Michigan is huge, now at about $16.7 billion, with demand exceeding their ability to supply, according to Jamie Clover Adams, the director of the Michigan Department of Agriculture and Rural Development.
One of the major dairy businesses in the state is Continental Dairy Facilities in Coopersville, producing over 300,000 pounds of dry, non-fat milk per day for use as the base ingredient for a wide variety of consumer products including ice cream, cheese, yogurt, whipped cream and pasta sauce.
Continental Dairy Facilities and another nearby dairy company, Fairlife, are expanding to house new products and production lines, representing a capital investment of $173 million and the creating 52 new jobs. "Having that plant expanding at this time is a really good thing for our dairy farmers and the rest of the infrastructure that supports the dairy industry here," Adams says.
While the dairy business is beginning a slow comeback, Michigan famers have been challenged across the board with lower prices for corn, soybean and sugar beets, she says. "It's really a down commodity market for farmers," she says.
Adams added that the dairy business, traditionally full of multi-generation, family-owned businesses, is embracing new robotic milking technologies where cows wear sensors to alert the farmer that it has entered a rectangular enclosure for automatic milking, and also provides the farmer with data about how the cow is behaving. "That kind of technology is coming into the dairy industry in small farms of 100-150 cows and large farms with 10,000 cows," Adams says.
Michigan offers some of the most diversity in food production, second only to California, she says.
Agricultural diversity represents California's biggest economic engine. California's agricultural industry includes more than 400 commodities. Over a third of the country's vegetables and two-thirds of the country's fruits and nuts are grown in California.
One example of the diversity is the simple garlic, or "stinky rose" as it's so fondly called by locals in Gilroy, the garlic capital of the world.
The 4,000-acre Christopher Ranch in Gilroy, growers and processors of garlic, bell pepper and shallots for over 60 years, is one of the largest employers in the city. "Their garlic product stands above and beyond any imported items from China," Tammy Brownlow, president of the Gilroy Economic Development Corporation, says. "So any Chinese imports have not had any impact on their business because they grow a premium product."
Gilroy's location at the intersection of U.S. Highway 101 and State Highway 152 makes it an ideal setting for large food distribution operations.
United Natural Foods completed their 450,000 square foot distribution center recently, bringing in 250 jobs. That facility can expand up to 800,000 square feet in the future, Brownlow says.
Another distribution facility that moved into Gilroy, Performance Food Group, is going through environmental review on the construction of their 180,000 square foot facility that can be expanded to 300,000 square feet in the future.
Canada Feeds Its Agribusiness Hunger
Brampton, just outside Toronto, Ontario has always had a strong food and beverage presence, according to Jeff Baines, sector manager of advanced manufacturing for the city of Brampton economic development.
Maple Lodge Farms, makers of packaged meats, has been in the area since 1955 and has their headquarters there.
Other agribusinesses in the area includes Sun Pac Foods, manufacturers of juices and tortilla chips, and Kfi Canada, makers of Indian sauces and drinks. "Being on the west side of the greater Toronto area puts us closer to the border, which makes it easier to do business with the U.S.," Baines says.
Because of the growth of the food and beverage sector, the city's economic developers are bringing in a sector specialist to coordinate economic development.
There are over 5,800 employed in the food manufacturing industry in Brampton. Between 1999 and 2011, employment in that sector grew 21 percent. "We certainly expect that to continue," Baines says. "We have a good supply of vacant industrial land available today, and we are putting some more industrial land on the market to attract that type of growth as well," he says.
Across to the western side of Canada, Alberta has expanded their strong agriculture business as a way to diversify an economy that has been reliant on the energy market – oil and gas.
The food and beverage industry is Alberta's largest secondary manufacturing industry, valued in excess of $12.7 billion.
What agribusiness they have had in the province was growing raw materials – wheat, hemp, peas, lentils – and then shipping them elsewhere for processing. Now they will be building processing companies to use the raw material and process it into packaged products.
One way they are attracting processing business is through a world class agribusiness incubator center, the Agrivalue Processing Business Incubator.
Developers are also making 15,000 acres of land available for development, and looking at building a cluster opportunity with an agribusiness food business park.
Their market for their processed foods is in Asia and India. "We have direct air cargo accessibility to mainland China from Edmonton," Barbara McKenzie, the executive director of the Leduc-Nisku Economic Development Association in Alberta, says. "That is the only freight service of its kind in Canada."
She says that they have seen a "marked increase" in interest for their processed food in China over the last four or five years, which she attributes to a middle class having more disposable income. "So leveraging that interest, we are seeing a lot of companies that are building specific products that fall right into the Chinese market, whether going to Chinese stores directly or over e-commerce channels," she says, adding that they now have four companies that are actively doing business in China right now.  "We really see a super agribusiness cluster emerging in this region," McKenzie says.
Planting Seeds For Future Growth
The agriculture industry, like the retail and restaurant business, is driven by consumer demand that can change as more Americans seek healthier alternatives for their diets.
The USDA's Economic Research Service (ERS) took a look at American diet trends from 1970 to 2014. According to the ERSA report, Americans are still eating "too many foods that are high in fats and oil, added sugars and sweeteners and grains."
This is good news, because farmers have discovered that diversifying their crop mix can allow for the full use of fixed inputs. For example, labor, land or machinery may be idle at certain points in the year for a single crop. Planting crops with different lifecycles can help maximize resources.
As farmers keep on top of the nutrition demands of consumers, new technologies often requiring new or advanced management techniques (GPS tracking and reporting, using drones to monitor crop growth cycles, deploying yield monitors and variable-rate equipment) – are being adopted.
These new tools allow farmers to better match seed, fertilizer, and pesticide applications to areas within a field where they are most needed.
Side Note 1

Going nuts over pecans
Atlanta is the peach state – everybody knows that.
But pecans have been coming on as a stronger selling commodity recently, according to B.J. Walker, executive director of the Peach County Development Authority. "Pecans have taken off and we are currently working with companies to help them build and expand shelling facilities to keep up with the demand," he says.
One company working with pecans is actually a peaches processor, Genuine Georgia, who control basically all of the peaches in the state, Walker says. "They kind of parlayed their extensive marketing network as the largest retailers into the pecan business as well," he says. "They are really trying to get pecans to be a year-round nut and not just a seasonal purchase at Thanksgiving, Christmas or Easter." The Genuine Georgia Group now includes the Elliots pecan brand and the Georgia Apple Company.
Just over the last 12 months, Walker says, the development authority has been fielding calls from several California food processor companies wanting to locate either in the middle of Georgia or near Atlanta, coming to the area for logistical reasons to serve the east and southeast markets. Interstates 20, 85 and 75 all converge in and around Atlanta. "We also got an ag project that is going to be somewhere in the $70 million investment range that will be announced in early summer," he says.
Peaches and pecans remain the main attraction for the state, and not just as an economic driver of the agriculture business but also as a tourist destination.
Lane Southern Orchards in Fort Valley, Georgia, a 109-year old family-owned business that began as a roadside market and quickly developed into 3,000 acres of pecans and 3,000 acres of peaches, has now become a major tourist destination. "I think they get 300,000 visitors a year that come through and visit their orchard, or go to their 12,000 foot showroom to get jellies and sauces – and even peach beer," Walker says.
Side Note 2
Vineland, New Jersey
By Rachel Hamilton
"Cold storage is off the hook," says Sandy Forosisky, economic development director for the City of Vineland "We just can't build enough cold storage. Part of it is because we have a lot of food processing and bakeries."
The other part is that "a lot of produce is being brought in from South America, and a lot of our food processers here are packing that. It's a whole new business," Forosisky says. Vineland is about 30 miles from the Philadelphia Port, which is itself "focusing on cold storage."
Vineland Industrial Park is along four-lane Highway 55, which is advantageous for distribution. Relative to much of New Jersey, the land is affordable, as are the municipally-owned utilities.
Food processing and glass production have been Vineland's historic top industries. "We seem to have a niche in scientific glass—vials and different things that need a skilled workforce," Forosisky says.
Vineland has a "triangle" of education to support that need for skilled workforce across all the area industries, according to Forosisky. Cumberland County College, the newly constructed John F. Scarpa Technical Education Center and the Cumberland County Office of Employment and Training work with industry to build curriculum around the needs of existing and incoming companies.
The city is also an urban enterprise zone (UEZ), meaning that businesses can qualify for certain tax exemptions. Vineland also promotes business through its loan program. "We partner with the banks to subordinate loans," Forosisky says. Those loans range in size from "$5,000 to $5 million," and "we have a $70 million loan portfolio."