Logistics Getting on a Quicker, more Focused Track
25 Apr, 2021
Reliance on the continued accumulation and application of data, and analyzing best methods of product delivery to a more demanding customer, are two key hallmarks of logistics evolution in today's business climate.
A white paper by DHL, a logistics provider, laid out how big data analytics can provide competitive advantage because of five distinct properties:
Optimization to the core. Using data analytics to track delivery time, resource utilization and geographical coverage coupled with advanced predictive techniques and real-time processing for forecast and resource control;
Tangible goods, tangible customers. Millions of customer touchpoints a day create an opportunity for market intelligence and product feedback;
In sync with customer business. A tight level of integration with customer operations lets logistics providers feel the heartbeat of individual businesses, vertical markets, or regions;
A network of information. Apart from using data for optimizing the network itself, network data may provide valuable insight on the global flow of goods, and;
Global coverage, local presence. Processing a huge stream of data originating from a large delivery fleet creates a valuable zoom display for demographic, environmental, and traffic statistics.
But all that takes management buy-in and implementation inside the operations of many different logistics operations. It takes a coordinated effort and the willingness to reshape—and invest in—how a business operates.
In 2020, that effort at coordinating and updating how the logistics industry works and what new ideas could be implemented got hit by a pandemic—a serious bump in the road.
Year over Year – The 2020 Dip
Things were going well before 2020.
According to key findings from the report "State of Logistics 2020," by the Council of Supply Chain Management Professionals (CSCMP), a trade organization, the logistics industry was supporting a strong economy in 2019, growing to $1.652 trillion in expenditures. The industry productivity improved, bringing its cost to 7.6 percent of GDP, an improvement from 7.9 percent over the previous year.
The report found that road freight, the biggest segment of U.S. logistics spend, was already slowing down in 2019. But the current pandemic-driven recession ended 126 months of growth.
Other pandemic-related findings in the report included that the pandemic and public response accelerated an already fast growth in e-commerce which has different logistics needs than traditional retailing; and that when the economic recovery begins, it will likely be uneven and staggered.
The study also said that the industry needs to reconfigure supply chains for other sectors, like heavy industry; adapt to the residual effects of social distancing as it accommodates an even larger consumer appetite for home deliveries; and that supply chains will need to be more flexible to cope with uncertainty.
The Changes to Come
In a survey by Auburn University and industry partners about the future of logistics, respondents reported customer requirements further ramping up. Nearly 80 percent believe that same-day and next-day fulfillment will be the dominant customer requirement from distribution centers over the next decade.
A majority of respondents also agree that customers will place more case- and unit-level orders with distribution centers in the future, causing average shipment sizes to drop.
Warehouse and distribution operations will need to fundamentally change over the next decade, according to 88 percent of the respondents. These changes include a greater reliance on automation and robotics; smaller distribution centers serving narrower geographic regions; and deployment of temporary, on-demand capacity.
The survey concluded with action items, including enhancing rapid fulfillment capability through localization of warehouses and distribution centers; upgrading distribution strategies to consider leveraging logistics partners through warehousing-as-a-service (using on-demand fulfillment services, and deploying agile automation in distribution centers to create distribution capacity that is both nimble and efficient); and investing in skills of the future, which means more complex roles for the logistics worker to balance multiple objectives that will require greater use of analytics, technology, and automation.
Brian Gibson is Auburn University's executive director for the Center for Supply Chain Innovation. Gibson led the research team on the survey. "A major change we are seeing is the impact on consumer shopping habits changing how companies have to manage and fill orders," he says.
The speed or volume at which consumers have gone to mobile purchasing and online purchasing has sped up over the last nine months, reaching a level that wasn't expected for five years, Gibson says. "There has been a big shift in what and where consumers buy things. People are buying more groceries because they are not eating out at restaurants as much, for example."
There are other industries where sales have exploded during the pandemic, like fitness equipment, outdoor equipment, and do-it-yourself home improvement companies.
"Home Depot and Lowes, for example, have had to throw out their original 2020 forecasts and make some significant changes at a time when other retailers are barely keeping their doors open," Gibson says.
The Logistics Focus on E-Commerce
A report released in October, 2020 by the research foundation of the Commercial Real Estate Development Association (NAIOP), addressed the demands of e-commerce. It found that e-commerce supply chains require more than three times the distribution space required by traditional retail supply chains centered on brick-and-mortar distribution.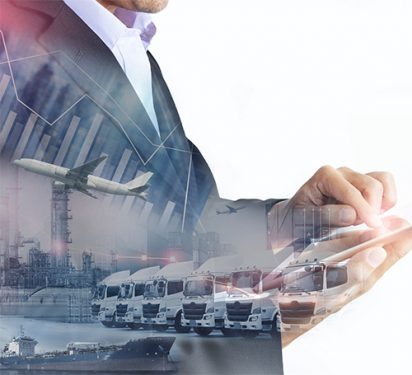 In the traditional model, warehouses are used principally for longer-term storage. "With the rise of e-commerce, warehouses have expanded beyond storing bulk inventory to become full-service fulfillment centers," Gibson says.
"Fulfillment centers still hold inventory, but for shorter periods. Individual items are stored in smaller quantities, with the expectation that inventory will be turned over quickly as orders are consistently shipped," he says.
This shift in warehouse utilization has renewed demand for older, smaller warehouses located close to dense urban areas and primary transportation routes. These warehouses may not have the clear heights, dock-to-square-footage ratios or yard space needed for modern large-scale logistics uses, but they can accommodate fast-moving, quick-turning and frequently ordered e-commerce inventory, and they are well positioned to serve as micro-distribution or micro-fulfillment centers.
One example of a new approach to logistics is Dark store, based in San Francisco. It is backed by heavy-hitter investors, including San Francisco based Cota Capital Management LLC, focused on modern enter prise technologies; and EQT Ventures, part of a global investment organization.
Darkstore is an on-demand, last-mile distribution provider currently working from 43 urban warehouses across the U.S. The company developed an app, FastAF, that enables product delivery to a customer's doorstep on an average of 27 minutes.
But for now…
Darkstore is an example of how the rapid growth of business-to-consumer e-commerce is causing a dramatic restructuring of supply chains within urban areas. According to a report by the International Transport Forum, this restructuring is currently proving a very fertile area for innovation with new transport modes (drones and droids), new business models (crowdshipping and 'Uberization'), new fulfilment options (lockerbanks and click-and-collect) and new land use patterns (conversion of shopping malls to distribution centers).
Going forward, Logistics professionals hope to emulate the so-called Amazon effect that results from having a more automated, constantly updated and carefully planned logistics system. "Amazon has forced other retailers and manufacturers to say that they can't tell the customer no," Gibson says. "We have seen the entire industry over the last ten years go from a position of we can get it to you next week, to we can get it to you in a few days, to where we can get it to you in 2 days guaranteed at a very low cost and low risk," he says. "And that's all thanks to Amazon pushing the envelope over and over again."
Gibson says that the challenge he sees for logistics companies is trying to sift through all of the interesting opportunities out there today with technology and figure out which technology will give their organization the best return on investment.
Another key challenge is finding the right people to keep these different technological tools integrated so that they can be somewhat customized or tailored to their needs. "A robotics vendor can do that for you," Gibson says. "But there are issues of cost, and issues of their availability. You have to find that balance of who is going to install and who is going to maintain the automated system."
Then there is the consideration of hiring a third party logistics provider.
According to the Intermodal Association of North America (IANA), there are just over 10,000 third party logistics managers for shippers across North America; 6 million intermodal shipments arranged by third party logistics managers annually; and $11 billion in revenues generated annually by third party logistics companies managing U.S. intermodal.
DHL is getting more and more queries from Fortune 500 companies to be their third party logistic providers. "When a third party provider gets hired, the business that hires them will not have to have their own trucks, or their own warehouses, or people to run them," Gibson says. "Taking that capital expense burden off of their shoulders is great thing for the company."
Gibson says that the biggest thing that these third party providers do is give these large companies the flexibility to increase their capacity on an as-needed basis to handle certain order and fulfillment surges. "Third party logistics providers is an ongoing trend."
Side Bar
WE THINK BUSINESS
The City of Ontario, located in Southern California, continues to create development opportunities and urban lifestyle districts that provide sustainable places to live, work and play. Just 35 miles east of downtown Los Angeles, the City of Ontario is ideally situated as the gateway to Southern California.
With 182,000 residents, Ontario is San Bernardino County's fourth-largest city – and growing. Ontario is also home to one of the hottest housing markets in the country, and that boom will only continue as master-planned communities are slated to add nearly 50,000 new homes in the next few decades.
At the center of the City is the Ontario International Airport, a full-service airport. UPS, FedEx and Amazon have hubs located at the Airport, making Ontario one of the top markets for outbound cargo shipments in the nation.
Ontario is centered on a transportation corridor that extends throughout Southern California and across the continental United States and sits 45 miles from the two largest ports in the country –the Ports of Los Angeles and Long Beach. Ontario provides strategic access to the ports through its interconnected freeway and rail systems. The Ontario Opportunity Zone is an ideal location for opportunity fund investments, utilizing privately sourced funds into eligible economic development and community reinvestment projects. Ontario also offers the advantage of being in the Foreign Trade Zone, which allows companies to reduce the costs associated with International Trade. The ability to increase international sales, realize greater importing and exporting opportunities, and succeed in global markets is often a deciding factor for location, relocation and expansion in Ontario.
The mass of freight transport – via both rail and road – run through the City of Ontario. Three major freeways crisscross the City and the surrounding areas: Interstate-15 from San Diego to Las Vegas and beyond; Interstate-10 from west coast to east coast; as well as State Route 60 for easy regional access.
Ontario's stable environment, lifestyle amenities, modern facilities, technical amenities, efficient infrastructure and leaders that continually work to improve the City's pro-business environment make Ontario the best place to develop your business. A talented workforce, reasonable lease rates, quality office and retail development, and over 110 million square feet of industrial, manufacturing and distribution space offers a large market for corporate headquarters, large professional firms and high technology companies.
To find out more information about the advantages of doing business in Ontario, California, visit www.ontariothinksbusiness.com or call 909.395.2005. You can also follow @OntarioEDA on social media.