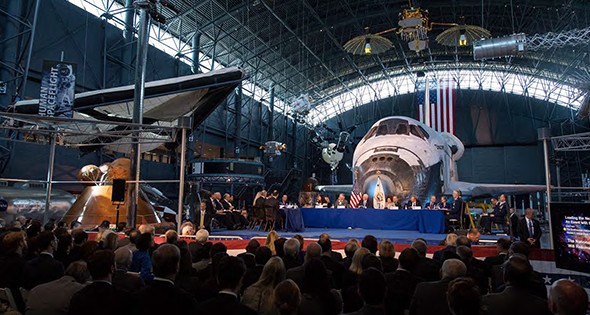 New Goals and New Internet Tech Help Build Base for Advanced Manufacturing
16 Jan, 2021
The further application of digital technology, and the connections provided by the Internet of Things (IoT), have defined advanced manufacturing for the last decade, creating a more efficient process that has inspired a steadily increasing drive to innovate using the data analytics these manufacturing processes generate day after day.
Today, robotics, augmented reality and artificial intelligence are becoming commonplace within the advanced manufacturing processes; all are evolving rapidly.
For example, there are now many different types of robots being used in all kinds of manufacturing, including: cartesian robots (used for packaging, picking and placing); articulated robots (used for welding); and cylindrical robots (used for semiconductor manufacturing).
There is even more coming in advanced biotechnology manufacturing, as newly developed biochips are being used to create micro-miniature implants the size of a grain of rice that can be inserted into a human hand and provide such things as access to office or gym, unlocking a computer, or monitoring a health condition.
Advanced manufacturing is being pursued in space. Space Tango, Inc., based in Lexington, Kentucky and doing research and commercial manufacturing in microgravity environments, worked with artificial retina manufacturer LambdaVision, Inc. in 2018 to evaluate protein-based retinal implant production using the International Space Station's microgravity assistance to improve the quality of protein-based retinal implants used to treat currently incurable retinal degenerative diseases.
More financing firepower for advanced manufacturing development is coming from many sources, including the U.S. National Science Foundation (NSF), which has been investing $250 million a year in advanced manufacturing to fund research in areas such as computer-aided design and 3D printing.
In October, the NSF awarded funding for 24 projects for future manufacturing development that will bring together partners throughout the United States exploring three primary areas: eco-manufacturing, biomanufacturing and cyber-manufacturing.
The NSF award included more than $40 million in the form of seed grants, research grants and network grants to support research and education at 44 institutions in 18 states and the District of Columbia.
The goal of the research is to drive the creation of entirely new methods and means of manufacturing, or expand the capabilities of existing processes which are now conducted at too small a scale to be commercially viable.
One of those projects will address the use of physics-based models with machine learning approaches, using big data and cyber-physical systems (systems that are integrations of computation, network and physical processes).
In this project, machining will be made more efficient with augmented reality tools and enhanced computer integration across the entire design and manufacturing chain.
The Microfactory Concept
As reported in Future Bridge, a future industries analysis company, the concept of the microfactory is based on having a technologically advanced, small-to-medium-sized manufacturing facility located very near to the customer, acting as a retail outlet and eliminating the need for a costly distribution network.
The microfactory concept has been percolating inside tech research centers in both Japan and Germany since 1990, with development quickening as a result of 3D printing plus other digital-based technologies. It was first demonstrated in the U.S. in 2009 at Local Motors in Phoenix, Arizona to manufacturer their Rally Fighter car.
Advanced manufacturing coupled with the unique microfactory concept will be used to manufacture electric vehicles for Arrival, a London-based technology company, which is planning to open their microfactory by the second quarter of 2021 in Rock Hill, South Carolina. The manufacturing operation is being hailed as "the beginning of a paradigm shift in the electric vehicle space," according to Arrival CEO of North America, Mike Ableson.
This will be a $46 million dollar investment to include the creation of 240 new jobs. Arrival will join the $27 billion auto manufacturer landscape of South Carolina that includes over 500 auto-related manufacturing operations for BMW, Volvo, Mercedes Benz and others.
Arrival's planned manufacturing operation to build electric vehicles for United Parcel Service (UPS), Hyundai and Kia will utilize "plug-and-play" core components they design and build themselves. The Arrival microfactory will feature a cell-based assembly method (multiple zones or areas of specific assembly operations in a sort of assembly line) to produce vehicles, instead of the traditional automotive production line. It will allow the production of any vehicle from Arrival's portfolio.
In addition to automobile manufacturing, other applications for the rapidly scalable microfactory include garment manufacturing, consumer appliances manufacturing, and electronic waste treatment manufacturing operations.
The Advanced Manufacturing Future
According to a study published in Engineering magazine, the factory of the future will be a system of hybrid systems of robots and humans, additive and subtractive manufacturing, composites and metals, digital and analog processes, cyber and physical systems, nano and macro scales.
More coordinated studies and practical application demonstrations about these new technologies are happening now.
For example, the Advanced Manufacturing Partnership (AMP) report pointed out that effective public–private partnership models are needed to accelerate technology development and time to market. One recommendation was to create a National Network for Manufacturing Innovation (NNMI) composed of 15 Manufacturing Innovation Institutes (MII).
The goals of the MII is to create a shared facility for all participating members, create translational development of new technologies, and function as a training ground to develop a skilled workforce.
In a report about accelerating innovation in advanced manufacturing, the Georgia Tech Manufacturing Institute outlined the importance of the benefits of manufacturing in the U.S. with the following statistics: 70 percent of U.S. exports consist of manufactured goods; one manufacturing job produces up to six additional jobs in the general economy; 66 percent of U.S. scientists and engineers are employed in manufacturing; more than 50 percent of the national research and development expenditures are made in manufacturing; and 90 percent of patents are credited to the manufacturing sector.
The report recommended that one of the strategies going forward in advanced manufacturing is the "Invent Here-Build Here" methodology, using a manufacturing ecosystem built on a skilled workforce, a robust infrastructure, a friendly business climate, and a good investment community that creates a hot bed for innovations.
These manufacturing ecosystems will provide a cluster of localized, interdependent businesses that offer design, production, distribution, workforce, infrastructure, and investment capabilities to help a business thrive.
Forward-facing progress..with help
How the Industrial Internet of Things (IIoT), the Cloud and other emerging technologies impact manufacturing is the focus of John Dyck, CEO of the Clean Energy Smart Manufacturing Innovation Institute (CESMII). Dyck holds a number of patents for the application of IIoT and analytics in manufacturing workflows and business processes.
He says that there is an aspirational vision for advanced manufacturing about how to use these new digital tools, but those aspirations run up against the general state of the industry. "There has been discussion of the U.S. being at Industry 4.0, which broadly encapsulates the notion that we are in a fourth industrial revolution that has the potential to truly change the way we make products and bring them to market," Dyck says. "The reality is that, from a readiness perspective, American industry is probably somewhere closer to Industry 3.0., meaning manufacturers in general struggle, at least in their plant floor operations, to adopt these new technologies. They are struggling to engage with the strategic element of how to move toward the factory of the future," he says. "We have a lot of work to do to get going in that direction."
One way of getting to that point faster is through the Open Platform Communications (OPC) United Architecture (UA) data exchange standard for secure, reliable, manufacturer-independent and platform-independent industrial communications. The standard was created under the auspices of the non-profit OPC Foundation.
These standard's specifications define the interface between clients and servers, as well as servers and servers, including access to both real-time and meta data, monitoring of alarms and events, access to historical data and other applications.
The OPC UA data exchange standard operates on all operating systems, and enables data exchange between products from different manufacturers and across different operating systems.
Volkswagen, LG, Samsung, Miele, L'Oréal, and hundreds more have adopted the OPC UA technology for its secure, standardized information and interfaces.
Google Cloud is using the OPC UA open standard to incorporate machine data into analytics and artificial intelligence solutions to ultimately drive new capability and performance within a factory.
In an effort to identify common data in machines and processes to accelerate innovation in data science and application development, CESMII is working with the OPC and leveraging the OPC UA as an industry standard interface. It is expected that this collaboration will help drive innovation.
But there's more to do on workforce readiness as well. Dyck says that if the next generation of smart manufacturing can be engaged, along with a digital transformation the way it is anticipated, then over the next decade, "the plant floor will once more become an attractive place for our young people and the entire ecosystem to engage in."
For the most part, all the workforce on the plant floor today have smart phones with them, he says, but don't use them in connection with the operations of their jobs. "That computer surface, those platforms from Apple or Android, represent a well-adapted use of those various applications, with technology that could serve those workers well on the plant floor," Dyck says. "But the plant floor is not ready for them yet."
He says that the vision for smart manufacturing is to create an entire plant floor full of citizen technologists. "Our vision is to drive the democratization, to reduce the cost and complexity of how these technologies are deployed, so you can use consumer grade technologies on a plant floor."
"Advanced manufacturing" will be what all manufacturing will be called in five years, Dyck says. "Somewhere between 2024 and 2030, smart manufacturing is manufacturing. These new ideas will have been adopted at scale."
Side Note
Indian River County, Florida – Central to Where Your Business Needs to Be Indian River County – Vero Beach, Sebastian, Fellsmere – strikes a perfect balance between business and pleasure. Those who live, work or visit the area find that the local communities are safe and loaded with ecological, cultural, educational and technological amenities. Many corporate-level executives have located their companies to the area because of the executive's positive vacation experience, or perhaps they own a winter home on Vero's barrier island.
Located on Florida's east coast, midway between West Palm Beach and Cape Canaveral, Indian River County is within three hours of over 17 million consumers, or 90% of Florida's population. It has easy access to markets but is far from urban sprawl, traffic and congestion. Visitors from other parts of Florida are amazed, and pleasantly surprised, at the county's lack of traffic.
The area is rich in history and natural resources, with 26 miles of unspoiled beaches and scenic lakes, plus some of the best bass fishing available in Blue Cypress Lake. It is also the center of the world-famous Indian River Citrus District.
Indian River County is a cost-competitive location for new or expanding businesses. It has hundreds of acres of low-cost land available for development, much of it located near I-95, a major north-south transportation route along the east coast. The county offers competitive property tax rates, and Florida has no state income tax.
The Opportunity Zone initiative offers investors an even greater reason to consider Indian River County, FL. All properties west of I-95 in Indian River County are designated as an Opportunity Zone and zoned for industrial use, including two shovel ready industrial parks. State and local incentives are also available to relocating and expanding companies, including property tax abatement, tax refunds, and job training grants.
An available and trainable workforce of approximately 638,000 within an hour's drive time adds to the county's appeal as a desirable location. Indian River State College (IRSC) has five campuses located throughout the region, offering 2-year and 4-year degrees as well as several industrial and technical certifications. IRSC is very successful in securing training grants for local employers. They can develop specially-designed training programs in a matter of weeks rather than months.
Because location is central to success, Indian River County isn't just where you want to be – it's central to where your business ought to be. It has the perfect blend of everything the Sunshine State has to offer. For more information on locating your company to Indian River County, Florida, contact Helene Caseltine, Economic Development Director with the Indian River Chamber of Commerce, at 772-567-3491 or helenec@indianrivered.com. Or, visit their website at www.indianrivered.com.