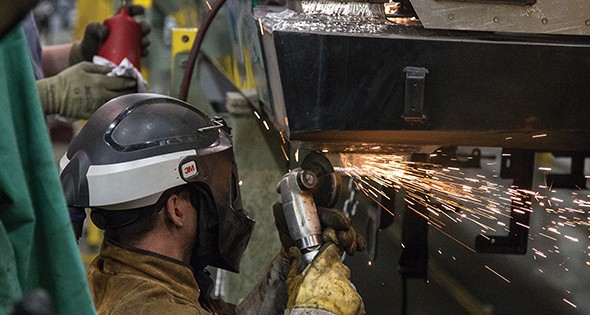 Growing Demand for Advanced Manufacturing
29 Jan, 2018
More data analytics has created a manufacturing boom while workforce issues remain a priority.
Manufacturing in general has begun a significant comeback after two decades of steady decline, according to recently released study from the McKinsey Global Institute, "Making It In America: Revitalizing U. S. Manufacturing."
And that's a very good thing not just for the domestic economy but also for the global economy, since the U.S. accounts for nearly 20 percent of the world's manufacturing activity.
The study also noted that the key priorities for the industry to grow and expand will be raising productivity in the nation's supplier base, broadening participation in exports, ramping up a national apprenticeship program and making the long-term investment needed to upgrade plants and equipment for digital readiness.
Those next steps – especially the digital readiness portion – won't be easy in part because of the one other critical step – workforce – trained employees are needed to manage a new digital environment and all that means to advanced manufacturing.
Consistent strength
Over the past two decades, advanced manufacturing operations are where the growth of the industry has stayed consistently strong and is forecast to stay strong.
A snapshot into manufacturing offered by the McKinsey study indicated that growth in U.S. manufacturing has been concentrated in only a few industries where advanced manufacturing thrives, including pharmaceuticals, electronics and aerospace. Most other manufacturing industries have experienced slower growth or real declines in value added.
Figures from the study show that manufacturing makes up nine percent of employment and 12 percent of U.S. gross domestic product, but drives 35 percent of productivity growth, 60 percent of exports, and 70 percent of private-sector research and development.
The U.S. could build on its strengths to boost manufacturing value added by up to 20 percent over current trends by 2025.
As data, connectivity and smart machines merge the digital and physical worlds, the McKinsey study found, technology is creating avenues for U.S. manufacturers to improve their productivity, agility and competitiveness.
For example, new design tools can improve speed to market, creating rapid prototypes and simulations to validate processes before build-out. Internet-of-yhings (IoT) sensors can combine with analytics and advanced robots to run flexible, autonomous factory operations.
The present
But work needs to be done now. Aging plants and equipment, especially in the supply chains of advanced industries, will have to be upgraded for digital readiness.
Additionally, a successful revitalization will not restore 1960s-style mass employment on assembly lines. But revitalization can raise manufacturing GDP by more than $500 billion annually above the current trend, spurring income growth, new jobs and local investment, with ripple effects across other industries.
The McKinsey study advises manufacturers to revisit old assumptions about their business models. "More value is being generated today from design, data, solutions, and brands," the study found. "Changing factors like costs, risks, and digitization make this an opportune moment for companies to reassess past location and sourcing decisions—and even their business models and balance sheets."
Four areas of concentration
According to the National Council for Advanced Manufacturing (NACFAM) there are four key areas for the advanced manufacturing industry to watch and work within: technological innovation, supply chain value integration, sustainable manufacturing and talent development.
Of these four areas, the most difficult to work through, and the most pressing because nothing can happen fast enough without a solid well-trained workforce, is talent development.
But there's a problem that advanced manufacturing has to overcome – a labor force without the level of education needed to be part of the advanced manufacturing workforce.
According to a white paper published by the NACFAM, "America's 21st Century Established Worker Training Tax Credits," the U.S. labor force – which more than doubled over the past forty years – will grow very slowly between now and 2040. The number of young people moving through the U.S. education systems and then into and through the U.S. labor force is much smaller than in the baby boomer years, reversing the trends of the past four decades.
In comparison, the share of workers in the 55-years-and-older age group will increase dramatically. In addition, the participation rates of older workers in the labor force are expected to increase and will continue to do so in the future. "This means that the United States can no longer pursue an education policy that focuses primarily on younger people and essentially gives up on adults," the white paper reported. "We must realize that most future gains in labor force educational attainment will come in educating our working adults."
More than half of America's 120 million workers between the ages of 25 and 64 have no postsecondary degree or postsecondary credential of any kind. The percentage of the workforce requiring some college or above grew from 28 percent in 1973 to 59 percent in 2007, and is expected to increase to 62 percent by 2018.
A revived industry on the horizon
But this workforce has to enter a revived industry that has shown steady decline in pay for workers and therefore the opportunity that a job in manufacturing used to represent.
For example, in recent decades, the sector has also developed a two-tiered workforce, with jobs in the bottom tier steadily deteriorating in quality, according to the McKinsey study. Since 1990, real wages for production workers have risen by only 0.1 percent annually for the sector as a whole. In some distressed industries, real wages have actually declined.
"The U.S. manufacturing sector needs an injection of productivity, and companies cannot capture the demand opportunities unless they step up their game," the McKinsey study found. "New technologies will play a large role in determining whether they can compete."
The impact of new technologies
Those new technologies are coming rapidly as a result of the huge volume of new data and new ways of analyzing the metrics that they provide for such things as machine learning, new forms of human-machine interaction (such as touch interfaces and augmented-reality systems), and the ability to transmit digital instructions to the physical world.
For example, one aircraft manufacturer that implemented a rapid simulation platform has reduced design time, cut design rework by 20 percent and boosted engineering productivity. IoT sensors can feed real-time data into analytics systems, which can adjust machinery remotely to minimize defects, improve yield and reduce downtime and waste.
Collaborative robots can handle dangerous tasks and eliminate safety risks, while 3-D printing can now produce intricate, multi-material components. New applications for coordinating distributed supplier networks improve the tracking of raw materials and manufactured parts.
Advanced manufacturing developments
One of the more interesting areas for advanced manufacturing development is happening in eastern Idaho – in a 78 mile corridor from Rexburg to Pocatello – that is truly surprising in its scope and depth.
There are advanced manufacturing companies involved in the food processing industry. But there's much more here.
According to Jan Rogers, CEO for the Regional Economic Development for Eastern Idaho organization (REDI), there is a new solar manufacturer in the area, Inergy Solar, manufacturing solar powered generators.
In April, a Japanese company, Sakae Casting, was recruited into the area working under a federal research grant. Sakae Casting specializes in castings for inserting stainless steel pipes into an aluminum casting product with minimized clearance, necessary for optimal performance of semi-conductors and super computers. Sakae will be offered the best U.S. location to work directly with the University of Idaho, Idaho National Laboratory (INL) and the region's extensive nuclear and advanced manufacturing sectors to further their research capabilities and U.S. product sales.
"That is yet another opportunity for our research and development work with our industry for commercializing of products," Rogers says. "It's definitely the first time in our area that a research grant has been awarded. And it's represents a foreign direct investment. That is even a bigger plus."
But it's the workforce advantage of the area that Rogers likes to highlight. The 78 mile corridor that she calls the innovation corridor is home to two major universities – Idaho State University in Pocatello and the Brigham Young University-Idaho in Rexburg – and a community college – the College of Eastern Idaho in Idaho Falls.
Additionally, Idaho State University officials envision transforming the Idaho Falls campus into a polytechnic institute, likely with research ties to neighboring Idaho National Laboratory.
Rogers says that one of the interesting facts about this region home is that it is home to thousands of millennials.
For example, she says, in the city of Rexburg, with a population of more than 26,000, over 80 percent are under the age of 30, with the average age being 22. "Then you layer that with over 18,000 students registering every semester at the university, and you have a honey pot of millennial talent," she says. "Imagine the possibilities."
Workforce is one of the crucial factors making Lincoln, Nebraska, popular for advanced manufacturing operations, in part due to the large Kawasaki plant employing 2,000 that makes all-terrain vehicles, utility vehicles, personal watercraft, recreation utility vehicles and passenger rail cars.
The company opened their first aerospace division in the U.S. at the Lincoln plant in May 2017, now making cargo doors for the Boeing 777X. "There are also a number of Japanese company suppliers located around the Kawasaki plant," Pat Haverty, vice president of the Lincoln Partnership for Economic Development, says.
In terms of workforce development, Lincoln offers the The Career Academy (TCA), a joint venture between Lincoln Public Schools (LPS) and Southeast Community College (SCC). The goal of TCA is to provide academic and real world experiences to high school juniors and seniors through high school and dual credit courses in 16 different career pathways.
Students attend TCA for two hours a day during the regular school year while taking their remaining courses back at their home high school. Transportation in the LPS district is provided, books are free, and tuition is free through scholarships or paid at a 50 percent discount to the regular SCC credit hour charge.
These 150-plus business professionals at TCA serve on pathway support teams that advise, mentor, judge, provide field trips and sometimes even offer internships for students at TCA. "Some of the students do internships at a manufacturing plant and build those relationships," Haverty says. "Then they either get more training at the college, or they go on to employment there."
For more information about advanced manufacturing and the companies represented in this article, contact: